Retail: 66

-33.99%
Retail: 92

-7.83%
Hare Raising: Finish Line's Zero Sum Game
Finish Line took the old axiom about retailers giving away product to another level late last month. Weeks before reporting its year-end results, FINL literally "gave away the store" with the divestiture of its JackRabbit running specialty division to a Los Angeles private equity firm. Read more...
Cabela's Gone Softer on 'Soft Goods'
It's little wonder that Sierra Trading Post parent TJX Cos. and new Moosejaw Equipment parent Walmart see major growth opportunities in the outdoor apparel business. Cabela's, whether it merges with rival Bass Pro Shops or not, has significant problems in its flagging footwear and apparel business. Read More...
Winning in Washington
Two major industry trade associations, the SFIA and OIA, scored significant victories in Washington, D.C. last week as the Trump Administration began its second full month offering up softer stances on some key national issues. Read More...
Trade Group Takes Swing at B.A.T.
The National Retail Federation released a video last week that takes dead aim against the proposed tax on imports, also known as the Border Adjustability Tax (BAT), supported by House Republicans behind the "Better Way" tax reform plan. The group, which believes the 42-million strong retail sector would be hardest hit by BAT, has the support of Walmart, Target and others.

"American consumers are being asked to foot the bill for a $1 trillion tax giveaway for multinational companies…"

The commercial, produced by the trade group, was slated to air during the March 4 telecast of "Saturday Night Live." The NRF-produced infomercial, in a sarcastic manner, outlines the benefits of a BAT. The infomercial asks consumers to contact their representatives in Congress and voice opposition to BAT proposals.
Fitness Notebook


Intuitive Movement Emerges in Fitness
Los Angeles-based healthy living blogger Whitney English, who edits and publishes the "To Live & Diet in L.A." thinks people are working out today because they enjoy active lifestyles and how it makes them feel, not because they necessarily need to shed a few pounds.

She calls it intuitive movement and says, "the more that people start to move in ways that move them, the more we'll see the Generation Active movement grow."

Her comments came on the eve of the IHRSA Conference for fitness enthusiasts in the City of Angels and news that publicly traded Planet Fitness generated 8.8 percent same store growth in 2016 as overall revenues grew 14 percent to more than $378 million as the parent of the "Judgment Free Zone" ended the year with 1,313 locations.

Among other segment developments:
• Johnson Health Tech has promoted 10-year company veteran Mark Zabel to president of its newly created U.S. commercial division. He will continue to oversee JHT's global product development and marketing group.
• Life Fitness is expanding its Owatonna, MN factory by more than 44 percent to 490,000 square feet. Brunswick Corp.-company is adding 100 staffers to the location that produces 200 commercial fitness products, including the Cybex Arc Trainer.
• LEVL, a maker of a health and wellness device that can measure an individual's current state of fat burning with a single breath, is introducing a consumer version, LEVLhome, in the Seattle market before a national rollout later this year.
Tubes of the Week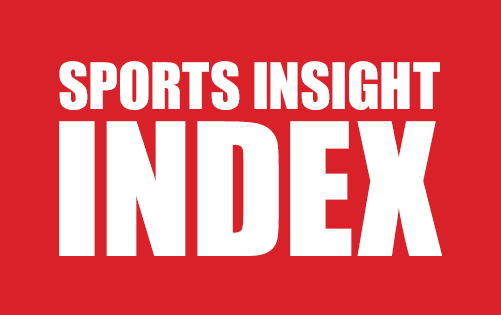 -
Numbers In Play
Week of 2/23-3/02
The Sports Insight Index is our opinion of what we think are the 28 most important public companies in the industry, 14 vendors and 14 retailers. Space considerations prevent us from tracking more, but we will make changes over time.
Index base of 100 is key to the closing prices of 12/31/14
Retail
Sector rebounds from last week when 12 of 14 stocks fell. This week, 11 of 14 rise, paced by Big 5 Sporting Goods. Fourth quarter key metrics at the 432-door chain benefitted from competitor closures in 2016, mainly The Sports Authority and Sport Chalet. Has had a strong start in the first quarter, with comparable store sales up mid-single digit, on strong demand for winter-related products in many Western markets. Second-biggest gainer Foot Locker easily exceeded Q4 expectation last week and continues to make strides aligning with brands and key products that its customers want to wear and purchase. Meanwhile, volatile stock Zumiez rebounds from a Feb. 23 plunge of more than 5.5 percent.
Brands
Segment performed better than last week with 11 of 14 up versus eight last week. Under Armour has reportedly withdrawn its rich ($150+ million annually) offer to sponsor European soccer team Real Madrid from Spain. The action is a win for Adidas, which keeps the team in the Three Stripes for a little more than one-quarter UA's price. With Kasper Rorsted's strategy for Adidas slated to be unveiled this week and next during a year-end conference call and an investor conference, speculation suggests he will accelerate the brand's marketing and product focus in the U.S. where athletic footwear market share more than doubled in 2016. GoPro, which is eying international markets for growth, announces plans to integrate an upgraded version of its photo editing app to phones sold by China brand Huawei. Nautilus sees its Octane Fitness equipment brand snare a design award for its Zero Runner ZR8000.
RETAIL: 84

16.49%
BRANDS: 90

9.69%
Retail Name (Ticker Symbol)
Big 5 Sporting Goods (BGFV)
BGFV
Dick's Sporting Goods (DKS)
DKA
Hibbett Sports (HIBB)
HIBB
Sportsman's Warehouse (SPWH)
SPWH
Shoe Carnival (SCVL)
SCVL
Brand Name (Ticker Symbol)
Amer Sports (AGPDY)
AGPDY
Columbia Sportwear (COLM)
COLM
Deckers Brands (DECK)
DECK
Wolverine Worldwide (WWW)
WWW
Sports Insight Extra Podcast Series