Trade update


Tariffs Could Go Higher; China Doesn't Like U.S. Tactics


By Bob McGee – August 06, 2018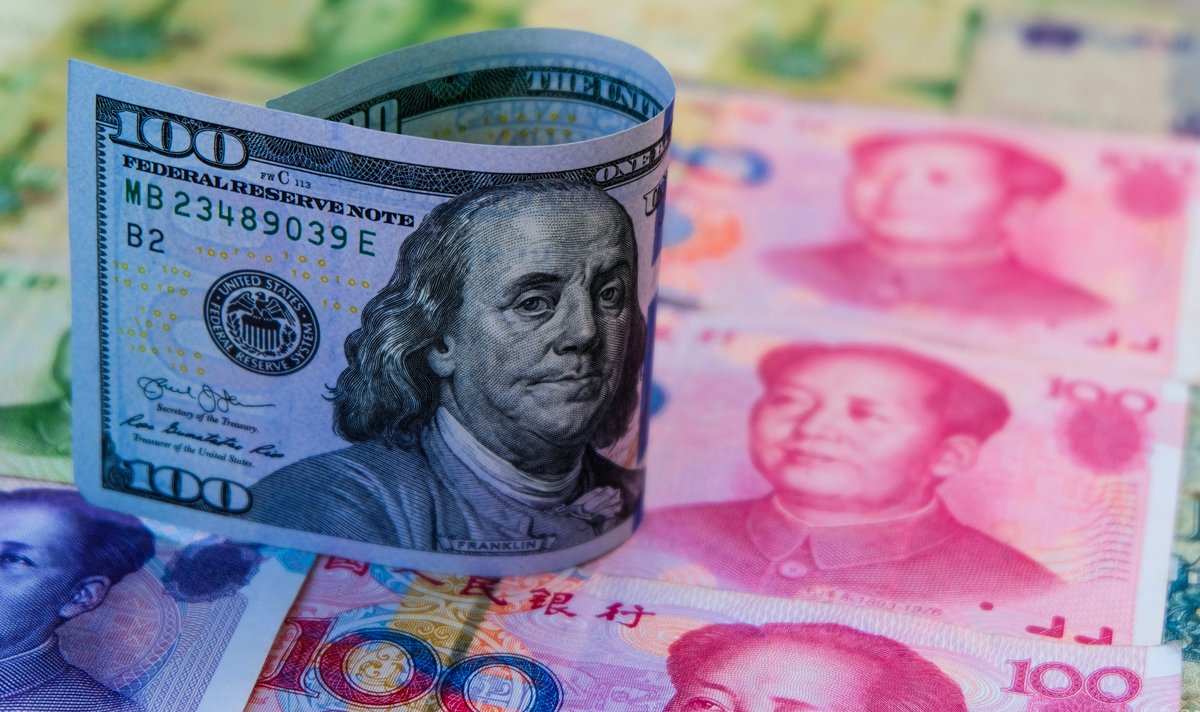 The Sports & Fitness Industry Association, in the midst of helping its members fight proposed new tariffs on 12 imported sporting goods products, last week saw the Trump Administration raise the ante with China. The U.S. Trade Representative Office disclosed that it's considering raising the tariff percentage on the affected section 301 tariff list to 25 percent from an earlier proposed 10 percent.
China's Commerce Minister responded to the possibility by urging ministry officials to stabilize the country's foreign trade "by all means," but later responded to a question with, "First, I suggest the U.S. take the right attitude and not to try and blackmail China as it doesn't work…Second, we suggest the U.S. return to rationality and not act impulsively, as it will eventually hurt itself."
China is reportedly open to resuming trade talks with the U.S., but new negotiations between Treasury Secretary Steven Mnuchin and Chinese Vice Premier Liu He have yet to be scheduled. On Aug. 3, the country issued a statement, threatening to place tariffs on $60 billion worth of U.S.-made imports into China as a retaliatory measure. If implemented, the duties would range between 5 and 25 percent on more than 5,200 tariff categories. China sold $505.6 billion worth of goods to the U.S. in 2017 and purchased $130.4 billion worth of products from the U.S.
In the meantime, the SFIA says it has identified three additional industry products potentially facing the proposed tariffs—marketing displays, MMF golf bags and static convertors/generators. The three items join generators, coolers, sports chairs, air pumps, latex resistance brands, sport gloves, sport hats/caps, helmet accessories and racket strings in facing the either 10 percent or 25 percent additional duty. The trade group is still working on an Aug. 10 deadline for industry comments to be submitted to it for subsequent tender to the USTR, which last week extended the post-hearing (Aug. 20-23) rebuttal comment deadline to Sept. 5 from Aug. 30.
The Changing Face of Apparel
By bob mcgee – August 06, 2018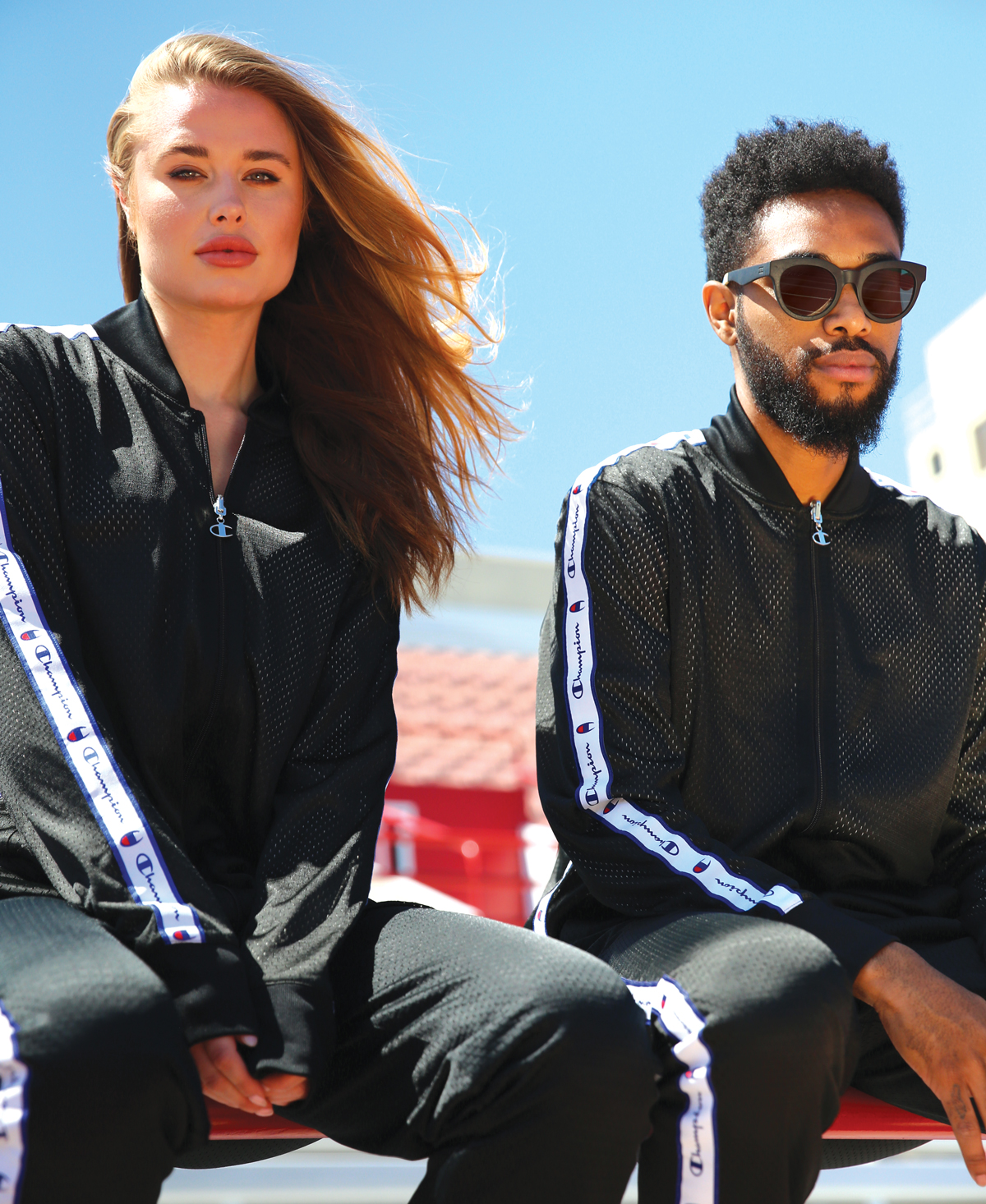 With more major apparel brands leaning on Direct-to-Consumer for sales and a better connection to their customers, traditional retailers, makers of apparel and others are turning more to private label.
"I think private label is more the way I think the (mass) market will materialize," Gildan Activewear President and CEO Glenn J.Chamandy told analysts last week. "…It's definitely much more professional and it's not a no-name brand strategy like it historically was in the past. I think there's a lot more energy, investment and thought put into building these private label brands. You see that on online retailers as well in brick-and-mortar today."
Last week, Hanesbrands-owned Champion announced it would forge ahead with an aggressive strategy designed to reach $2 billion in global revenues for the soon-to-be 100-year old brand in FY22 despite Target Corp.'s decision to exit its seasonally-sourced C9 by Champion activewear business when its contract expires in Jan. 2020. The discounter, which has sold the sub-label since 2004, generated $380 million in trailing 12-month revenues from C9 where HBI receives a royalty percentage on all sales. The $2 billion topline target is exclusive of mass channel sales. Target has been developing and launching about a dozen new apparel, home and furniture brands over the last two years, projecting more than $10 billion in aggregate sales from the new labels by the end of 2019, and exiting in-store labels such as Mossimo, Circo and Cherokee to introduce new brands with unique personalities and differentiated points of view. Last year, the retailer introduced JoyLab, and edgier fashion-driven activewear collection it hopes will attract more men.
Meanwhile, when college students return to campus later this month across the U.S., those at 500 where Follett Corp. operates the bookstore will be greeted with a new range of 15 cut-and-sew pieces of college licensed apparel pieces under the Fall Rush label. The 145-year old, privately held Follett Corp., based outside Chicago, has a hired a Los Angeles team led by former Fanatics Apparel senior executive Scott Killian to lead its apparel push that includes all product sourcing.
"Our intent is to turn Fall Rush into a national brand and extend it to all 1,200 of our (college book) stores," says Killian, adding the brand team knows "it will have to innovate to survive." Fall Rush is targeting a better, best strategy with retail prices ranging from $20-$80 for its garments.
"Sellthrough will be the key for us. There are no guarantees for us at all," says Killian, adding Fall Rush is not looking to supplant any traditional athletic labels found in college bookstores such as Nike, Adidas, Under Armour or Champion.
As for Champion, the parent is confident that current positive sales and gross margin trends will continue as the Target C9 business winds down. Over the last four quarters since mid-2017, global Champion brand sales in constant-currency have risen in the mid-to-high teens. Excluding the Target business, Champion constant-currency sales were up "high 20% to low 30%" range over the same period. In Q2 ended June 30, Champion brand sales rose more than 70 percent in the U.S. after gaining 50 percent in Q1 and 40 percent in H2/17. Further growth will be partly fueled by the opening of Champion-bannered stores.
Footwear Insight
Athleisure Drives U.S. Q2; Global Footwear Production Up in 2017

By Bob Mcgee– AUGUST 06, 2018
Sport leisure footwear, including sneakers, skates and sport slides, was the only broad category to grow in Q2, according to The NPD Group. Athletic-inspired, non-performance footwear drove most of the category's growth with performance athletic shoes continuing to struggle.
"Growth in retro athletic footwear has slowed, but the market for this is still growing and smaller brands in this space are winning, including Fila, Puma and Reebok," Matt Powell, the NPD's senior industry analyst commented.
Meanwhile, according to The World Footwear Yearbook published annually by the Portuguese Footwear Association, global footwear production returned to growth in 2017, rising 2 percent but far below the industry's expansion rate of 15.4 percent between 2010 and 2014. Asia accounted for 87 percent of all production last year with China responsible for two out of every three pairs of exported footwear as the global average export price increased 3 percent to $9.18 a pair in 2017. The average export price of footwear has risen 40 percent over the last decade, trailing a 62 percent increase in China-made footwear exports over the same 10 years.
On the consumption side, India surpassed the U.S. in 2017 as the second-largest consumer of footwear. From a global perspective, Asia purchased 54 percent of all footwear, followed by Europe (16%) and North America (15%).
Textile Insight
New Textile Show Joins NYC Market Week

By Emily Walzer – AUGUST 06, 2018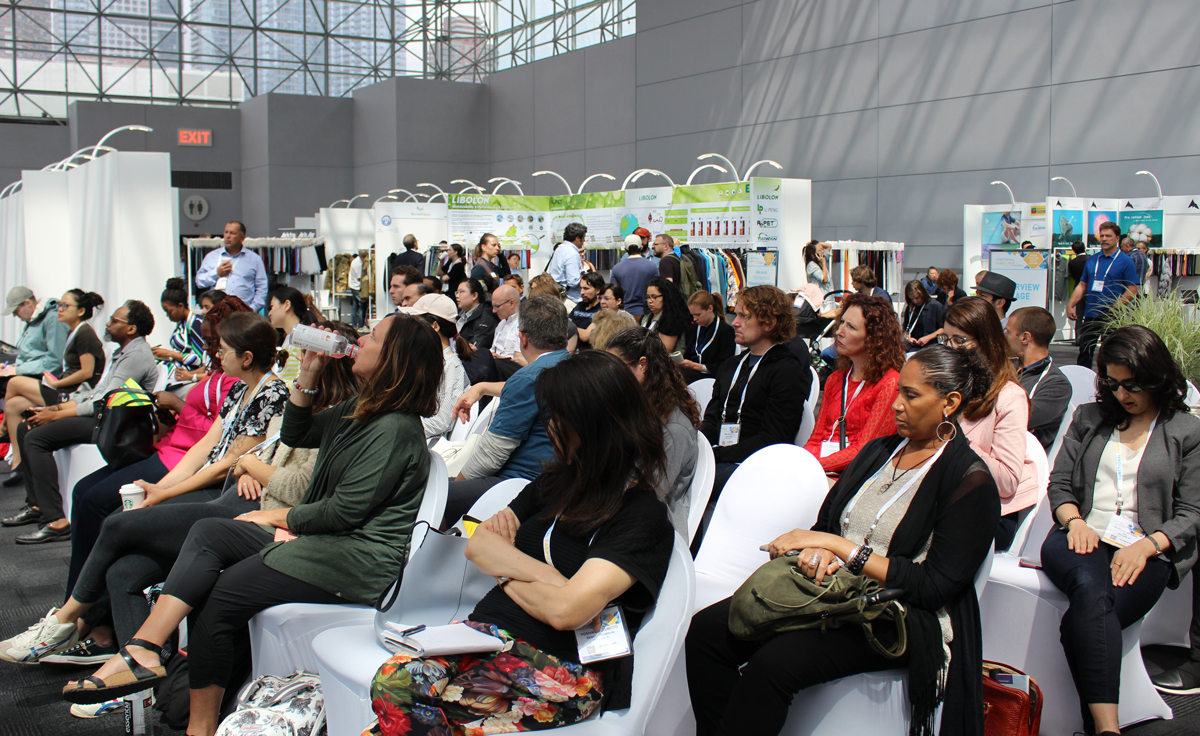 The Functional Fabric Fair made its New York City debut last month garnering interest from buyers, designers and retailers on the hunt for innovative, performance textiles for the seasons ahead. The trade event bustled with energy as 1,000+ attendees perused new materials and learned the latest trends in design and development during presentations from industry experts. With 7th Avenue brands increasingly looking to textiles to help differentiate product in today's competitive marketplace, and consumers leaning toward a "tech casual" wardrobe, the two-day Functional Fabric Fair is a well-timed entry into New York City's market week.
"The sport/outdoor crowd understands functional fabrics, so this is good opportunity to talk with fashion people who want to learn about performance textiles," said Angela Domsitz, a representative with The WoolMark Company. "It's a good mixed crowd. We've met new people as well as seen our partners, and re-connected with others."
The Functional Fabric Fair is "powered by Performance Days," a leading textile trade event for lifestyle and active/outdoor markets held twice a year in Munich, Germany. The effort made to replicate the European ambiance and targeted approach of the Munich events paid off as attendees and exhibitors at the new NYC Fair commented on the high-quality offerings and the laser-focused attention to materials with advanced properties.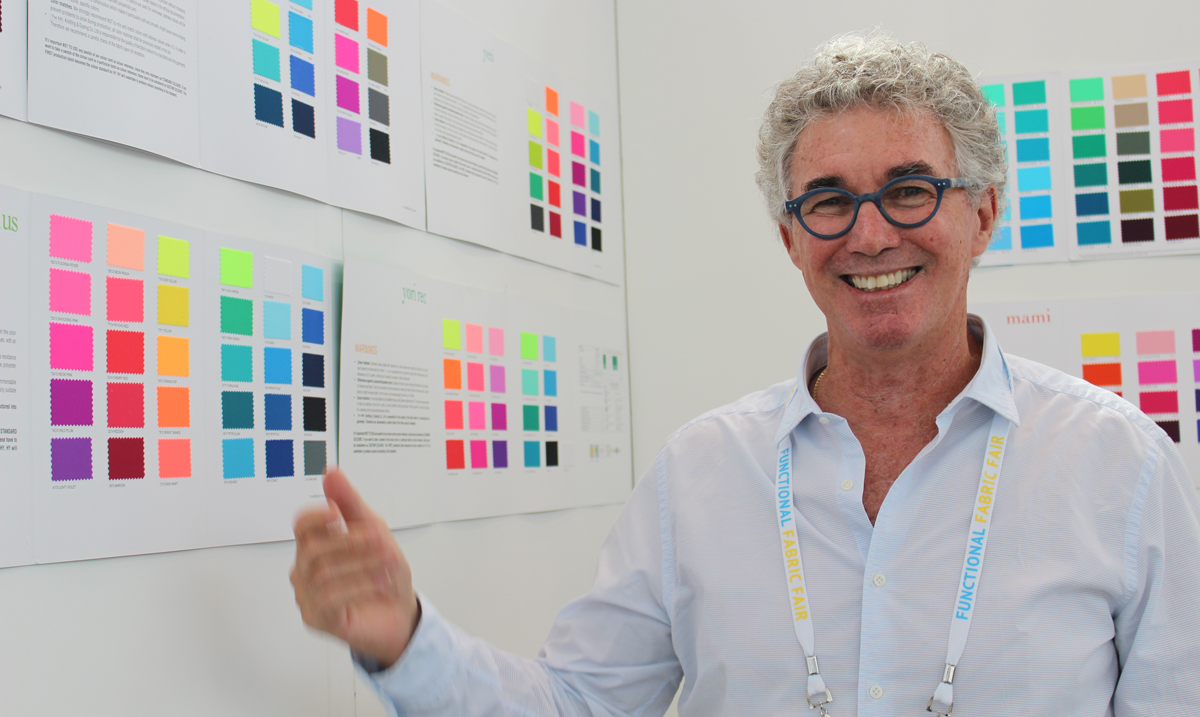 For example, a Performance Forum greeted attendees entering the venue. The professionally curated trend boards displayed an extensive selection of high-tech textiles ranging from next-to-skin qualities to outerwear offerings in addition accessories such as yarns, tapes, prints, buttons and zippers. The Forum afforded execs an immediate up-close look at what is new and noteworthy. From that point on attendees could wander the show floor of seventy textile manufacturers, suppliers and service providers in a relaxed atmosphere that was enhanced by the light-filled space overlooking the Hudson River on the top-level of the Javitz Center.
"We've seen people from Everlane, J.Crew, PVH, Free Country and Untuckit among others," commented Jen Miller of Concept III Textiles. "They see merino (wool) as a trend and want to get their customers onboard. These brands are looking to incorporate merino but in a way that sets their garments apart from brands like Smartwool."
American Eagle-Aerie, Banana Republic, Brooks Brothers, Burton, Levi Strauss, Lilly Pulitzer, Lululemon, Ralph Lauren, Target and Reebok, among many others were scouting and shopping the show.
"Our goal was to provide a premium, curated marketplace of performance fabrics and accessories that would benefit leading lifestyle brands, said Steve McCullough, Reed Exhibitions, the event organizer. We are excited with the results and look forward to enhancing the event even further in 2019."

Footwear Insight
Asics Corp. Reveals Action Plan; Allbirds Lands Celebrity Investment

By bob mcgee – AUGUST 06, 2018
Japan-based Asics Corp. is moving forward with a five-year "action plan" that will aim to achieve ¥500 billion ($4.48 billion) in annual revenues, 7 percent or more operating income (OI) rate and a 10 percent or more Return on Equity (ROE) in FY20. Key components of the strategy include devoting more resources to the U.S. performance running market; partnering with more key U.S. accounts to increase its market share in the geography; strengthening local apparel creation in China and the U.S. by establishing frameworks for planning, designing and selling out products aligned with customer preferences; and developing a digital business as a new growth driver.
Elsewhere, Allbirds, whose Co-Founder Joey Zwillinger told attendees at the FDRA Sourcing and Innovation Summit last month that one of the company's goals is "to do a lot more with a lot less," has introduced its new "SweetFoam" outsole material made of renewable sugarcane in its new flip-flop and revealed an equity investment from actor Leonardo DiCaprio. Allbirds says it will make the proprietary material available to other companies.
Execs on the move
U.S. Hosiery Maker Parent Hires CEO; Nike Snares Under Armour Exec

By bob mcgee – AUGUST 06, 2018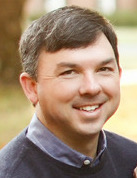 Standard Merchandising Company, the Pennsauken, NJ parent of SMC and the oldest continuously-running hosiery mill in the U.S. in Fox River Mills, has hired Brad Ballentine as CEO. The former Garan Manufacturing and Williamson-Dickie executive had his passion for textiles fostered at an early age by his father, who worked for Mayfair Mills. In 2014, he joined Renfro, the largest U.S. maker and retailer of socks, and two years later, he was appointed GM/SVP of Technical Brands.
Elsewhere,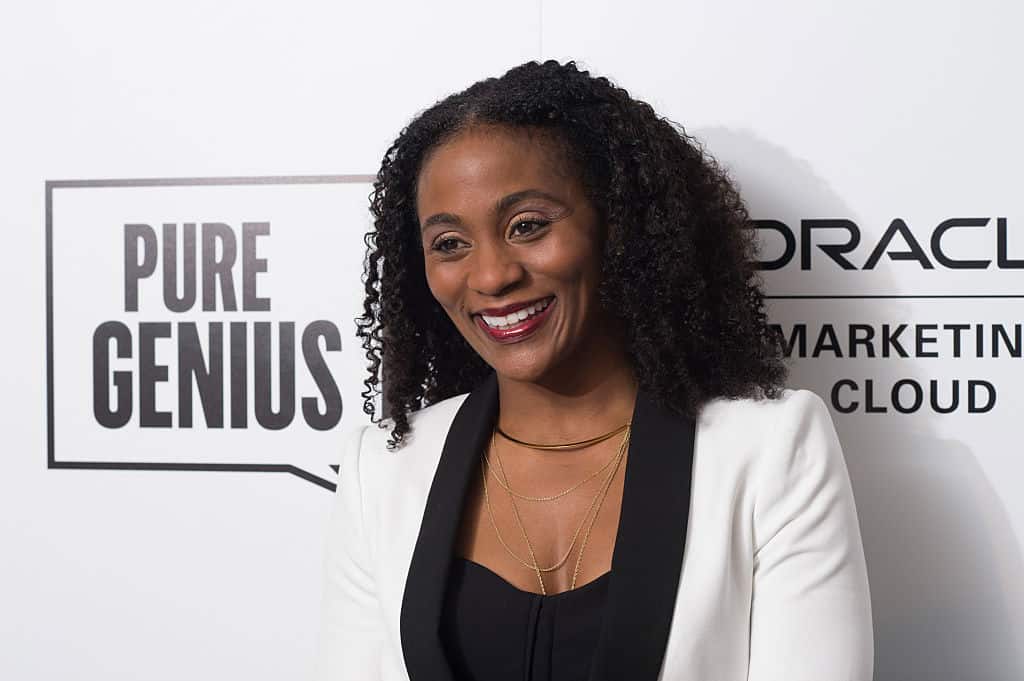 • Under Amour is reportedly losing its SVP of global brand management, Adrienne Lofton, to Nike. Adweek was the first to break the news. Lofton, who also worked for Under Armour for five years until 2013, was behind the brand's ad campaigns targeting women and the recent effort around Dwyane "The Rock" Johnson. Under Armour's global brand management will now be led by Attica Jaques.
• Former Crocs and Collective Brands executive Gregg Ribatt has surfaced as the new CEO for The Rockport Group following the company's acquisition out of Chap. 11 bankruptcy last month by Charlesbank Capital Partners.
• Target Corp. hires Gemma Kubar as SVP of supply chain engineering and activation. She previously worked as VP of global business services for Walmart and Asda, the British supermarket chain.
Inside Golf


U.S. Sales Growth at Callaway, Acushnet Co. Defies Rounds Trend


By bob mcgee – AUGUST 06, 2018

In a consolidated golf segment, major players Callaway and Acushnet Co., parent of the Titleist and FootJoy brands, generated positive H1 and Q2 results in the U.S. that suggests core diehard players remained committed to the game and its gear. While U.S. golf rounds played declined 3.3 percent for the six months ended June 30, Acushnet reported 14 percent Q2 growth and a 6 percent increase for H1. Meanwhile, Callaway reported 39 percent U.S. growth in Q2 and a 35 percent increase in H1, fueled by double-digit growth from its core equipment business and the sales contribution from its acquisition of TravisMathew that is projected to be an $80 million business in FY18.

Both Acushnet and Callaway enjoyed momentum in their respective golf ball businesses. Titleist ball sales were up 9 percent in Q2, largely due to the introductions of its AVX, Tour Soft and Velocity models. The AVX premium performance ball, which has posted steady North American sellthrough since being launched in May, debuted in international markets last month. At Callaway, the brand's golf ball dollar market share rose 290 basis points in Q2 to 16.3 percent as period ball sales jumped 35 percent, helped by demand for its Chrome Soft ball featuring Graphene. The company is in the midst of modernizing its Chicopee, MA ball factory, increasing capacity and its ability to produce more differentiated products. Meanwhile, last week, Srixon introduced the 11th generation of its Soft Feel golf ball after working with Golf Laboratories, Inc. on independent, outdoor robot testing on the product against balls from competitors.

Acushnet is currently forecasting 1.7- 3 percent constant currency topline growth in FY18 to a range of $1.615-1.635 billion. Callaway, meanwhile, has lifted its annual sales guidance by $40 million to a range of $1.21-1.225 billion, which would represent 15-17 percent growth over FY17.
The Buzz
By bob mcgee – AUGUST 06, 2018
HEAT-MX, the Montreal maker of non-woven thermal insulation products, is working with New York's Fashion Institute of Technology on a creative design contest using HEAT-MX products. Sae Chang, president of HEAT-MX Worldwide hopes the contest/project will yield new and innovative ways of adopting the company's technologies, many of them with patents pending, into a wide range of non-traditional applications. Already, HEAT-MX has adapted its non-woven thermal insulation material from traditional applications such as winter garments and accessories into other product solutions, including a lace dress that can be worn in a temperature of 14 degrees along with other winter wear.
Implus, owned by Berkshire Hathaway, acquires substantially all the assets of Pro Performance Sports LLC, doing business as SKLZ. The acquisition, the eighth for Implus over the last 3+ years, is expected to expand the company's distribution into the sporting goods channel and enhance its fitness division. SKLZ will operate as an Implus division in Carlsbad, CA.
Rocky Brands experienced 7.3 percent wholesale revenue growth in Q2. Georgia Boot generated strong sell-through in re-orders of its Carbo-Tec work western collection and the brand landed increased shelf space at Tractor Supply and Boot Barn. Meanwhile, the company has added three independent sales reps focused on the public service segment.
RYU Apparel opens its first U.S. store in Venice, CA and debuts its "Your Universe" ad campaign developed to encourage and celebrate individuality and explore different motivations for fitness.
Thorlo is updating its brand guarantee on all of its sock packaging, starting Sept. 1. The Statesville, NC company, who says its "Core Beliefs in our Brands and their long-term integrity have been in our DNA since 1953," will now offer consumers a "Guaranteed for Your Lifetime" message on all packaging.
Tubes of the Week