SFIA Prepared to Help Industry Fight Proposed Tariffs

By Bob McGee – July 23, 2018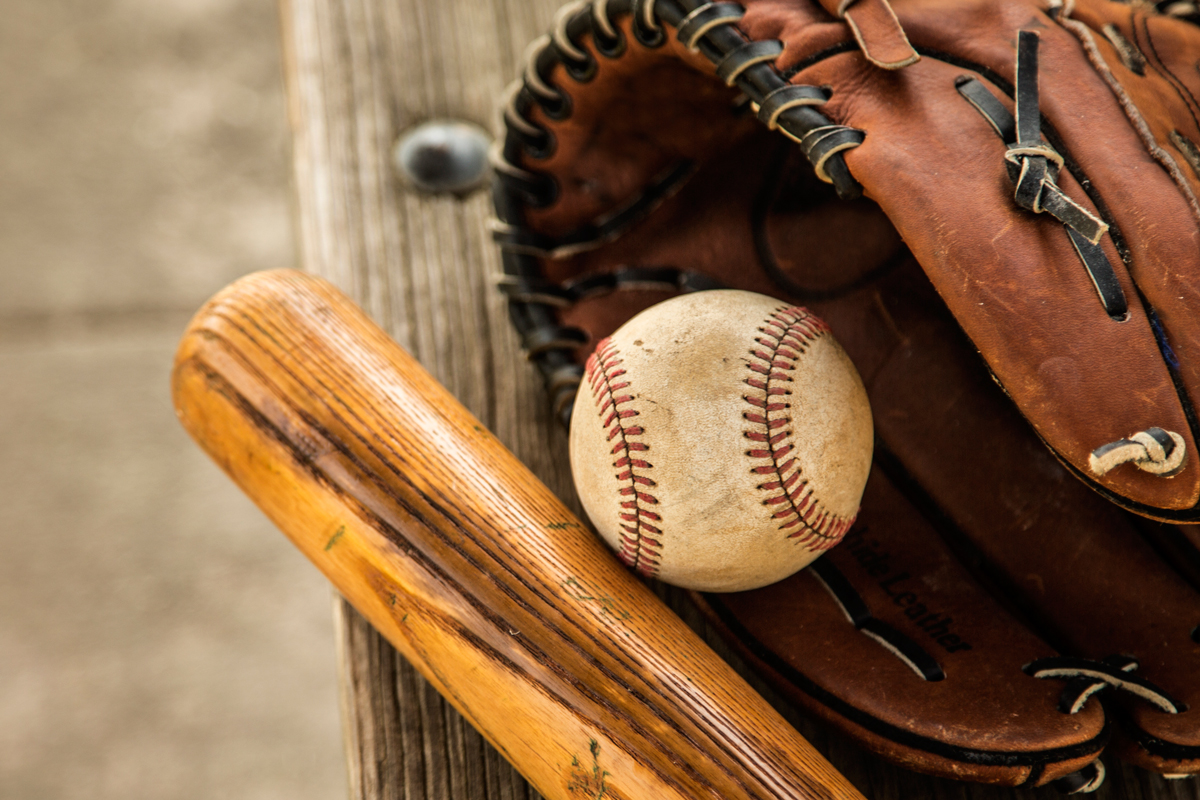 The Sports & Fitness Industry Association has enlisted a top Washington, D.C. law firm, which specializes in international trade, customs and export law, to assist it and member companies in opposing tariffs on sporting goods products. The proposed 10 percent tariffs are part of Pres. Trump's request for $200 billion in new tariffs on Chinese-made products. Of the 6,031 tariff lines identified, 28 lines impact hats, eight hit sports bags and others would affect "sports use" gloves from baseball/softball to batting and hockey, as well as helmet chinstraps/visors and leather or composite leather golf bags.
Representatives from the trade group and David Cohen from Sandler, Travis & Rosenberg (ST&R) conducted a free webinar last week where they outlined the timeline for the potential tariff hit and strategies to combat it, urging SFIA members "to get involved and participate."
Tom Cove, SFIA CEO, reminded attendees about the organization's most recent record in such matters, saving members an aggregate $55 million on the renewal and expansion of GSP programs, which now includes backpacks and sports bags, and a potential $45 million in reduced tariffs through the Miscellaneous Tariff Bill legislation that still needs to be passed by the Senate.
There is a July 27 filing deadline for impacted company representatives who want to testify during the three days of scheduled hearings (Aug. 20-23) on the Section 301 proposed tariffs. Meanwhile, August 17 is the deadline for the submission of written comments. The SFIA, with the assistance of ST&R, wants to submit a petition of tariff opposition under its banner for stronger impact and cost efficiencies. The trade group will charge members approximately $2,000 per petition to members and $6,000 to non-members versus an estimated cost of $10,000 if a company was to go it alone in opposing a particular, proposed tariff line item. Cohen says all companies interested in being part of the SFIA petition for items to be included in an exclusion list should have all their respective materials for the document ready by August 13. The remaining timeline includes an August 30 deadline for post-hearing rebuttal comments, and the likely implementation of 10 percent duties on listed products that are not exempted sometime in October.
In the latest Federal Reserve report released last week, 10 of 12 districts reported moderate or modest economic growth so far this summer, but it also pointed out that more manufacturers are concerned about the impact of implemented or coming tariffs, particularly as they might lead to higher product prices or disruptions to their supply chain.
Cohen outlined eight possible strategies to avoid or reduce new duties. Among them: Tariff/Origin Engineering, altering product to alter tariff or change production processing; utilization of Bonded Warehouses, which would defer the duty until the product enters the U.S. for consumption; and De Minimus shipments, by using warehouses in Canada or Mexico to house products under $800 in retail cost for duty-free shipment into the U.S. in an ecommerce order.
Cohen also advised webinar attendees that any future episodes of a U.S.-China trade spat would undoubtedly hit the industry much harder with a $500 billion tariff threshold undoubtedly "creeping closer and closer to footwear, apparel and textiles."

Full Steam Ahead for VFC as Segments Are Reshaped
By bob mcgee – JULY 23, 2018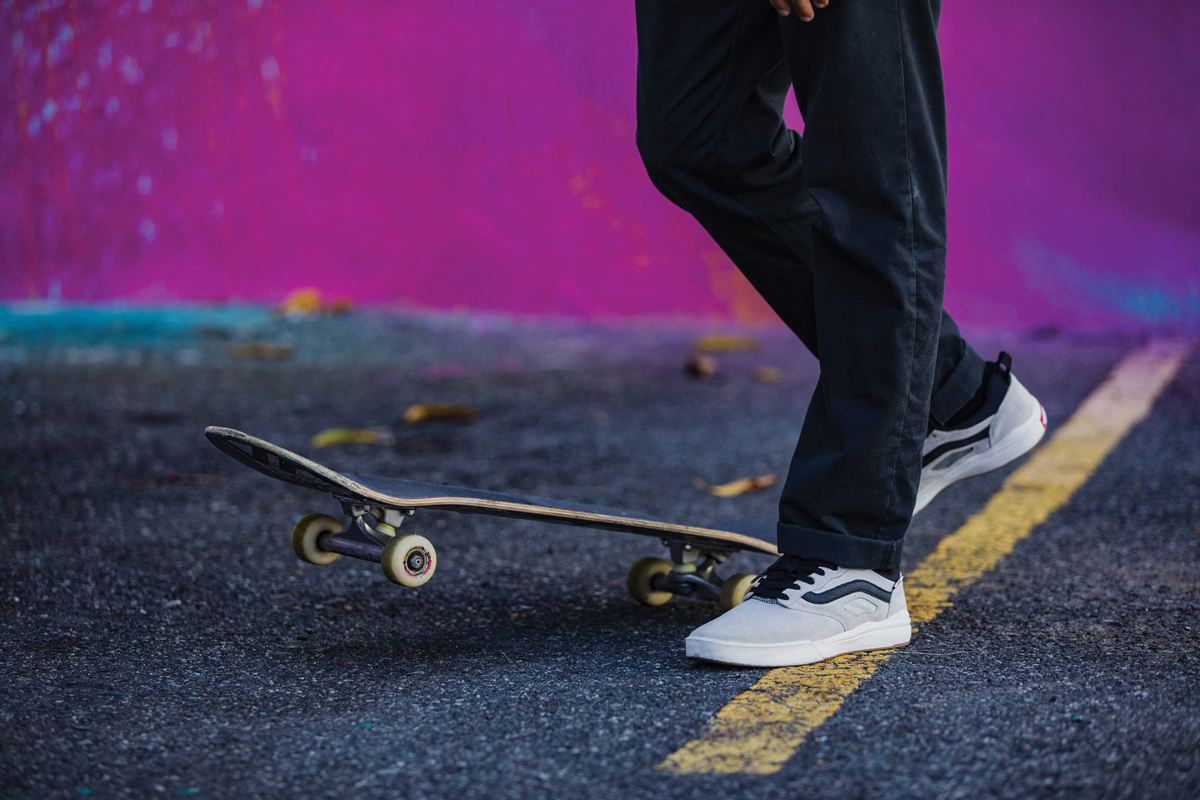 VFC, the parent of 19 portfolio brands, including Vans, The North Face, Icebreaker and Timberland, is moving forward on FY21 objectives with efforts that focus on reshaping its brand portfolio and how it operates its various business units.
"We don't talk a lot about the vertical work we're doing in really tearing down our go-to-market processes and product creation with the expectation of improving speed, improving quality through lesser SKUs and more focused merchandising. That work is going on with The North Face and Timberland, and you are starting to see the results come to life there," President and CEO Steven Rendle told analysts Friday morning. Rendle reiterated VFC 's "top priority" intent to "actively manage" the shape of business "to align with our purpose and financial aspiration."
Simultaneous with the release of Q1 results, VF outlined its new segment reporting. Changes include the grouping of The North Face, Timberland, Smartwool and the recently acquired Altra business from Icon Health & Fitness under Outdoor and putting Vans with six other brands, including Eagle Creek and Jansport, under Active. The Work segment has five businesses, including the recently acquired Dickies label.
Q1 revenues jumped 23 percent on a reported basis to $2,788 million, including $249 million in sales contribution from the Williamson-Dickie, Icebreaker and Altra acquisitions. Excluding those deals, overall sales were 12 percent higher. The Big 3—Vans, The North Face and Timberland—generated a 21 percent revenue gain for the period ended June 30 with Vans up 35 percent, TNF, up 8 percent. Overall U.S. revenues were 11 percent higher.
VFC's FY19 outlook calls for 10-11 percent topline growth to between $13.6-$13.7 billion with an adjusted gross margin of 51 percent and an adjusted operating margin of approximately 13.4 percent. With Wholesale revenues forecast to grow 9 to10 percent this FY, DTC sales are expected to rise 11 to13 percent with DTC digital up more than 30 percent. By geography, U.S. FY revenues are forecast to rise 8 to 9 percent with Asia-Pacific pacing all regions with a forecasted 14 to 15 percent revenue growth. The FY outlook by the brand calls for greater than 15 percent topline expansion at Vans, followed by 6 to 8 percent revenue growth for The North Face, a 2 to 4 percent sales increase for Timberland, 1 percent growth for the Wrangler brand and flat Lee brand sales. Among FY segment forecasts, Work is at greater than 35 percent followed by Active (13 to 14 percent), Outdoor (6 to 8 percent) and Jeans (flat).

Brooks' Shop Program Strengthens Run Specialty Ties

By bob mcgee – JULY 23, 2018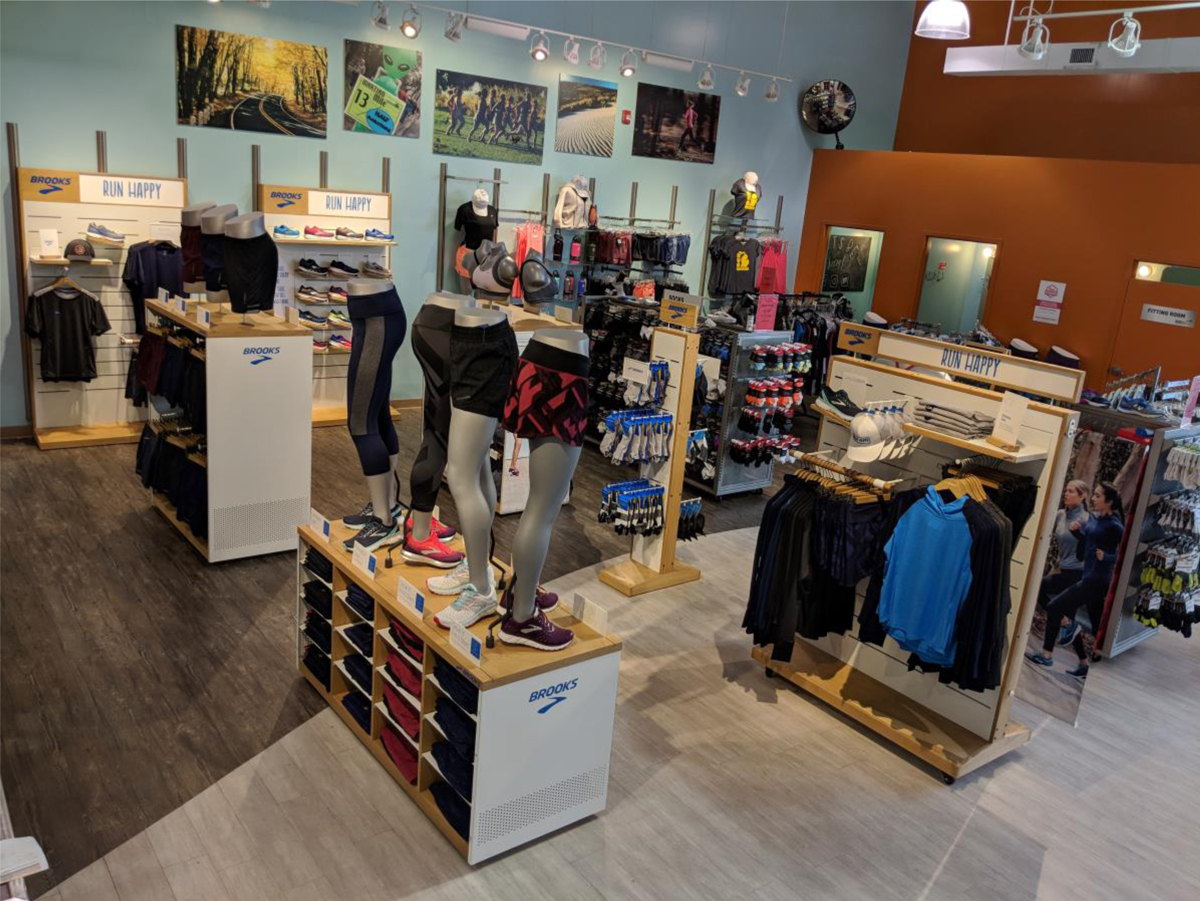 More than 150 U.S. and Canadian specialty running retailers will have Brooks' premium shop-in-shop departments following an initial installation of 30 pilot locations by the end of July. Participants in the shop-in-shop effort from the Berkshire Hathaway-owned company will strike a three-year partnership with the Seattle company that will feature the installation of four unique apparel and marketing stories annually to educate runners and an in-store launch event every season.
"In addition to creating a unique experience on the retail floor, our shop-in-shop experience tells a compelling story about our brand and products which we believe will help re-invigorate the running apparel business," said Mike Billish, VP of U.S. sales for Brooks Running Company.
Initial shop-in-shop options for run specialty stores include either a 12-by-17-foot or 12-by-12-foot execution, but Brooks intends to explore additional footprints to accommodate store needs. JackRabbit currently has nine Brooks shop-in-shops in place with plans to add four more in Spring 2019.
"It is already helping our Brooks apparel sales by showing dominance in the category, better presentations and ease of shopping." says Kirsten Bowen, SVP/GMM for JackRabbit. "We are seeing fantastic initial success in bras and shorts."
Keith Davis, owner of Fleet Feet in Winston-Salem, NC believes the Brooks' shop-in-shop in his store will help it grow its apparel business back to 20 percent of total store revenues.
JackRabbit currently has several shop-in-shop concepts in its stores from key partners.
"The key to success in our store is a resonating customer experience, exceptional service and building community," reminds Bowen. "…We appreciate Brooks' commitment to supporting our store and community every day, they are truly committed to connecting and building meaningful relationships with runners."

InsiDe Retail
June Retail Sales Soar but Industry Segment Lags

By bob mcgee – JULY 23, 2018
U.S. retail sales, bolstered by continued economic growth and despite the bubbling trade war with China that could eventually lower consumer confidence and household buying power, rose 6.6 percent year-over-year in June, according to monthly sales data released by the U.S. Census Bureau last week. Second quarter retail sales were 5.9 percent higher year-over-year.
But the sporting goods/hobby/musical instrument/book store segment suffered a 3.7 percent, non-adjusted year-over-year sales drop in June to slightly more than $6.4 billion. The date does not break out if one or more of the classifications was largely responsible for the decline. For the first half of 2018, the segment's sales were off 1.7 percent to $37.2 billion. Meanwhile, the Clothing & Clothing Accessories retail segment got a 4.6 percent year-over-year sales lift in June to more than $21.5 billion, below its H1 growth rate of 5.1 percent to $124.5 billion.
Elsewhere,
• Academy Sports + Outdoor parent locks up a multimedia sponsorship with the ESPN-SEC Network and the Southeastern Conference (SEC) to become the league's "Official Sporting Goods Retailer." The Katy, TX-based retailer is also the title sponsor of the Academy Sports + Outdoor Texas Bowl game on Dec. 27 in Houston.
• Dick's Sporting Goods and Oakland Raiders Coach Jon Gruden surprised two Oakland, CA area youth football leagues last week with $50,000 each to the San Leandro Crusaders and East Bay Panthers and new equipment, courtesy of the Dick's Foundation Sports Matter program. Additionally, the Foundation made $15,000 donations to two Oakland area high schools (McClymonds and Oakland Tech). Since 2014, The Dick's Foundation has pledged $50+ million to youth sports in need.
• Bob's Stores and Eastern Mountain Sports, acquired by the U.K.'s publicly traded Sports Direct on May 18, 2017, accounted for approximately $12 million in trading losses and $22.9 million in losses after fair value accounting adjustments for the 52-weeks ended April 29. Sports Direct lumps the 49 U.S. stores (30 Bob's, 19 EMS) into its Rest of World retail segment that includes joint venture ownership of 30 stores in Malaysia. In aggregate, the 79 locations had FY sales of $251.5 million for the 52 weeks ended April 29. • Boot Barn, which operates 232 doors across 31 states, earlier this month acquired certain assets of the two-store Drysdales, Inc. in Tulsa, OK.

Footwear Insight
Skechers Eyes N.A. Rebound After Missing Q2 Mark

By bob mcgee – JULY 23, 2018
Despite strong international and domestic DTC (+10.8%) sales in Q2, Skechers missed an earnings target by 29 percent for the period ended June 30. On the results, which included a 7 percent drop in its U.S. wholesale business and lower distributor sales due to issues with its Middle East partner, four analysts lowered their respective outlooks on SKX and the stock's share price dipped more than 26 percent Friday morning.
Nonetheless, COO David Weinberg told analysts that the brand's core wholesale business "remains strong" and "will achieve positive results in the back half" of 2018. Weinberg, while admitting the brand's non-core business "is under pressure currently," predicted an acceleration in Skechers' core business in Q4 after some new products are tested and enter the retail marketplace.
Skechers hit a new quarterly sales record in Q2 with an increase of 10.6 percent to $1.13 billion, bolstered by international wholesale and China, in particular. International wholesale represented 41 percent of period revenues. In China, where the company will soon break ground on an automated distribution facility, the company shipped 5.6 million pairs in Q2 and realized a double-digit gain in ecommerce sales. Skechers currently produces 60-65 percent of its products in China.
The company issued Q3 guidance of $1.2-1.255 billion revenues, below Street estimates, but also emphasized that domestic wholesale and international distributor sales would return to growth in H2 as retail comparable store sales remain positive. But the company added the recent strengthening of the U.S. dollar could translate into "a potential earnings headwind" in H2.
Execs on the move
CamelBak Has a New President; The North Face Adds Two

By bob mcgee – JULY 23, 2018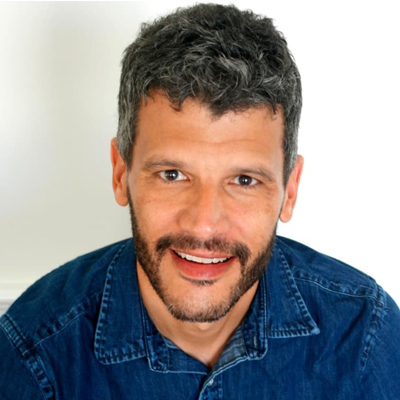 Vista Outdoor-owned CamelBak has hired Greg Williamson, a former chief marketing officer for Artic Cat, as president. VSTO acquired the hydration systems company in early August 2015 for $412.5 million.
Elsewhere,
• VF Corp.-owned The North Face add two to its global product and merchandising teams. Kelly Cortina, a 13-year veteran at Under Armour, joins as VP of global product for TNF. Meanwhile, Darren Cookson is promoted to global VP of merchandising. Recently, VFC named Travis Campbell as VP/GM for The North Face/Americas.
• Kathmandu, the New Zealand outdoor brand, taps Bill Chandler, most recently director of North American sales for pack brand Osprey, as VP of sales and marketing for Kathmandu N.A.
• Alterra Mountain Co. hires former 14-year Vail Resorts executive Kat Jobanputra as SVP of retail/rental.
What's New?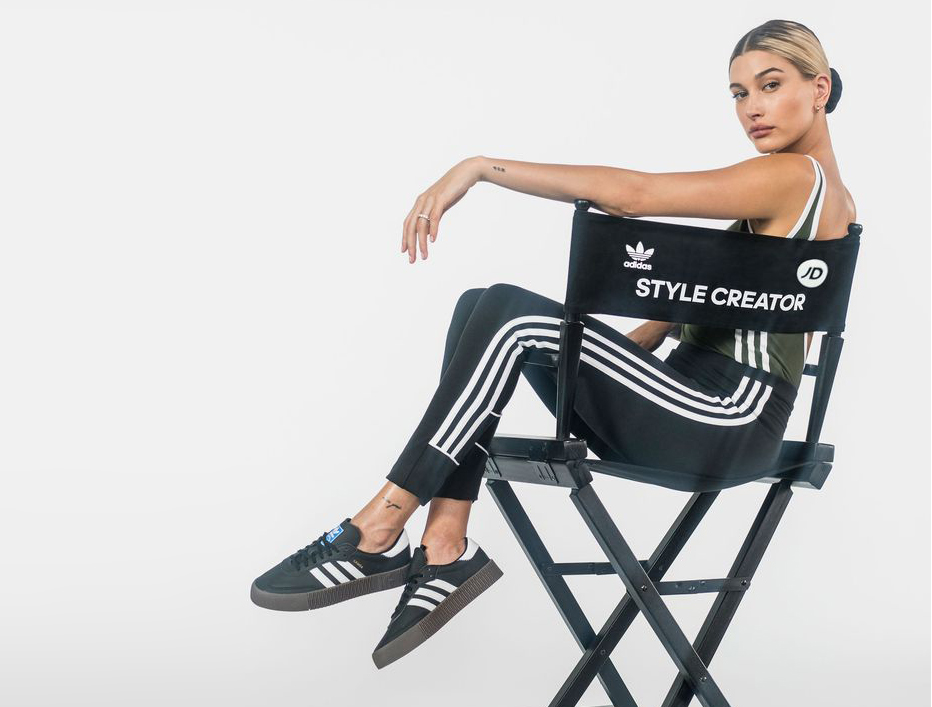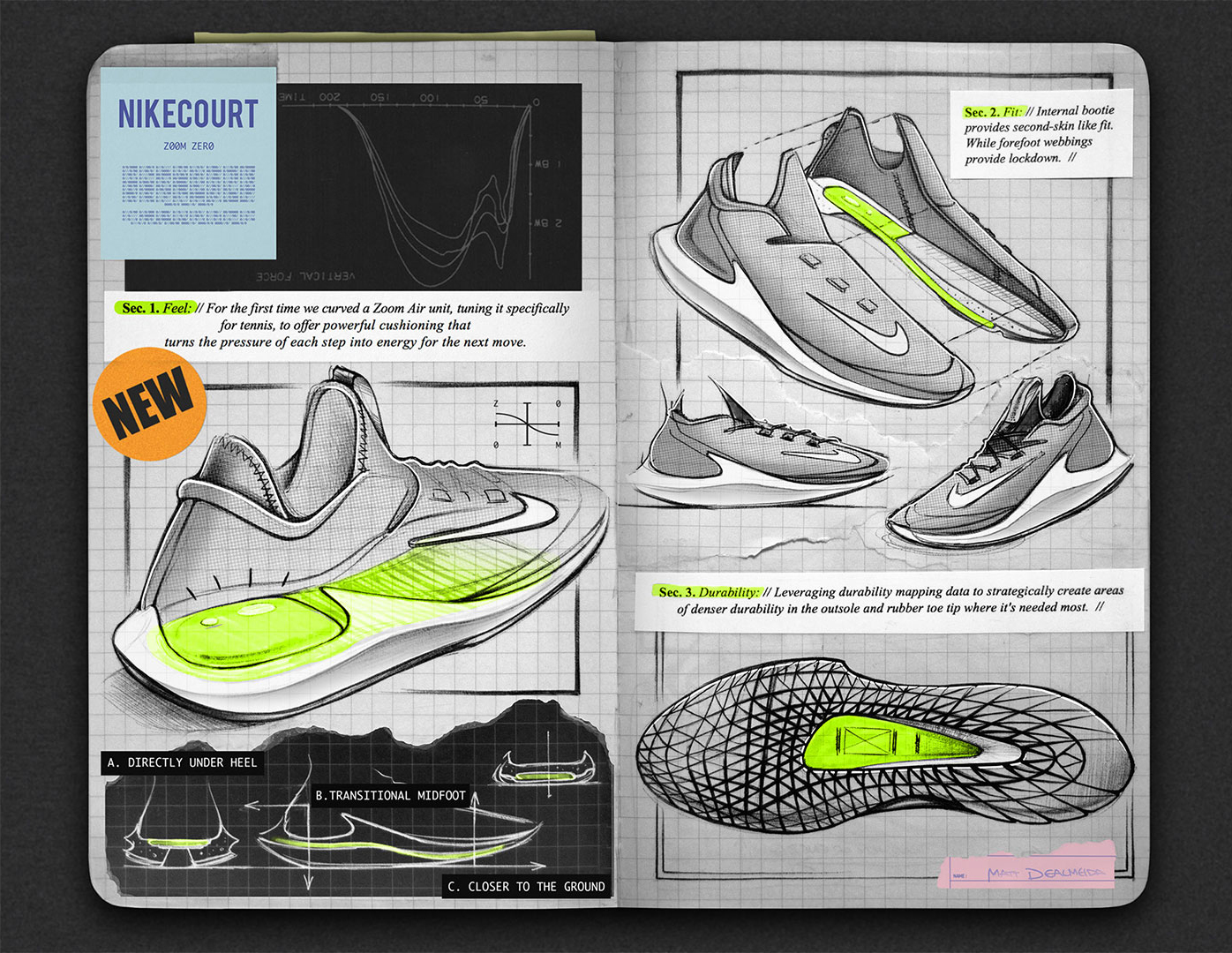 The Buzz
By bob mcgee – JULY 23, 2018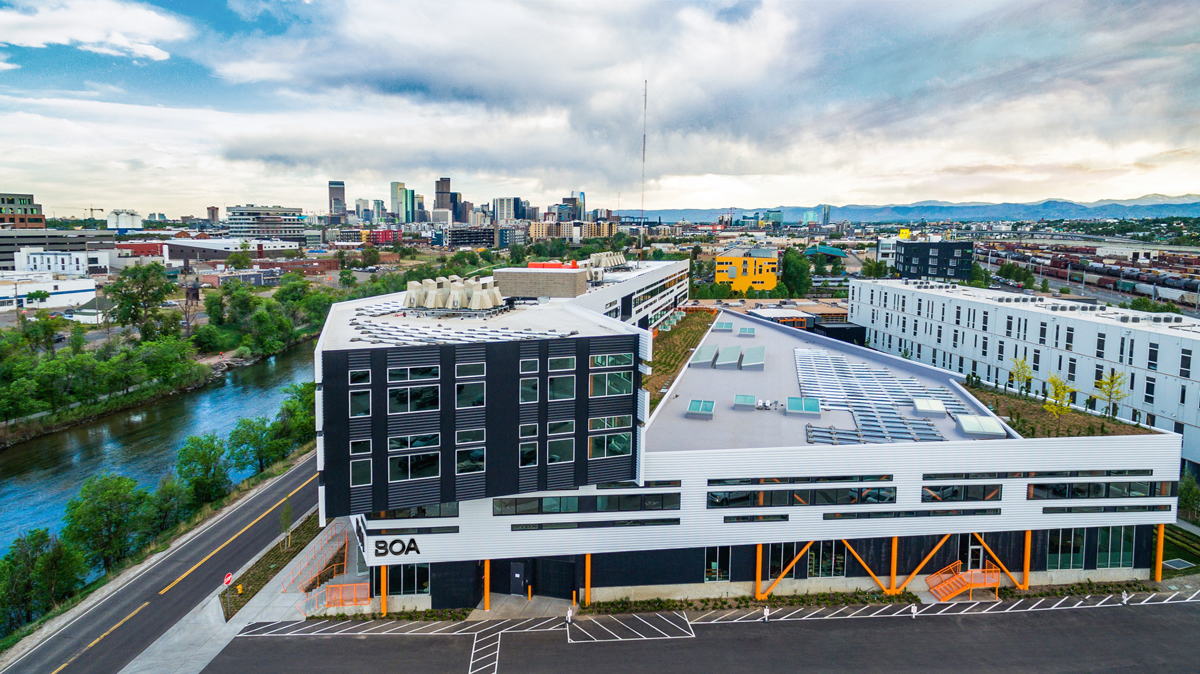 Boa Technology opens a new global headquarters in Denver's FLIGHT Building from Zeppelin Development (photo above). With the larger space, Boa, headed by CEO Shawn Neville, is accommodating its growing workforce and increasing its capabilities in product development, 2-D and 3-D prototyping, and biomechanics-based testing.
Darn Tough Vermont, the fast growing U.S. manufacturer of premium outdoor and lifestyle socks, is installing 46 seamless knitting machines at its Northfield, VT headquarters, ahead of plans to add upwards of 30 full-time positions and increase overall production by more than 1.5 million pairs annually.
Deckers Brands—Hoka One One, Sanuk and Teva—have joined Camber Outdoors as a corporate partner. Camber, founded in 1996 as the Outdoor Industries Women's Coalition, works with companies to accelerate equitable and inclusive workplaces.
Sports & Fitness Industry Association releases first 64 of 90 individual reports on individual activities. Each report tracks participation by gender, participation frequency, age, geographic region, market size area, income, education level and cross-sport/activity participation. Results for reports, $99 each for SFIA members, were gathered by Sports Marketing Surveys USA via an online panel of nearly 31,000 in the 2017 calendar year.
Tubes of the Week