Nike's Executive Exodus Concerning to Some
By Bob McGee – April 23, 2018
The last five weeks Inside the Berm have been tumultuous at best, and now more outsiders are taking notice. In the six weeks since Nike formally announced that Chairman/CEO/President Mark Parker would remain on beyond 2020, more than a half dozen senior Swoosh executives have left the Beaverton, OR company.   While Nike has offered few specifics about its high-profile senior management drain, published reports have suggested they may be related to an urgent need to alter corporate culture and build a more diverse team to lead the company forward. Or, could it be something else?

The Who's Who of Swoosh departures includes: Trevor Edwards, Nike Brand president, who will retire in August; Jayme Martin, VP of global categories, including women's; Antoine Andrews, VP of diversity and inclusion; Greg Thompson, VP of express lane footwear; Vikrant Singh, senior brand director for Nike Basketball in North America; and Daniel Tawiah, VP of global digital brand marketing innovation.

Elliott Hill, Nike's new president of consumer and marketplace, and Michael Spillane, who is continuing in his role as NKE's leader for categories, design, product, and merchandising, now report directly to Parker. Aside from the trio, Nike will presumably proceed with a cast of new senior leaders presiding over in-place strategies and an overall business that is projected to see international generate 75 percent of incremental growth over the next five fiscal years.

Last week, Susquehanna analyst Sam Poser was the first on Wall Street to sound an alarm over the Nike executive changeovers by lowering his target price on NKE stock and suggesting the "learning curve" needed by new senior management appointees could hamper any momentum the brand has gained recently through innovations and the introduction of key new products.

A new Nike grade last week from IHS Markit appears to somewhat disagree with Poser's take. The global critical information, analytics and solutions firm raised its Nike outlook to "neutral" from "negative" on April 20, further suggesting "bearish sentiment" on the stock is low and adding the economic output for the sector "is expanding but at a slower rate."

But 60 percent of the 37 analysts covering Nike had a "buy" on the stock last week versus 5 percent with a "sell" and 35 percent a "hold" on NKE shares.

During its third quarter earnings call in late March, Nike said it was scaling up its Nike+ membership program in 12 key global cities over the next fiscal year, increasing the speed of delivery in key North American cities and planning for debut of a new women's retail concept, UNLACED, inside Nike Soho (NYC) this summer before it's expanded to 200+ NIKE Direct and wholesale partners by the end of 2018.
Skechers Eyes Strong Second Half
By Bob mcgee – APRIL 23, 2018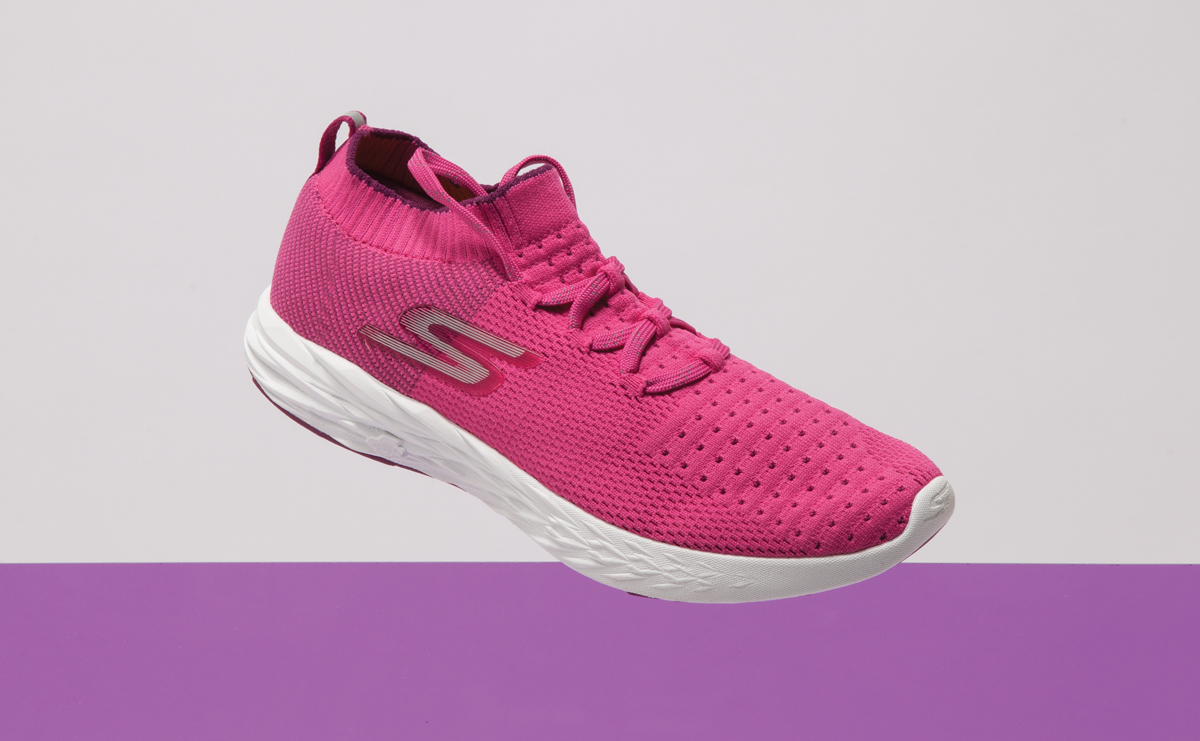 After reporting record quarterly sales in the first period of 2018 to $1.25 billion, Skechers says a tough comparison and a shift in timing of orders will make second quarter results "modest" with revenues in the $1.12-1.145 billion range. The outlook presumes a shift in second quarter shipments to H2 by U.S. wholesale accounts and several key international distributors. The record first quarter revenues were generated despite a 22 percent decline in distributor sales, partly due to weakness in the Middle East.

"We have a lot of prospects building for a very positive and significantly higher third quarter," Skechers COO David Weinberg told analysts last week.

In Q1, Skechers was forced to increase investments in China where period sales grew more than 30 percent and may increase by $200 million in 2018. The company expects to break ground on a new distribution center there by year-end and open it within 12-18 months. Back in the U.S., SKX shipped 15 percent more pairs year-over-year but suffered a 5.7 decline in average price per pair due to product mix and several collections that have lower ASPs. Men's and kids' sales rose double-digits; women's was up mid-single digits.

In H2, Skechers intends to consolidate its Southern California campus. Longer-term, the company says it remains focused on hitting $6 billion in annual revenues by 2020 as it makes sure its profitability keeps pace with peers in the athletic shoe business.
Boardriders Set to Close Billabong Deal Tomorrow
By Bob mcgee – APRIL 23, 2018
With the Quiksilver parent's $155 million acquisition of its oft-rival Billabong set for April 24, the Huntington Beach, CA company has disclosed its senior management team for the go-forward firm. Private equity firm Oaktree Capital, which has a 19 percent stake in Billabong and is one of its two senior lenders, also manages fund with a majority interest in Boardriders.

The 17-person Boardriders, Inc. team will include: Shannan North, global president of Billabong and retail strategy; Nate Smith, president of the Americas; Dan Levine, chief brand officer; Garry Wall, global GM for Quiksilver; Emilie Souvras, global GM for Roxy; Kevin Meehan, global GM for RVCA; and Mike Jensen, global GM for DC Shoes.  

Elsewhere in personnel changes last week.
• Reebok named Melanie Boulden, most recently SVP for global marketing at Crayola, as VP of marketing. She has prior senior management experience at Kraft Foods and Henkel.

• Shelfbucks, the Austin, TX-based in-store merchandising supply chain optimization platform, adds Tony Dunning, a former Pepsico and Kimberly-Clark executive, to its board.

• comScore names 25-year advertising executive Bryan Wiener as CEO. The current director at the Reston, VA company, fills the position that has been empty since the Nov. 2017 retirement of Gian Fulgoni. Bill Livek, meanwhile, moves to Vice Chairman and special advisor to the CEO.

• Zamst U.S. sees it parent, Japan's Nippon Sigmax Group, name Yosuke Suzuki  as president to succeed his father, Kozo Suzuki.

• Columbia Sportswear hires Clinton Administration deputy press secretary Mary Ellen Glynn as director of corporate communications and Sara Bradshaw, a former J. Crew and Kate Spade executive, as corporate communications manager.
• Escape Fitness hires Tom Antosik as national accounts manager for the U.S. and Jen-Kei Pong, formerly with Hyperwear, as distributor sales manager.
U.S. Supreme Court to Rule on Online Tax in June
By Bob McGee – APRIL 23, 2018
The nation's highest court heard arguments in the South Dakota versus Wayfair case last week. The state wants the Supreme Court to rule that states and local governments may require retailers with no in-state physical presence to collect sales taxes from online customers. By some estimates, states lose more than $23 billion annually since they are prohibited to collect sales tax from online and catalog purchases. 

Regardless of the Supreme Court's ruling, KPMG is advising remote sellers to begin preparing for the possibility of having to collect sales taxes from customers later this year and be watchful of Congressional efforts to advance legislation regarding online commerce.

"…There could be a complete lack of uniformity among the states on what constitutes nexus, which will leave retailers with no clear guidance on their sales tax collection responsibilities," said Harley Duncan, who leads KPMG's Washington national tax practice.
The Buzz
By Bob mcgee – APRIL 23, 2018
Escalade had flat first quarter revenues of $32.15 million despite a 108 percent increase in international sales to more than $1.9 million. Elsewhere, mass market sales increased 3.3 percent to $13.1 million; specialty store sales were off 2.2 percent to $12.9 million and ecommerce revenues rose 1.7 percent to nearly 7.6 million. Net income dipped 12 percent to $1.2 million for the period ended March 24.

Outdoor Industry Association has released a Congressional-level outdoor recreation economy report for all 435 House districts. The OIA hopes the reports will assist legislators in better understanding the role and impact the outdoor recreation economy has in their districts and among their constituents.

Sequential Brands Group intends to expand the Avia brand in China through a new multi-year agreement with Beiying Sports Technology Group. Through the pact, Avia stores will open in China, starting in 2019.

Tifosi Optics strikes a partnership with The National Interscholastic Cycling Association (NICA) through its corporate booster club that provides donations, in-kind gifts and proceeds from product sales to support NICA's belief of #morekidsonbikes philosophy.

Topo is donating 100 percent of its website sales from April 22, Earth Day, to The Conversation Alliance. Said Topo CEO Tony Post: "For years, I've been inspired by companies like Patagonia, who last year donated 100 percent of their Black Friday sales to environmental groups dedicated to protecting our natural resources…While Topo is a tiny company by comparison, this is an important economic gesture for us. It's also an important statement about our values and what we believe in."
Tubes of the Week