Piper Jaffray Report


U.S. Teen Spending Rises as Some Brands Gain Mindshare

By Bob McGee – April 16, 2018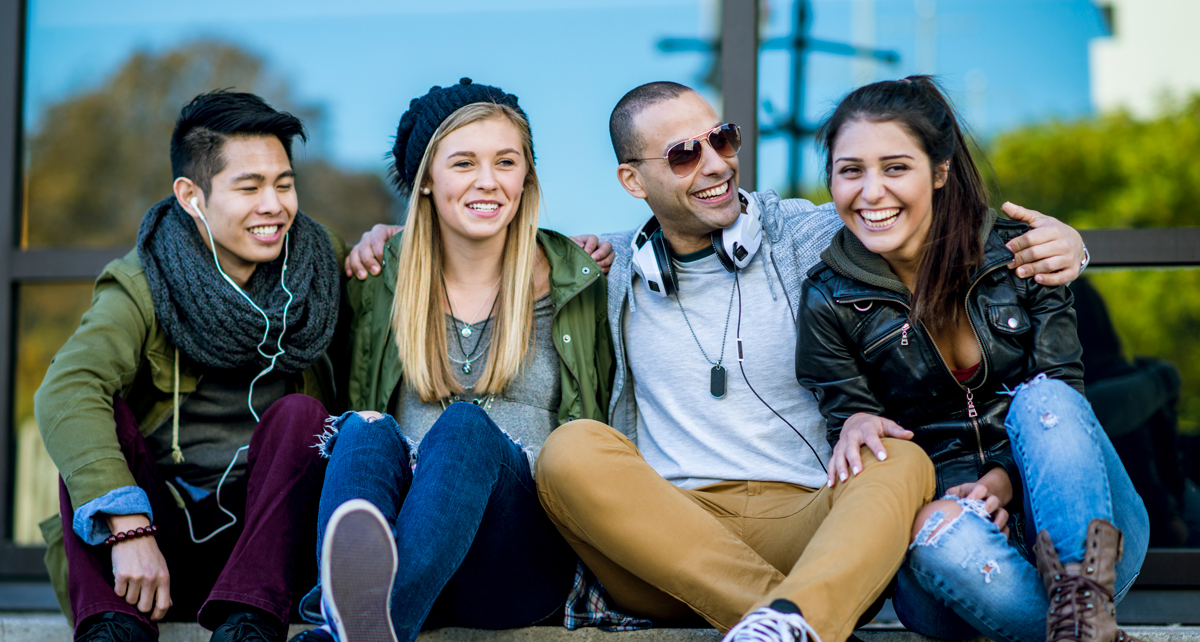 Teen spending this spring is up 6 percent from Fall 2017 and 2 percent higher than in Spring 2017, according to the 35th semi-annual Teen Survey conducted by Piper Jaffray. The study, based on 6,000 responses from teens with an average age of 16.4, shows the average U.S. teen spends approximately $2,600 annually with females spending 25 percent of their budget, on average, on clothing and their male counterparts designating about 16 percent of their spending on apparel. Thirty-five percent of preferred apparel brands of upper-income teens were athletic, down from 41 percent a year ago.

With streetwear and 1990s retro each showing signs of strength among respondents, four brands rose in mindshare among favorite apparel brands of upper-income teens—Adidas, rising to 6 percent from 3 percent in Spring 2017; Urban Outfitters, moving to fifth on the favorite brand list with 5 percent versus 2 percent a year earlier; Supreme, which was 10th on the favorite brand list in the Fall 2017 survey with 3 percent mindshare held steady and moved up to 7th in the rankings; and Gucci cracked the Top 10 for the first time spring. Nike retained its ranking as the most preferred apparel brand at 23 percent, steady with its Fall 2017 level but down from 31 percent in Spring 2017.

In the footwear category, Piper Jaffray found more teens moving deeper into casual athletic. The ongoing trend helped Vans further increase its share as the favorite brand among all upper-income teens to 16 percent versus 12 percent in Fall 2017 and 9 percent a year ago and Adidas hit a new peak in the survey at 14 percent against 11 percent in Fall 2017 and only 6 percent in Fall 2016. Nike retained the top footwear spot at 42 percent, off from 46 percent last fall and 52 percent in Spring 2017. Converse slipped to 4 percent mindshare versus 7 percent in the Fall 2017 survey. Piper Jaffray found that 66 percent of female teens now prefer an athletic footwear brand, up from 63 percent last spring, with 84 percent of male teens wanting an athletic brand today, down from 86 percent a year ago.

Both Tommy Hilfiger and Hanesbrands-owned Champion are more popular with teens today, each benefitting from the 1990s and logo revival trends. Champion moved to 10th among upper-income male teens, tied with Vineyard Vines, from 44th a year ago and to 25th among average-income teen males. Vans and Supreme are pacing today's streetwear trend among teens with women's driving the increase. Piper Jaffray found that while VF Corp.'s North Face brand retains a stable market share among teens, the Patagonia brand is currently more popular among the set.

The Piper Jaffray report found the top five fashion trends among upper-income teen males this spring are: Nike/Jordans (12%), Athleticwear (10%), Adidas (9%), Jogger Pants (7%) and Supreme (7%). Among upper-income female teens, the current top fashion trends cited by the survey are: Leggings/lululemon (29%), Ripped Jeans (8%), Jeans (5%), Victoria's Secret (4%) and Vans (4%).
Breaking 


March Retail Sales Up 5 Percent Year-over-Year

By Bob mcgee – APRIL 16, 2018

Mother Nature hasn't cooperated over much of the U.S. in terms of real spring weather, but apparently it didn't matter much at the cash register last month. March retail sales jumped 5 percent year-over-year, which the National Retail Federation attributed to consumers continuing "to show resiliency in spending."

Clothing and clothing accessory store sales rose 6.1 percent y-o-y in March, but were down 0.8 percent from February seasonally adjusted, according to the monthly data generated by the U.S. Census Bureau. Meanwhile, sporting goods store sales, perhaps hampered by the slow start to spring, were off 0.9 percent y-o-y in March and down 1.8 percent from February.
SFIA Report


Performance, Fitness Apparel Pace Categories

By Bob mcgee – APRIL 16, 2018

Performance and apparel had the biggest U.S. wholesale sales increases in 2017, rising 7.2 percent and 12.3 percent, respectively, according to the recently released Manufacturers' Sales by Category report from the Sports & Fitness Industry Association (SFIA). Meanwhile, sales of all branded athletic apparel increased 2.6 percent in 2017 to more than $16.88 billion, led by a 4.9 percent gain for the sock category and 4.2 percent increase for sports bras.

The trade organization found sales in the overall U.S. sporting goods and fitness industry, including all softlines and hardlines, grew 2.9 percent last year to more than $90.2 billion on a wholesale basis.

Other key gainers included: Bowling, up 4.3 percent; Fishing, up 5.3 percent to more than $2.47 billion; and Footwear, up 2.6 percent to more than $15.8 billion. Racquetball (-15.7 percent), Snow Sports (-8.3 percent) Tennis (-3.0 percent) were among the key decliners.
Running Insight


Boston Marathon Report: Donuts to Dollars

By Mark Sullivan– APRIL 16, 2018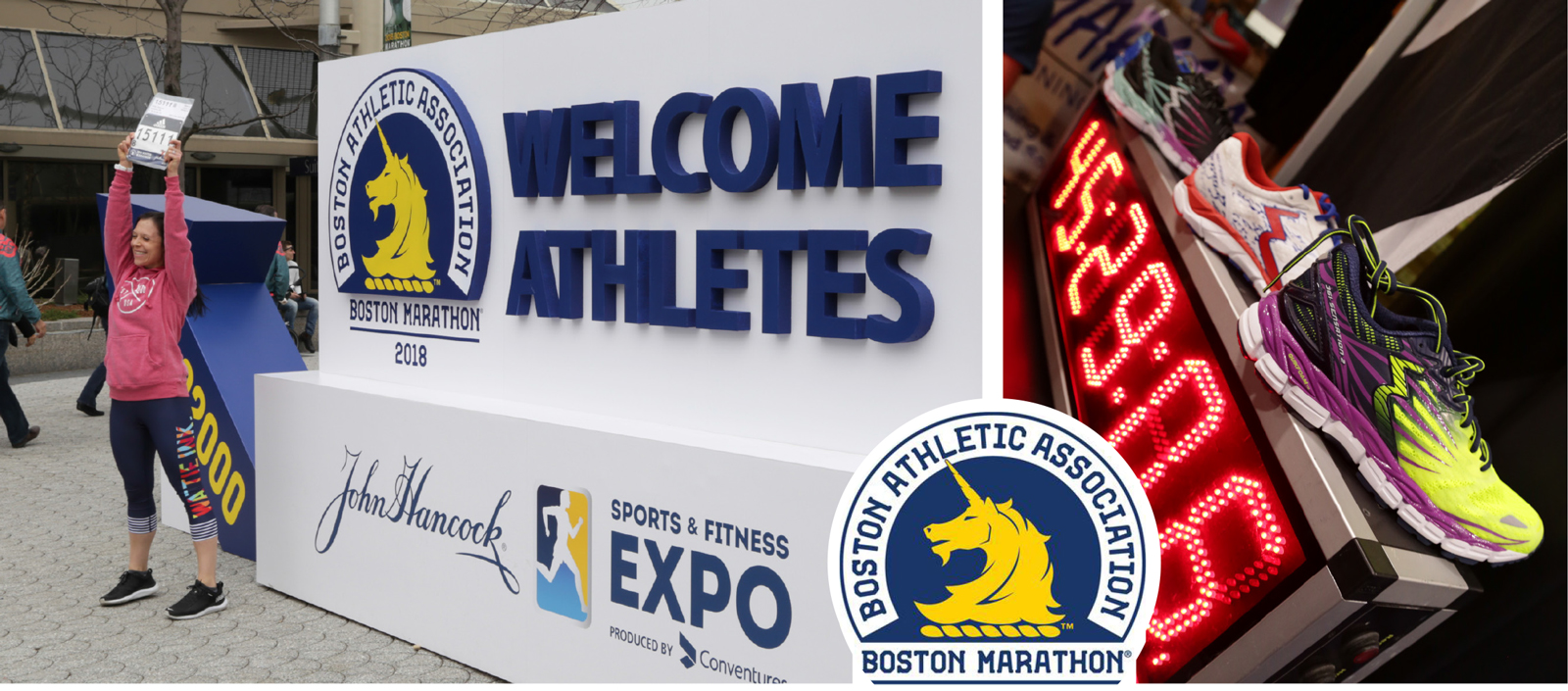 The popular cliché says policemen love donuts, but that doesn't explain why one of Boston's finest was in the Saucony booth Friday morning at the Boston Marathon expo. The shoe company, which is reportedly about to name a new president, was the hit of the expo with its limited edition Kinvara 9 collaboration with Dunkin Donuts. Runners charged the booth as soon as it opened and took a number "bakery style" as they lined up to buy a pair of the shoes, which were served up in custom packaging designed to resemble donut boxes.

Runners apparently were taking their Donut Shoes quite seriously. Colin Peddie, owner of Marathon Sports in Boston, which had an exclusive pre-sale on the shoes leading up to the race, said some shoppers who didn't get the shoes sent unhappy e-mails to the store. "I'm not anticipating trouble at the expo, but I'm happy the police are here to be sure," he said.

By late in the day, just a few shoes were remaining.

Balega also sold out of its Boston Marathon socks by the end of Day 1 at the expo.

This year, The Boston Marathon Expo was held at the Seaport World Trade Center, across town from its usual location at the Hynes Center which is close to the finish line on Boylston Street. Exhibitors said that traffic at Seaport tends to be slower than the Hynes but that visitors were in good spirits and purposeful in their shopping.
Industry Focused on Spiking Physical Activity
By BOB MCGEE – APRIL 16, 2018
The World Federation of Sporting Goods says it will work aggressively between now and the 2020 Olympics in Tokyo to further advance the notion of increasing physical activity across the globe. In a WFSGI position paper issued last week, the trade organization reported that active people are 48 percent less likely to suffer from mental health problems, contribute more to their respective community, are more productive in the workplace and tend to earn more over their careers.

"The inactivity crisis is real, with severe consequences for the society, it is a systematic global challenge," wrote Robert de Kock, WSGI president and CEO. "Everyone has a role to play in the solution, including governments, education institutions, the medical field, civil society, businesses as well as individuals."

In a related development, PHIT is kicking off PHIT America Month and Play Tennis Month on April 20 with a three-hour cardio tennis session at the U.S. Tennis Association National Campus in Orlando. There, 250 people will work on burning one million calories during a group fitness session with concurrent action on 24 tennis courts.
JackRabbit Forges Joint Venture with Rogue Running
By Bob mcgee – APRIL 16, 2018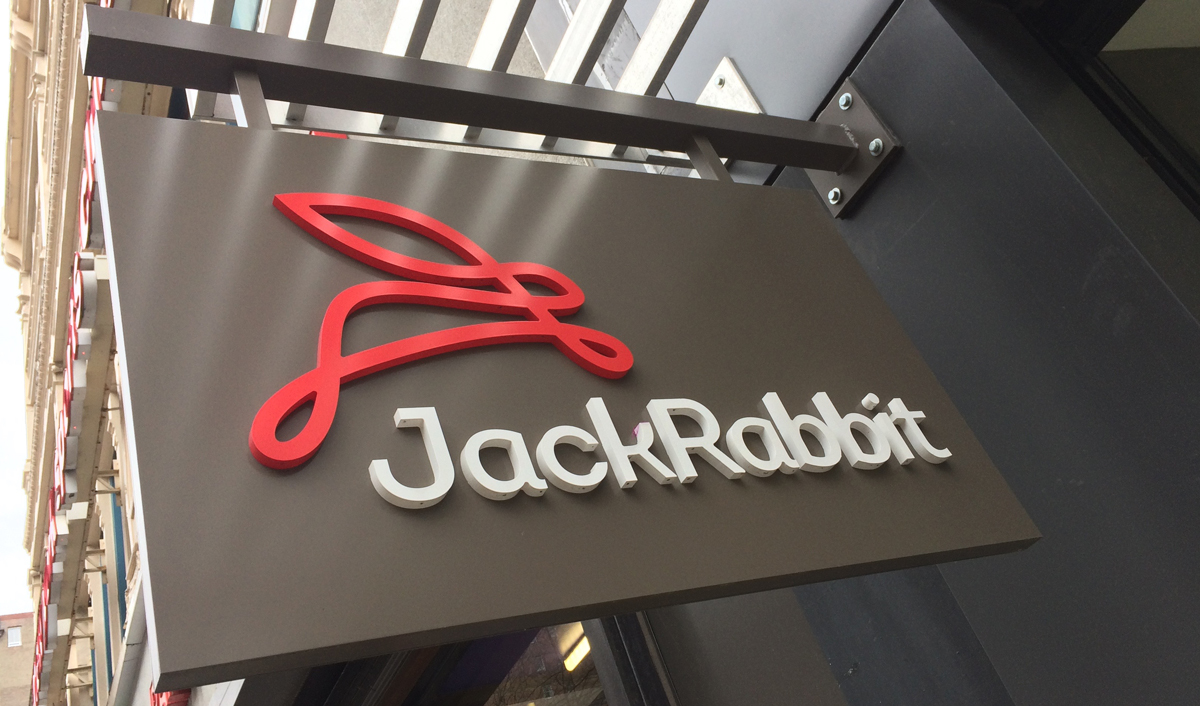 The 60-door and ecommerce-based run specialty chain JackRabbit has joined forces with Rogue Running to extend Rogue's training approach to all major JackRabbit markets across the U.S. over time, starting in Dallas/Fort Worth on May 19.

Rogue Running, started in Austin, TX by Founder Steve Sisson in 2004, takes the advanced training methods of the best professional athletes and applies the same principals to everyday runners. Rogue currently trains more than 3,000 runners annually with programs from beginners to advanced marathoners.

JackRabbit purchased the Rogue Running retail store in Austin, TX in Oct. 2017.

"We are extremely pleased to team up with Rogue to enable Jackrabbit to provide our customers a wide variety of training programs to meet the needs of all running types," said Bill Kirkendall, JackRabbit CEO.
Outdoor Retailer Winter Dates Moved
By Bob mcgee – APRIL 16, 2018
Aiming to help retailers avoid conflicts with their busy pre-Martin Luther King holiday selling season, Outdoor Retailer organizers have announced a shift in January show dates for Jan. 2019 through Jan. 2022. The three OR shows will be preceded for three days in the Colorado Convention Center by an event consisting of buying groups for the Winter Sports Market, Sports Specialists Ltd. and Snowsports Merchandising Corp.

The dates for upcoming January Outdoor Retail Shows are:
• 2019: Jan. 30-Feb. 1
• 2020: Jan. 29-Jan. 31
• 2021: Jan. 26-Jan. 28
The Buzz
By Bob mcgee – APRIL 16, 2018

A4, the premium team uniform and athletic sportswear brand, is opening a 175,000-square-foot warehouse in Kansas City, MO to significantly shorten shipping times to the Central and Eastern U.S. With the DC, A4 has the ability to reach 80 percent of the U.S. population with 1- or 2-day shipping.
  
L.L. Bean wants a Chicago federal judge to dismiss a consumer lawsuit challenging its new return policy that only allow returns on items bought within the prior year or having a manufacturing defect. Until February, Bean had an unlimited return policy.

Thorlo forges a strategic alliance with Next Fiber Technology to its new Experia ProLite running sock, which it says is 30 percent lighter than leading ultra-light running socks and also reduces blister-causing friction through its use of Next Fiber's nano-technology fiber called NanoGlide. Marathon Sports is the first retail distributor of the new product.
Tubes of the Week