RETAIL Insight


More Women Shop on Mobile Devices, Amazon

By Bob McGee – April 2, 2018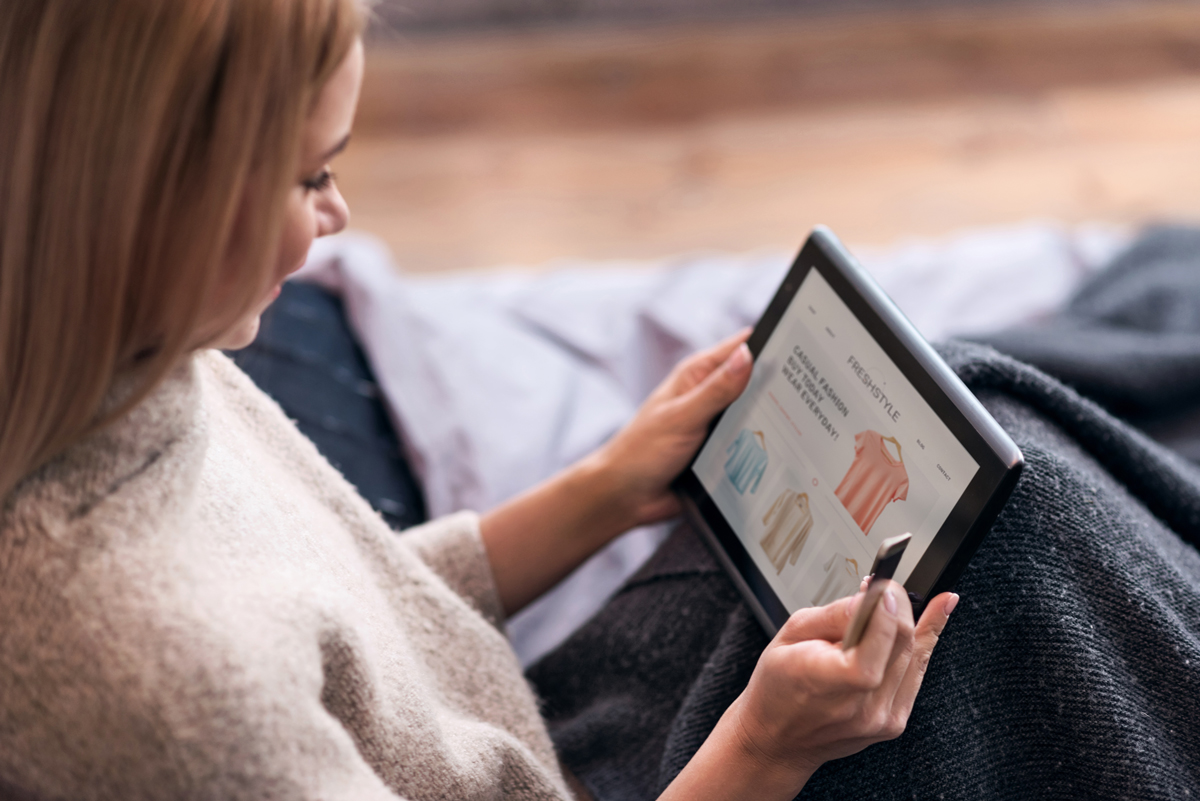 There are significant gender differences when it comes to shopping habits and technology use, according to a recent study from First Insight. Research from the Warrendale, PA company found that women use mobile devices more frequently for shopping than men (40% to 22%) and make more frequent purchases on Amazon (60% to 46%). In addition, 55 percent of women surveyed reported increased Amazon shopping last year, against 48 percent of men who responded similarly.

Other key findings in the report from the cloud-based technology company include:
• Only 21 percent of men are comparing prices on their phones when physically in the store versus 31 percent of women. 67 percent of women check Amazon before making a purchase.

• 30 percent of male respondents said their shopping in online discount stores has risen over the last year versus 22 percent at traditional discount stores.

• 44 percent of men said "seeing, touching and feeling the product" is the main reason that drives them into physical stores. For 27 percent of women, the key driver to a physical store was being able to take home products immediately. Price promotions were one of the least important factors behind bringing men into a store.

Elsewhere,
• U.S. Supreme Court will hear the South Dakota vs. Wayfair case April 17 and offer a verdict sometime in June. Last week, three internet-only retailers, including Overstock.com, filed a legal brief in the case requesting the land's highest court to uphold a 1992 ruling that says retailers do not need to collect sales taxes in states where they have no physical locations. The brief suggests a change in that policy would be costly, ineffective and burdensome. The plaintiff, South Dakota, wants the court to overturn the 1992 tax collection decision.

• Stadium Goods, the streetwear and sneaker retailer founded in NYC's Soho district in Oct. 2015 and minority-owned by LVMH Ventures, will operate an in-store boutique at Nordstrom men's store on NYC's West 57th Street when it opens in mid-April. Stadium, which already teams with Amazon, eBay and Alibaba beyond its ecommerce site, reportedly generated approximately $100 million in merchandise revenues in 2017.

• Roots, the Canadian lifestyle brand headed by former Wolverine senior executive Jim Gabel, is opening stores outside Boston in June in the Natick Mall and MarketStreet Lynnfield. Both locations are part of the company's strategy to open 10-14 U.S. locations by the end of 2019.

• L.L. Bean is opening an 8,600-sq. ft. store at One Seaport in Boston April 6, the retailer's fifth brick-and-mortar location in the Bay State, first in an urban locale and 36th outside of Maine.

• U.S. holiday ecommerce sales will jump 15.3 percent in 2018, down from the 17.8 percent realized in 2017, according to a new eMarketer forecast.

• Walmart continues to look for brand acquisitions in the $50-300 million range to differentiate its online merchandise mix from Amazon's, WMT's Marc Lore disclosed at the Shoptalk conference.
Inactivity Rate Inches Up, Number of Active Americans Holds
By Bob mcgee – APRIL 2, 2018
The number of inactive Americans grew 1.2 percent in 2017 to 82.4 million, or 27.6 percent of the total population, as the number of those who participated in high calorie burning activities more than 151 times last year held steady at 29.7 percent. These are among the findings in the newly published 2018 SFIA Topline Participation Report. Based on a survey of nearly 31,000 Americans in 2017, the 28-page report, available for purchase from the trade group, defines "inactivity" as those participants who reported no physical activity in 2017. The oldest age sets are among the most inactive, although inactivity among 55- to 64-year olds declined last year.

The report finds that the biggest change over the last five years is the rise in 'casual' participants, up 3.2 percent, on average, since 2012 and a corresponding 2 percent drop in 'active' participants during the same timeframe.
Lululemon Focus on Innovation, Digital and Extensions
By BOB MCGEE – APRIL 2, 2018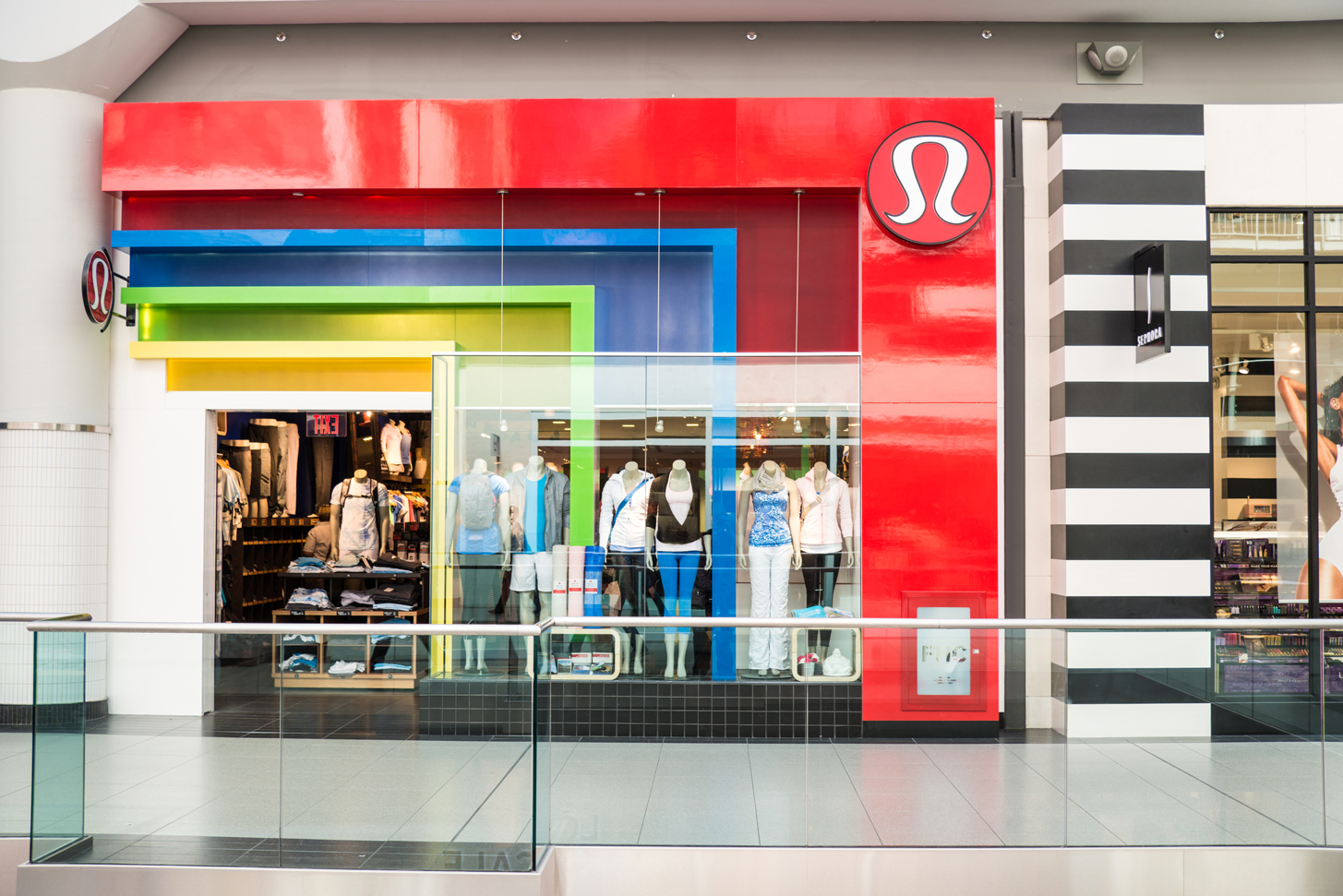 As the Vancouver company celebrates its 20th year in 2018 and continues its search for a new CEO, its strategic initiatives center on expanding digital business, international expansion, category extensions and more product innovations. Lululemon's vision for 2020, which consists of $4 billion in total revenues, $1 billion men's and international businesses and 25 percent ecommerce penetration remain in focus and on target, executives said last week. The company intends to increase data-driven insights related to guest engagement, merchandising and channel operations this year through increased investments. Later this year, Lululemon will emphasize efforts regarding checkout and search and personalization on its website.

"We're getting smarter in how we're being able to engage our guests via email and other social media," COO Stuart Haselden told analysts last week. "And so, I would say we're going to see that benefit the business from a guest acquisition and retention standpoint."

Store comparable sales and traffic in North America rose low-single digits as total revenues rose more than 17 percent to $928.1 million in the fourth quarter. Comps were described as particularly strong in the Southeast U.S. and a little weaker in the Northeast. Ecommerce sales rose 42 percent in constant dollars as traffic increased in the double-digits. LULU says it currently has the ability to ship from store at 186 locations, with the program set for further expansion this year, and intends to introduce a BOPIS program in the second half. Meanwhile, following 14 percent square footage growth in brick-and-mortar locations last year, another low double-digit increase is planned in 2018. Last year, Lululemon expanded some of its most productive locations to add a broader selection from its men's collection and create more space for additional category extensions. This year, another 20-25 doors will be increased in size.

Lululemon's FY18 objectives include total revenues in the $2.985-$3.22 billion range, a comparable store sales increase in the mid- to high-single digits, and 40- 50 new stores that includes 20-30 in key international markets.
Shoe Carnival Initiating Vendor-Ship Program
By Bob mcgee – APRIL 2, 2018
The 408-door retailer, whose senior executives called 2017 a "transitional year" for its business, is introducing an improved customer loyalty program and a vendor drop-ship initiative in the second quarter. The latter will give ShoeCarnival.com customers access to more brands, styles and sizes without forcing the retailer to increase its inventory risk. Meanwhile, the 12-million strong members of "Shoe Perks" will be offered more services and features, including the ability to receive text messages about new products and promotions. In FY17, 70 percent of Shoe Carnival's ecommerce business came through a mobile device and about half of all brick-and-mortar sales were from customers who engaged with the retailer on their mobile device.

Shoe Carnival is currently forecasting low-single digit comparable store sales growth in FY18 as total revenues are projected at $1.13-1.23 billion. While it has reduced its projected number of door closures this year through a combination of better store sales performance and improved lease terms, SCVL still intends to shutter 25-30 locations.

Elsewhere, the retailer experienced improved margins in the seasonal boot category in the fourth quarter despite lower sales, largely through fewer promotions. Women's boot margins rose 310 basis points; men's was up 140 basis points; and children's increased 260 basis points. Overall merchandise margins increased 140 basis points in the final period as the overall inventory level dipped 5.2 percent year-over-year. In the athletic category, Shoe Carnival says it is getting "better product" from all key vendors and has plans to open a minimum of 25 additional in-store athletic shops this year and next FY.
Sportsman's Warehouse Hiking E-com Investment
By Bob mcgee – APRIL 2, 2018
The outdoor specialty chain, which intends to increase its brick-and-mortar presence by five doors to a total of 97 locations in FY18 under new CEO Jon Barker, will invest $3.5 million this year on a larger ecommerce staff, and an expanded customer-centric ecommerce platform via SAP Hybris and more spending on digital marketing aimed at its nearly 1.6 million loyalty members. That group accounted for more than 45 percent of Sportsman's Warehouse's $809.7 million in FY17 revenues.

Already, SPWH is experiencing success selling higher-ticket items, including outdoor cooking, paddle sports, and some fishing products, online. In the fourth quarter, the retailer expanded its drop-ship programs with key vendors across multiple categories. Barker is forecasting the retailer's ecommerce penetration to be approximately 2-3 percent of total sales in FY18.

Elsewhere, the retailer experienced a 3.2 percent comp increase in firearm unit sales in the fourth quarter, but overall firearm revenues were down 2.5 percent on a comp basis. There has been further improvement in firearms sales in the first quarter. Barker says the chain is continuing to evaluate whether the gains are pull forward demand or an increase in market share due to other retailers' recent decisions on gun policy.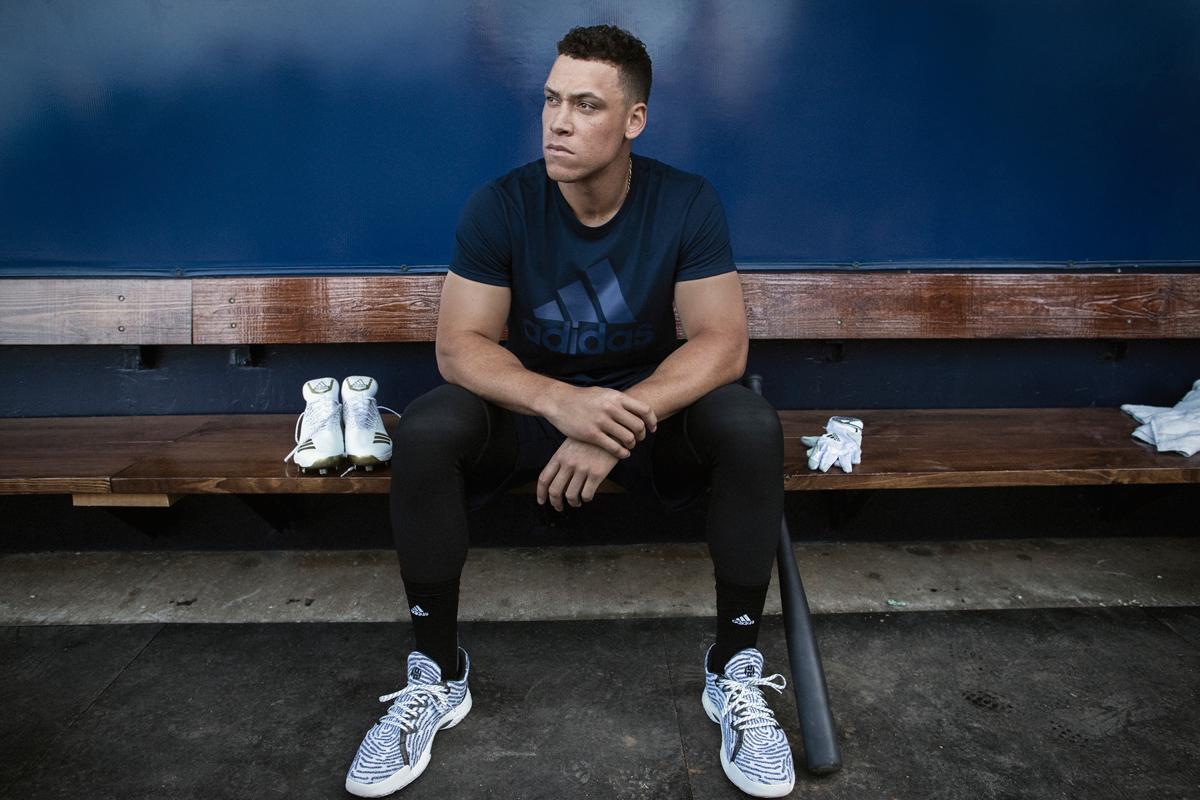 Aaron Judge, the 2017 American League Rookie of the Year, started the season in Toronto March 29 as an adidas endorser via a new multi-year partnership. He wore the new Adidas Icon cleats during the game against the Blue Jays. The Three Stripes intends to work with Judge, who will be featured in new brand marketing campaigns, on new product designs for footwear, training apparel and equipment.
Running Insight 


Brands Gear Up Before Boston

By Bob mcgee – APRIL 2, 2018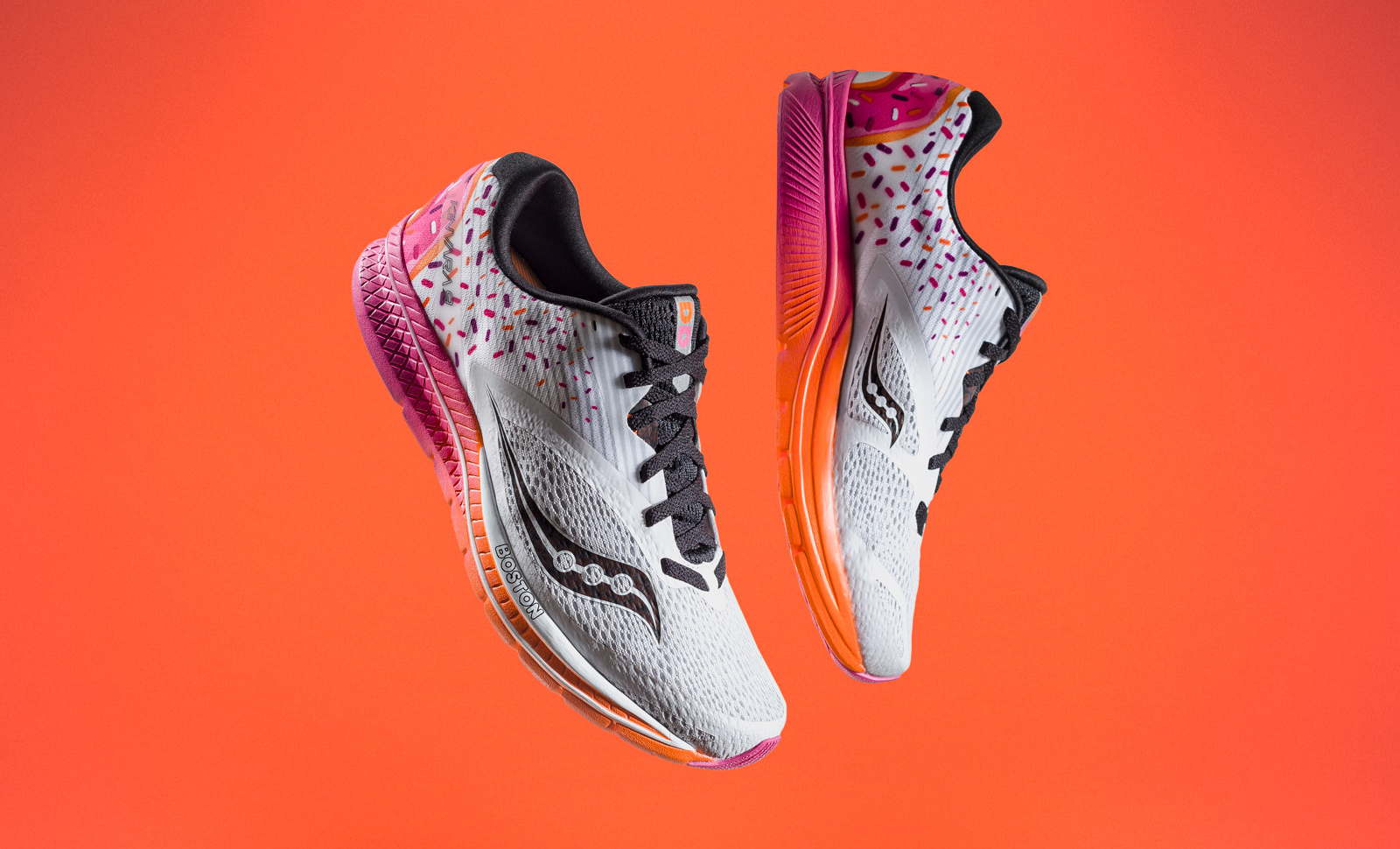 Saucony, based in Waltham, MA, is teaming with another Boston institution, Dunkin' Donuts, to introduce the Saucony X Dunkin' Kinvara 9 ahead of the April 16 race. The limited-edition shoe has already been named an "Editor's Choice" winner in 2018 Spring Shoe Guide from Runner's World. The $110 retail shoe, which comes in a custom package that recreates a classic Dunkin' Donuts box, features a strawberry-frosted donut on the heel surrounded by sprinkles in color palette of the Dunkin brand, the Dunkin logo on the tongue and DD's trademark tagline, "America Runs on Dunkin' on the center heel with a reflective stripe. Saucony will serve complimentary Dunkin' coffee at its booth during the race expo and DD employees stationed along the race route to cheer runners will be outfitted in custom Saucony T-shirts. Select specialty running shops and all Marathon Sports locations will sell the special shoe starting April 3.

Elsewhere,
Altra has introduced the Escalante Racer ($140 retail) for men and women in the same color way, a faster lighter performance version of its road shoe ahead of Boston. The first version of the racer, inspired by Boston, is available until it sells out. Altra plans to release several limited-edition Escalante Racers inspired by races in major cities around the globe. 

Hoka One One has partnered with apparel brand Engineered Garments on a footwear collection featuring the Hupana style. There are six different color and textile updates in the $130 retail, fully knit upper collection that are available at Engineered Garments' stores in New York City and Tokyo and on hokaoneone.com. The Nepenthes' New York location will feature an in-store HOKA pop-up shop through May 22.
The Buzz
By Bob mcgee – APRIL 2, 2018
Nike snares an eight-year extension to its on-field apparel rights with the NFL and secures gridiron footwear exposure for the Jordan Brand.

Teamwork Athletic Apparel has launched a new website and service, ProSphere Fan Shop, that offers apparel dealers quick and easy access to fan gear that can be customized. Through the website, dealers can create personalized web shops for teams, groups, or communities where a team's name, colors, logo and roster are carried over to a team store. TAA is using patented technologies to become a one-stop shop for team and fan wear. The San Marcos, CA offers no minimum order requirements, no inventory requirements, and a five-day manufacturing turnaround. The website is at: http://www.prospherebyteamwork.com/fsr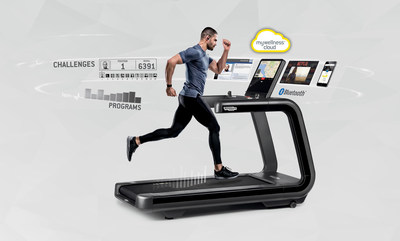 Technogym, the Italy-based fitness company, generated a 9.2 percent constant currency increase in revenues in FY17 to the equivalent of $743.0 million. Brand revenues in North America were 13.2 percent higher at $82.1 million. The company's My-wellness platform that was launched in 2012 now has 15,000 connect wellness clubs and 10+ million users. In 2017, Technogym became the first fitness company to implement Apple Watch connectivity.
Tubes of the Week