Hats Off For Genesco
By Bob McGee – February 20, 2018
The struggling Lids Sports Group, which accounted for 29 percent of Genesco's FY17 revenues but only managed an operating margin of 4.9 percent, is now officially on the block. The decision to put a "For Sale" sign outside the licensed headwear and apparel unit that shrunk its door base by nearly 12 percent over the first nine months of 2017 didn't surprise any executives asked about it at the Las Vegas trade shows last week. Additionally, no one questioned thought that Fanatics would be the automatic "stalking horse" for the business, where operating profit slid 85 percent during the first nine months of FY17 on a 5.3 percent drop in revenues to $538.5 million and 3 percent dip in comparable store sales. Third quarter store traffic declined double-digits.

Shareholders and ongoing negative trends in the headwear business, which today is more lifestyle- than pro league-driven and without a clear trend driver currently, forced the hand of Genesco. Following a LSG divestiture, the Nashville company will retreat to focus strictly on its core footwear platform that includes the Journeys' chain.

While admitting Genesco sees "compelling" elements of Lids' overall business, including its strategic and competitive positions, Chairman, president and CEO Bob Dennis recently confessed to analysts, "…We certainly are not going to invest in a lot of new stores in an environment where we don't have the visibility of fashion on the hat side and competitive dynamics on the Locker Room side."

Genesco has tried valiantly to enhance Lids' appeal to its early teens to mid-20s customers in the face of softer MLB, NFL and NCAA sales trends and their persistent "comfortableness" with online shopping. Efforts have included everything from a 25 percent higher media spend focused on social paid search and affiliate marketing to more in-store only events and an upgraded online embroidery programs that mirrors what's available at a mall location.

From this vantage point, the best suitor for LSG would be an acquirer interested in retaining only the best "A" location brick-and-mortar leases and shifting the rest of Lids' business online. Clearly, this strategy would sharply reduce the current 1,177 door count and offer more safeguards against seasonal promotional discounting. If the various professional leagues and NCAA take more control of selling their own licensed products, margins on all items would rise with the new Lids only merchandising high-demand seasonal items in its physical locations.
La-La Land Weekend
By Bob mcgee – FEBRUARY 20, 2018
Adidas and Nike used the backdrop of NBA All-Star Weekend in Los Angeles over the weekend to showcase celebrities, new looks in a unique pop-up store and technology to sell shoes.

747 Warehouse was The Three Stripes' two-day basketball culture event in the City of Angels where music, new footwear releases and open source creation collided with a plethora of brand endorsers ranging from athletes to musicians. The company estimated that more than 20,000 people visited 747 where they were treated to everything from an impromptu design session from Kanye West to concerts from the likes of Pharrell Williams, French Montana and Kaytranada. Numerous Adidas athletes made appearances at the downtown Los Angeles location where guest wristbands used a RFID raffle system to purchase exclusive products via a unique SMS alert system.

Nike, meanwhile, hosted a downtown concert and aligned with Snapchat to offer attendees the right to purchase the new, limited-edition AJ III Tinker that debuts next month. Those who spotted and scanned a QR code to purchase the kicks had them delivered the same evening by a local Nike partner.
Footwear Insight


Vans Keeps Rolling; Under Armour Sets More Restructuring

By Bob mcgee – FEBRUARY 20, 2018

Vans' parent VF Corp. remains bullish on the youth-culture-focused label, forecasting "high teens" growth for the company in H1/18 as it continues making investments in the business. Senior VFC management says it's most impressed with the "diversity" of Vans' growth and the company's "Not Just One Thing" approach that delivered double-digit sales growth in apparel and accessories and a nearly 200 percent increase in its customs platform in the fourth quarter. Vans' revenues were up double digits in all geographic regions, including a 39 percent expansion in the Americas. Vans North America's DTC segment grew nearly 30 percent in 2017 with a 20+ percent comparable growth to become VFC's first $1 billion regional DTC platform. The brand's North American revenues increased 19 percent last year.

Elsewhere,
• Under Armour is working diligently to reshape its business model, including further expansion of a growing international business and an overall leaner, more efficient operation that will result in about $75 million in annualized savings in FY19. But CFO David Bergman is realistic about the brand's outlook on its home turf, forecasting a little more contraction in the U.S. market for the brand and proclaiming to analysts last week, "So we're not expecting a miraculous turnaround in North America." Currently, UA is predicting a mid-single-digit revenue decline in North America in FY18 as it prepares to shrink its overall SKU base by 30-40 percent for Fall 2019. During H1/18, the company will work through higher inventories (up mid-teens at year-end) through its own outlets and third-party, off-price partners. Better planning will result in an accelerated business commencing in H2/18, senior management told analysts, after the majority of ongoing restructuring is completed by June 30. The company is promising better product segmentation by channel going forward.

• Japanese brands Asics and Mizuno recently reported softer revenues. Americas' annual revenues fell 6 percent to the equivalent of $944.0 million at Asics for the 12 months ended Dec. 31, 2017. But the region's profitability soared more than 173 percent year-over-year to $22.2 million on an improved cost of sales ratio and lower allowances for doubtful receivables. Asics' running shoe sales in the Americas dipped 2 percent in FY17 to the equivalent of $884.4 million. The company is forecasting a 1 percent currency-neutral decline in Americas' revenues in FY18 with the U.S. off 5 percent but the Brazilian market up 7 percent. At Mizuno, implied third quarter Americas' revenues slipped 9.3 percent to $46.1 million as footwear sales fell 7.4 percent.
Retail Round-Up


2018 Retail Sales, Fueled by Ecommerce, Should Grow 3.8 to 4.4 Percent

By Bob mcgee – FEBRUARY 20, 2018

The forecast from the National Retail Federation includes an expectation of a 10-12 percent sales increase from online and other non-store sales. Ecommerce sales grew 16 percent in 2017 to account for 13 percent of all 2017 retail sales versus 11.6 percent in 2016. In the fourth quarter specifically, online retail sales grew at their fastest rate since 2011. Amazon, according to Internet Retailer, accounted for more than 70 percent of the $62.5 billion in U.S. online retail growth last year.

Except for the bottom end of the range, the NRF outlook, if realized, will match or exceed 2017 retail sales growth of 3.9 percent to $3.53 billion, according to U.S. Census Bureau data. The gain, still subject to revision, exceeded the trade group's annual 2017 forecast of 3.2-3.8 percent sales growth. The NRF's bullish outlook is based on high consumer confidence, low unemployment that is forecast to decline to 3.9 percent by year-end and growing wages. U.S. gross domestic product (GDP) growth, bolstered by the new federal tax plan, is forecast to increase 2.5-3.0 percent this year.

Elsewhere,
• Bass Pro Shops is offering Cabela's headquarters employees in Sidney, NE severance packages from an established $20 million fund. Those over 50 years old and with a minimum of 10 years of service will receive two weeks of severance pay for each year worked plus a $40,000 bonus; those with under 10 years of service get the severance offer, a $20,000 bonus and store discounts for the next decade. The voluntary offers expire on March 1.

• Sporting goods stores were the only segment to post a year-over-year sales decline in January, falling 5.9 percent and 0.8 percent from December seasonally adjusted, according the U.S. Census Bureau.

• JackRabbit continues expanding its footprint across Texas, opening an 8,800-sq.-ft. store in Fort Worth last week. With the new door, JR now counts more than 16 percent of its 62-door base in the Lone Star State.

• Zumiez, slated to report year-end results on March 15, is forecasting fourth quarter income at the high-end of guidance. Comparable store sales for the 698-door chain rose 6.3 percent for the five weeks ended Feb. 3, driven by men's, footwear and women's. Fourth quarter comps were up 7.5 percent; FY, up 5.9 percent.

• Canadian Tire's FGL segment that includes Sport Chek and other sports banners generated 2.0 percent comparable store sales growth in FY17 as total revenues grew 2.6 percent to C$2,059.2 million.

• Off Broadway Shoe Warehouse opens its first Puma shop at its West Sunset Boulevard Store in Los Angeles with plans to add the brand concept area to all of its 80 stores in the future.

Bits 'n Pieces:
Sportsman's Rendezvous, based in Flemington, NJ, is closing its door and website on Feb. 28. Modell's is opening a store in Brooklyn, NY's Sheepshead Bay neighborhood. REI is named to Fortune's "100 Best Companies to Work For" for a 21st consecutive year, ranked 43rd. Amazon, which employs 40,000, is laying off hundreds of employees with the cutbacks largely focused within its consumer retail businesses that include approximately 30 at Zappos.
Tubes of the Week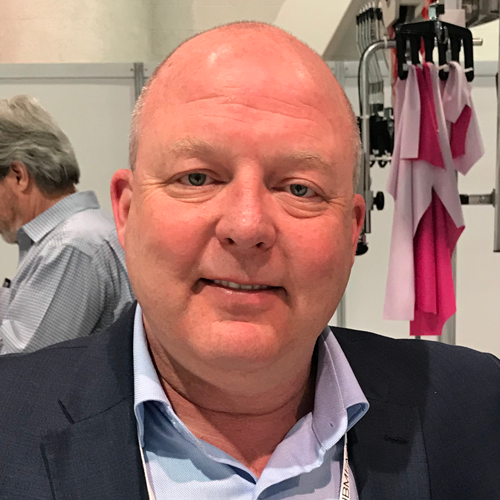 Patrick Clark
President of Nextwave, a Buford, GA system integrator, discusses benefits of an on-demand apparel microfactory, a bridge to Just In Time manufacturing, from Sourcing at MAGIC in Las Vegas.