Outdoor World of Marcus Lemonis Taking Shape
By Bob McGee – January 08, 2018
Intent on building a profitable outdoor retail empire, the CEO of Camping World and reality TV star Marcus Lemonis continues to fine-tune his strategy with acquisitions, ongoing lease negotiations and store openings. When all is said and done, not likely until sometime in 2019, Camping World may emerge as the mecca for everything outdoor lifestyle both in-store and online. The ever-expanding business is showing viability as a major lure for the outdoorsy Millennial set, much like the older hooks-and-bullets crowd has embraced Bass Pro and Cabela's operations (now one) in recent years.

Last week, Lemonis announced he was acquiring the four-door, 35-year-old Midwest outdoor specialty chain — Glendale, WI-based Erehwon (nowhere spelled backwards) Mountain Outfitter. This follows Camping World's October acquisition of Uncle Dan's. It's surmised here that the buying staffs of both businesses will provide expertise and input to Gander Outdoors' parent on merchandising, key must-have and emerging outdoor brands and successful navigation into ecommerce. In July, Camping World bought TheHouse.com, which fulfills orders from 200,000-square-feet of warehouse space in St. Paul, MN and has some off-price similarities to TJX-owned Sierra Trading Post.

"The growth of our outdoor categories will initially come from the opening of stores," Lemonis told Camping World analysts in November. "…But as you look at the other acquisitions…we are clearly looking at brands and businesses that can give us the same results and that have online presence."

Meanwhile, CWH's major objectives for the emerging Gander Outdoors' chain, which will open 69 stores by the end May across 21 states, including 11 in Wisconsin, eight in Michigan and five in Minnesota, are: return on capital, margins, customer experience and database name collection, says Lemonis, who says only profitable lease deals were struck on spaces in the 30,000-50,000-square-foot range. Fifteen of the first 60 stores are expected to have RV Camping World centers co-located with them.

The revenue target for Gander Outdoors in FY19 is "north" of $300 million following $30-35 million in projected expenses from H2/17 through FY18, including the cost of inventory.

"For me, that is really the cost of ramping up the business, and I feel like the return on that money will be significant," Lemonis told analysts.
NFL=No Fulfillment League
By Mark Sullivan – JANUARY 08, 2018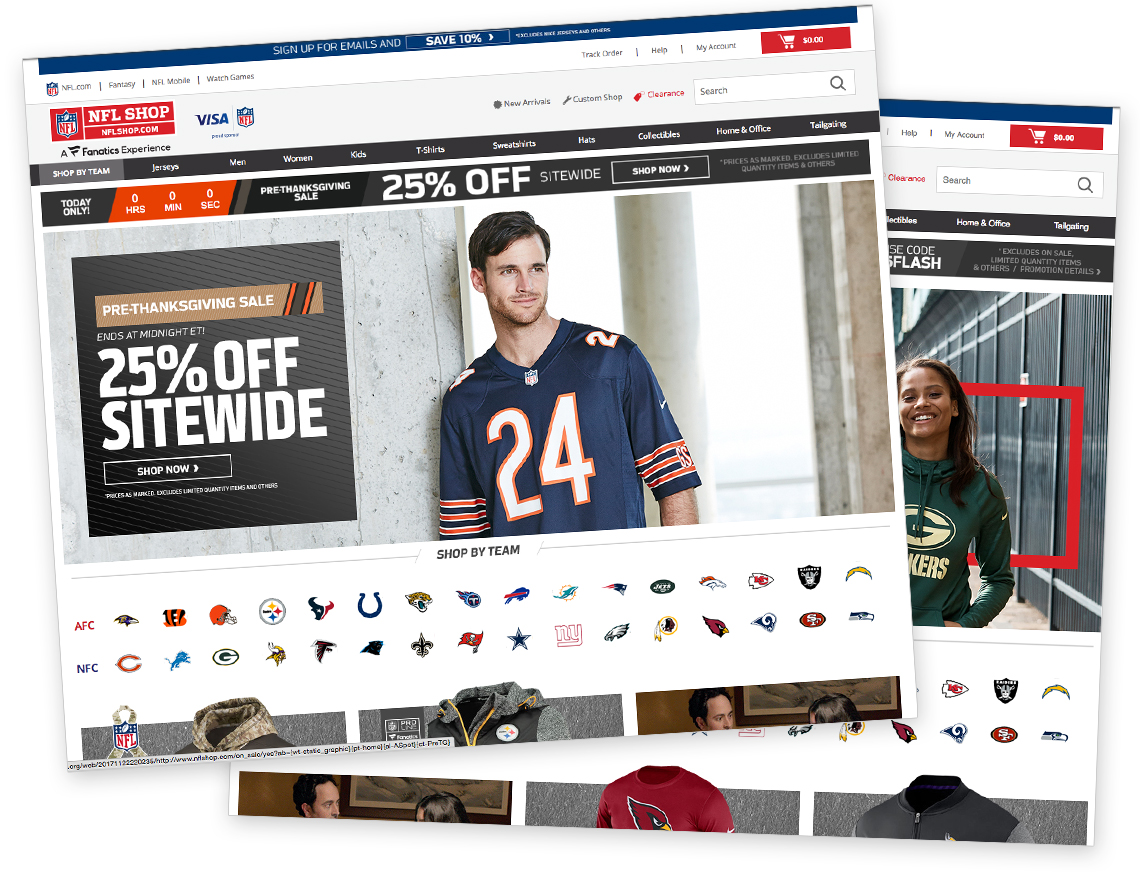 No joy under our Christmas Tree. Fanatics fumbles our mystery shop.

The National Football League's problems have apparently even infected its web business, NFL.com which is run by Fanatics.

Sports Insight Extra mystery shopped six leading sports websites over the holiday season and most, including nhl.com, mlb.com, backcountry, all performed admirably: delivering on time and keeping us appraised of pending shipments. But in an era where amazon.com performs with relentless efficiency and Zappos ships shoes with cheerful competence, NFL.com was the Cleveland Browns of web retailing.

Here is the sad tale of our efforts to purchase an Alvin Kamara Saints home jersey.

Ordered the jersey on November 24, 2017 (plenty of time for the holidays, right?).

Received an e-mail the next day saying jersey would ship on December 15.

When we did not receive a confirmation on December 15, we called and were told it would ship on December 18 and arrive December 28 (Kind of pointless for Christmas gift).

After two calls, we found a responsive CSR who overnighted it for delivery on the 20th.

It arrived on the 20th and was 3XL instead of L. When we called and requested re-delivery of the right size we were told that they were "out of stock," and that we were basically out of luck. We spoke to a supervisor who promised that she would e-mail "headquarters" and we'd receive a response within 24 hours, but alas the Saints had their first playoff game this past weekend and no one has e-mailed or called. (It's also noteworthy that she told us she worked for a third-party call center and not the actual company).

Now, there's a chance that our order was one of the few that was messed up over a busy holiday season. But there's also a chance that what we experienced underscores that Fanatics is not ready for the big time just yet. For the past year, league officials have privately expressed concern that Fanatics' checkbook and ambitions outweigh its ability to execute. The fact that they were not able to competently deliver a jersey from a hot player on a playoff team with 30 days lead time does not reflect well on its ability to read the market, react quickly and manage their supply chain and customer experience. If this is true, it's a serious issue because Fanatics has major licenses with just about every sports league on the planet.

To us, as fans and consumers, it also reflects poorly on the NFL. When Zappos botches your shoe order (which they seemingly never do, by the way), you don't get mad at Cole Haan. When Fanatics fumbled this (which they did from the outset), our reaction was to get mad at the NFL. The site after all is called nfl.com.

Fanatics public relations was contacted about this experience prior to Christmas and asked to provide feedback. They never got back to us.
Retail Round-Up


Beantown's Sneak(In)Easy Anything But; Bracing for More Bankruptcies

By Bob mcgee – JANUARY 08, 2018
Despite single-digit temperatures, hundreds braved the cold on Saturday to line-up outside Boston's pop-up Sneakeasy store on Tremont Street looking to snare Kyrie 3 Rayguns or Air Foamposite One Galaxy Big Bangs from Nike. Others in line sought special Jordan and Converse exclusives. But many left disappointed after the joint venture between Foot Locker and Nike was abruptly shuttered after a few fights broke out in the long line, according to the Boston Herald. Foot Locker officials did respond to the paper's inquiry for comment.

• Moody's Investors Service is projecting the default rate among high-yield retailers to fall to 5 percent in October, but only after peaking at 11 percent in March. The U.S. retail and apparel segment had 11 defaults in 2017, and the number of store closures is projected to increase 33 percent this year with the potential of 25 major retailers filing for bankruptcy protection, according to Cushman & Wakefield research.

• Zumiez is now projecting annual comparable store sales to rise approximately 7 percent after comps for the five weeks ended December 30 improved 7.9 percent on higher transactions, units per transaction and average unit retail prices fueled by a stronger men's business followed by women's and footwear.

• Sports Authority signage is being removed from Denver's NFL stadium this month although the venue will continue to be called Sports Authority Field at Mile High due to some upcoming events. The retailer breached its naming rights contract, signed in 2011, in August 2016.

• Bass Pro-Cabela's has yet to decide how many staffers will remain in Cabela's former corporate hometown of Sidney, Nebraska. Cabela's former CFO Ralph Castner is relocating to Springfield, Missouri to take over the same position for the combined company.

• Nike CEO and president Mark Parker was recently named "Person of the Year" by Forbes Walter Loeb for being a real disruptor in retailing.
Quiksilver Parent Acquiring Rival Billabong
By bob mcgee – JANUARY 08, 2018
The $155 million deal, first announced December 1, is projected to close in April and create a company with more than a dozen surf- and action sport-inspired brands with over 7,000 wholesale accounts across 110 countries, ecommerce operations in 35 and 630 retail doors across 28 nations. What happens with the emerging firm bears watching given that the popularity of surf-inspired wear, including board shorts, peaked in the 1990s, and both companies have struggled mightily in recent years. Will the emerging entity make additional marketing and product development investments in their portfolio of surf labels? Or, look to sell-off individual labels to the highest bidders to profit on its purchases?

Oaktree Capital, which controls Quiksilver parent Boardriders Inc. and 19 percent of publicly-traded Billabong, is orchestrating the marriage. In October 2015, the Los Angeles-based private equity firm, a specialist in buying financially-strapped companies and turning them around, infused a bankrupt Quiksilver with $175 million and assumed majority ownership. Months later, after securing more than 90 percent of the former ZQK shares in a refinancing package, Quiksilver abandoned its public NYSE shares listing. Subsequently, Oaktree changed the corporate name of the Quiksilver, Roxy and DC Shoe parent to Boardriders and began right-sizing the operation headed by CEO Pierre Agnes. It created an experiential retail concept worldwide, Boardriders, to re-invigorate the brands and promised mid-single digit revenue growth going forward.

As for Billabong, the Oaktree purchase offer is seen as a life preserver for the company founded in 1973 on Australia's Gold Coast by Gordon Merchant and his wife. The acquisition price represents only 5.2 percent of Billabong's market capitalization a decade ago. Five years ago, Billabong rejected a takeover bid four times the size of Oaktree's current offer. Now, two key Billabong investors have tentatively approved the current buyout deal that Chairman Ian Pollard has said is necessary to avoid "ongoing risks and uncertainties associated with the business."

In its latest fiscal year ended in August 2017, Billabong annual revenues fell more than 10 percent to the equivalent of $340 million. More than 28 percent of the company's 372 retail stores operate in the company's home market. Four years ago, Billabong was forced to write-off the value of its namesake brand after breaching the terms of a debt covenant and seeing its revenues fall below operating costs.
The Buzz
By Bob McGee – JANUARY 08, 2018
Under Armour inks a deal as the official high-performance footwear supplier to Canadian Olympians through the 2024 Games.

Sensoria is collaborating with a German company, presumably Adidas or Puma, on a smart apparel "e-skin" golf shirt. The collaboration is being officially announced at CES this week.

Yeti strikes multi-year partnerships with a number of mountain resorts, including Squaw Valley Alpine Meadows, Copper Mountain, Killington and Steamboat Resort, to become the official cooler and drinkware brand of the locations. Resort visitors will use YETI products at on-mountain lodging facilities and be able to purchase at resort retail shops.
Tubes of the Week