Running Industry Embraces Austin Again
By Jennifer Ernst Beaudry and Bob McGee – December 4, 2017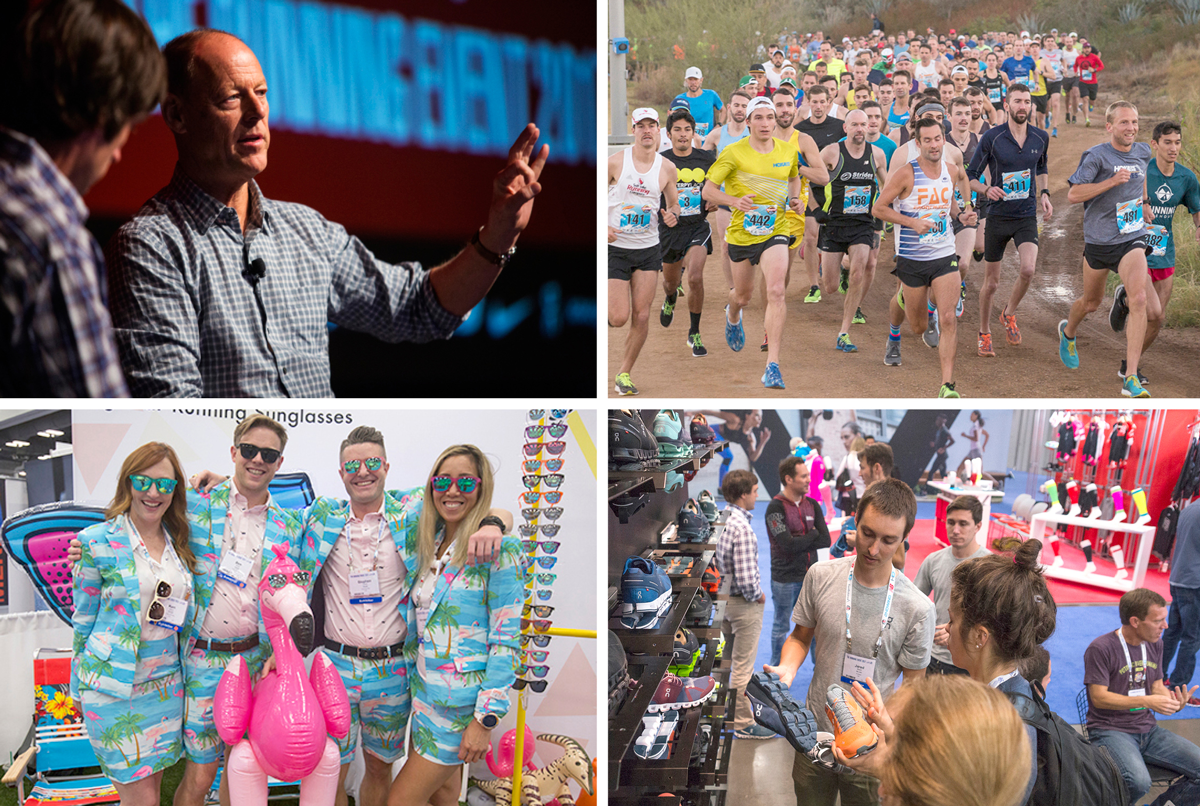 Last week, Formula4Media-owned The Running Event took place in Austin, Texas with more than 850 specialty retail executives and race directors attending the conference and a trade show of more than 250 exhibitors.

Footwear brands at the 12th annual event brought their A-game — and it was clear that the 2018 story in running will be focused on what happens under the foot, whether it's new cushioning technologies, new outsole geometries or more.

Brooks will be bringing the second shoe featuring its DNA Amp cushioning to market with the $120 Ricochet, which leaves the ultra-responsive material underfoot but pairs it with the brand's BioMoGo DNA foam for a lighter and faster shoe.

The brand will also debut its new DNA Loft midsole foam in the Glycerin 16 and Ghost 11 cushioned styles. DNA Loft, which uses rubber reinforcement on the foam cell walls, allows more air to be blown into the material for a super airy, super-cushiony ride. Brice Newton, senior manager of global footwear merchandising for Brooks, said runners should expect to see the material move more widely across the cushioning spectrum of shoes in future seasons.
The Seattle-based company is also teaming with HP Inc. and Superfeet to deliver personalized running shoes via the FitStation powered by HP and Brooks Run Signature. Starting in June 2018 at select retailers, consumers will have the ability to special order personalized footwear following a 3D foot scan, gait analysis and foot pressure measurements taken by the in-store device. FitStation analysis translates into specific requirements for each shoe. They are produced by Superfeet on a DESMA polyurethane injection-molding machine that uses the 3D foot scans to determine the proper lasts to build the shoe around. All personalized footwear will be made in the U.S. at Superfeet's headquarters in Ferndale, WA.

Baltimore-based Under Armour is also banking on a cushioning play as it looks to win over runners (and potentially gun-shy running retailers). Two Spring '18 shoes — the HOVR Phantom ($130) and the HOVR Sonic ($100) — both showcase the brand's new HOVR midsole material, an olefin-based polymer developed in conjunction with Dow Chemical that Under Armour wraps in a textile mesh it calls Energy Web that it says allows for additional energy return to the runner.

Other brands are using different tacks to change up the ride of their shoes. Lexington, MA-based Saucony is launching a contoured midsole in the Freedom ISO 2. The $160 runner will debut 6/1 to the run specialty channel (and 7/1 everywhere else) and will be the first of many: according to Doug Smiley, global business unit manager for running footwear said that the molded footbed should be integrated throughout the entirety of the line by Spring '19.

Hoka One One, a division of Goleta, CA-based Deckers Outdoor Corp., is launching the $170 Evo Mafate shoe for fall, a riff on its classic Mafate runner designed to stay cushioned over long-distance trail runs. And Annency, France-based trail specialist Salomon continues to refine its road running line. For Fall '19, the lasts of the Sonic family of shoes have tuned to be a little wider and more consistent with road shoes across the industry, and the geometry of the outsoles road have been tweaked to provide even more seamless guidance as the foot moves through the gait cycle.

Meanwhile, at the TRE Awards Banquet where retired long-distance runner Meb Keflezighi was presented with the Lifetime Achievement Award, women dominated. Fleet Feet Chicago's Catherine Moloznik took home the Just Do It award from Nike. Sister-owner Kate Pezalla and Anne Pezalla of Lively Athletics in Oak Park, IL captured the Ubuntu award from Balega Sports, Jenni Peters of Varsity Sports took home the Run for Good award from Saucony and Carolina Ysuda of Naperville Running Company (IL) was honored with the Run Happy award from Brooks. Other retail winners included: FrontRunners, Victoria, British Columbia as Canadian Retailer of the Year honored by New Balance Canada; Runner's Roost of Denver with the Never Stop Exploring award from The North Face and Ragged Mountain Running of Charlottesville, VA with the Sound Mind, Sound Body award from Asics.

For more coverage from the TRE trade show floor, including video interviews, check out The Running Event on Instagram: instagram.com/therunningevent
Trump Administration Set to Drastically Shrink Public Lands
By bob mcgee – DECEMBER 4, 2017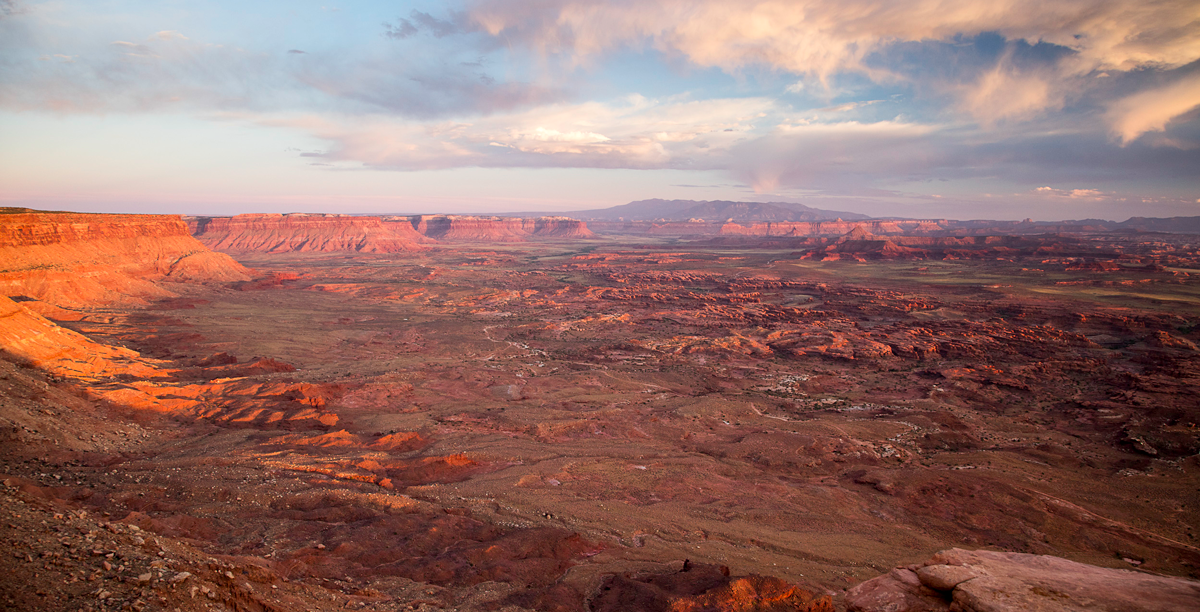 More than two million acres of public lands, including 84 percent of the Bears Ears National Monument and half of the Grand Staircase-Escalante National Monument, are set to be stripped of federal protections. The actions, slated to be announced by the Trump Administration in Utah today, have been denounced by the outdoor industry companies and members, including Patagonia.

The Outdoor Industry Association says a federal plan to reduce Bears Ears to 201,397 acres from more than 1.35 million acres and Grand Staircase-Escalante to 997,490 acres from nearly 1.9 million are "detrimental" to the $887 billion outdoor recreation economy and the 7.6 million U.S. jobs it supports.

Patagonia, which suggests the moves are only the first steps in the Trump Administration's "attack on America's national monuments and protected areas," says it will join environmental organizations and Native American tribes in filing lawsuits to protect the lands.

"It is apparent that the president is playing politics with these sacred lands and the monument review process was a total sham," Patagonia said in a Dec. 2 email to concerned parties, citing 98 percent of nearly three million public comments supporting the maintenance or expansion of national monuments.
Quiksilver Parent Makes Bid for Billabong
By Bob mcgee– DECEMBER 4, 2017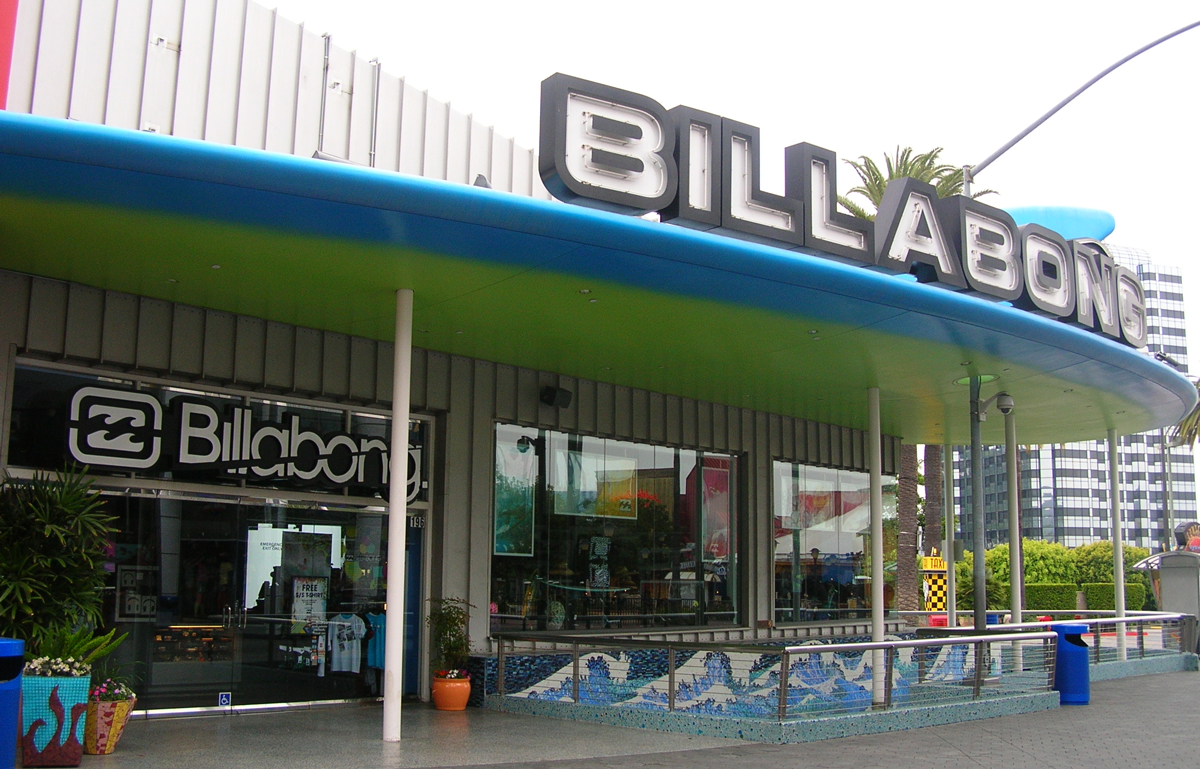 Boardriders Inc., the parent of Quiksilver, Roxy and DC Shoes that is majority-owned by Oaktree Capital, late last week made a $150 million, non-binding offer for rival Billabong, which owns eight surfwear brands. It should be noted that Oaktree, which took Quiksilver private in 2016 after a $600 million refinancing deal, owns 19 percent of Billabong via a $350-million refinancing deal and is one of the Australian company's senior lenders.

The merger proposal of A$1.00 a share for Billabong is subject to a number of conditions. Among them: secured financing and a unanimous recommendation from the board of publicly-traded company. Goldman Sachs is advising Billabong.

Meanwhile, published reports suggest the biggest obstacle facing the two apparel companies, if they do indeed merge, may be their combined global retail footprint of more than 1,000 doors and over distribution worldwide. Already, approximately 30 percent of Billabong's locations in the U.S. are slated to close by 2020, but lease contracts could make further tightening difficult.
Retail Round-Up


Zumiez Banks on Upside from New Brands; NFL Hits Times Square

By bob mcgee – DECEMBER 4, 2017

In 2017, the lifestyle retailer Zumiez has debuted more than 100 new brands in its stores and online. And the chain's senior management is hopeful some of these labels will become important growth drivers for the business over the next 2-3 years.

"Emerging brands become growth brands and that's why we are talking a lot about how we keep feeding young brands into the system," CEO Rick Brooks told analyst last week.

In the third quarter, Zumiez comparable store sales rose 7.9 percent, ahead of 4-6 percent guidance, as total North American revenues increased 10 percent to $223.1 million. Online generated 14.5 percent of global revenues versus 12.8 percent in the year-ago period. The retailer is currently forecasting 3-5 percent comp growth in the fourth quarter with total revenues in the $291-297 million range.

Elsewhere,
• NPD's Marshal Cohen referred to Thanksgiving and Black Friday as "a mixed bag" with early parts of each day busy but ongoing store traffic hardly stellar or consistent store to store. But CivicScience research suggests more shoppers did holiday shopping over the long weekend this year than in 2016 or 2015.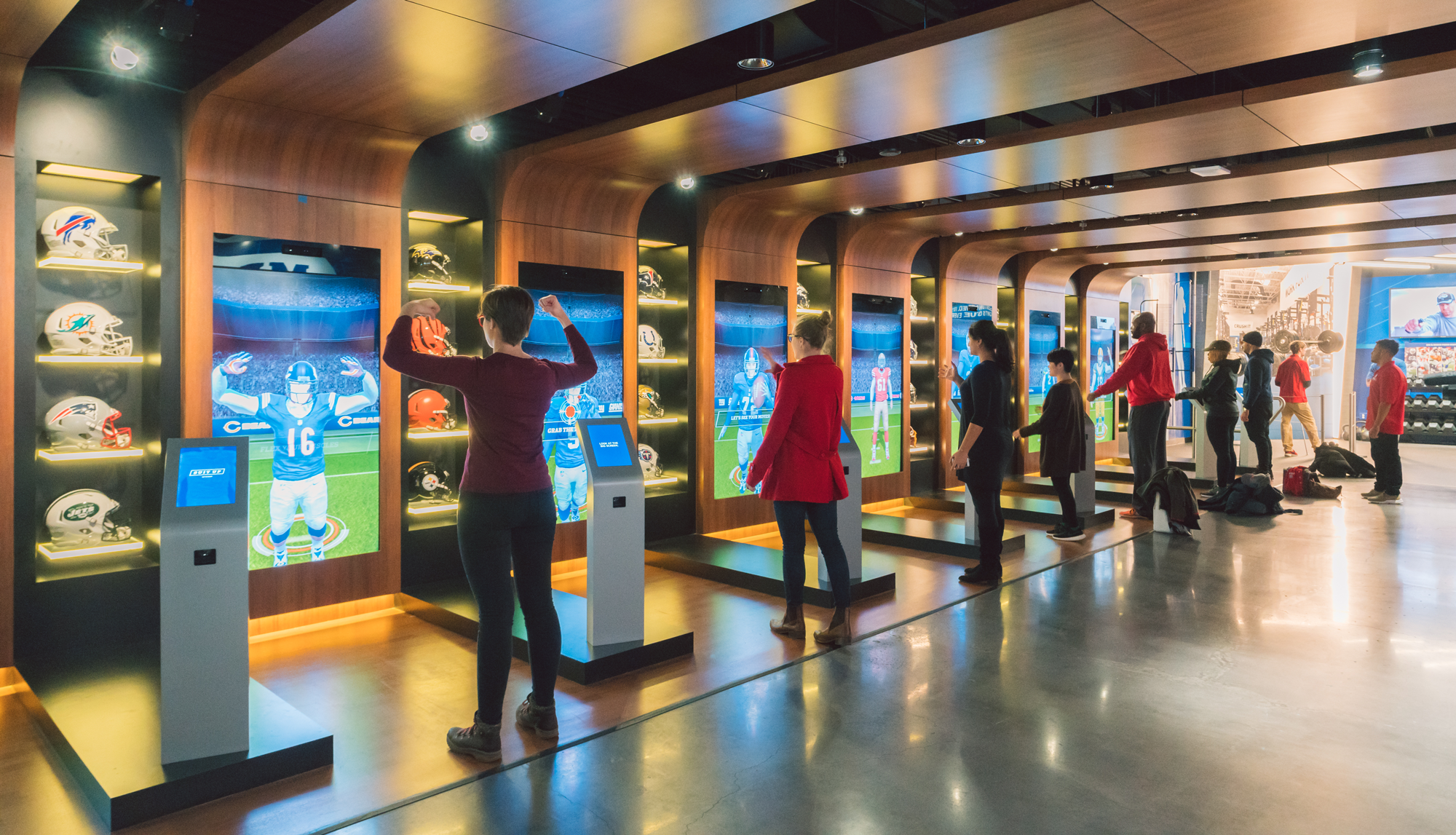 • NFL and Cirque du Soleil Entertainment have opened their 40,000-square-feet, four-floor NFL Experience in New York City's Times Square. The entertainment attraction's numerous experiential features include a 4D theater; a SuitUp section where guests select a team and jersey number to create a computer-generated image of their favorite star; and a food area where dishes will be served from all 31 NFL stadium chefs.

• The NFL was cited as the biggest negative impact weighing on Lids' sales in the third quarter. Although the Genesco-owned banner also was hurt by lower NCAA sales on "less favorable performances" by key schools and a MLB playoff line-up that failed to measure up to the Cubs' rise to World Series victor in 2016. Lids will be more promotional in the fourth quarter to keep inventories clean. The retailer is testing a new store design, including one that opened at Westfield SouthCenter in Seattle last week that features a clear product presentation, narrower assortments, a "showcase orientation," and a larger emphasis on interactive experiences such as custom embroidery.
EPIC Brands Acquires Sport Science
By bob mcgee – DECEMBER 4, 2017
EPIC Brand Management Group, LLC acquired 12-year-old Sport Science, LLC, known for its polyester blend activewear, last month. The emerging company intends to expand its commitment to event organizers and retailers in the running and outdoor markets and retain the Sport Science brand. Kevin Williams, president of EPIC, was named president and CEO of Sport Science with Sport Science founder Neal Caplowe moving to EVP of business development and sales.

Caplowe started Sport Science after determining a market need for comfortable, performance activewear made in the U.S. The company has a long history of providing custom graphic-design and printing services for retailers, manufacturers and performance-related events. Last week, the company was the supplier of the Official Finisher Shirt for the Indie 5K at The Running Event in Austin, TX.
Salt Life Continues to Deliver for Delta Apparel
By bob mcgee – DECEMBER 4, 2017
Brand sales for Salt Life increased 6.3 percent for the fiscal year ended Oct. 31 and 6.9 percent in the fourth quarter despite the impact of hurricanes on key markets. Annual ecommerce revenues were up 40 percent year-over-year.

Key to Salt Life's growth for the 12 months was expansion of performance products and retail doors. In Spring 2018, for example, brand products will available in all Buckle locations. On the own store front, new doors are set to debut in Daytona Beach, FL and Columbus, GA.

Elsewhere, Delta's Basic segment generated 1.1 percent revenue growth for the period ended September 30 to $280.3 million on strength in activewear where the FunTees private label business generated record revenues. Soffe sales, however, dipped $7.9 million for the year due to lost sales from bankrupt retailers. However, Soffe's B2C revenues increased 21 percent for the year.
The Buzz
By bob mcgee – DECEMBER 4, 2017
New Balance found itself on both sides of international litigation news last week. In China, the company is suing the parent of company that is marketing the "New Bunren" brand in China. Both brand names are spelled identically in Chinese and New Bunren is reportedly using a series of "N" marks that are similar to those owned by New Balance. Meanwhile, Manchester United midfielder Marouane Fellaini is seeking $2.7 million in damages after NB terminated his contract for wearing boots without the company logo. 
Puma, days ahead of the World Cup 2018 groupings announcement, releases the 2018 home kit for Uruguay that incorporates the Sol de Mayo into its design and evoKNIT thermoregulation technology for moisture management. Also, The Cat sees endorser Rickie Fowler capture his fifth pro career win at The 2017 Hero World Challenge, using the King F8+ driver for the first time and donning the new Puma Golf P Snapback Cap.
RG Barry Brands hires 20-year footwear veteran Bob Mullaney, most recently president and COO of Shoes.com (formerly Shoebuy.com) as president and CEO. The former president of Americas for The Rockport Company will lead Pickerington, OH-based RG Barry and its portfolio of brands—Dearfoams, Baggallini and Foot Petals. 
WarDog Lacrosse, based in Burlington, NC, will be the official provider of athletic socks for the 2018 Major League Lacrosse (MLL) season following a period of collaboration with MLL teams. The company, launched in early 2017 and co-founded by Callum Brown, is creating custom sock designs for all nine MLL teams. The socks, made primarily of nylon, polyester, Coolmax and spandex, will be made available to collegiate, high school and middle school lacrosse teams and players.
Tubes of the Week