What Buyers Are Looking for in Acquisitions
By bob mcgee – October 10, 2017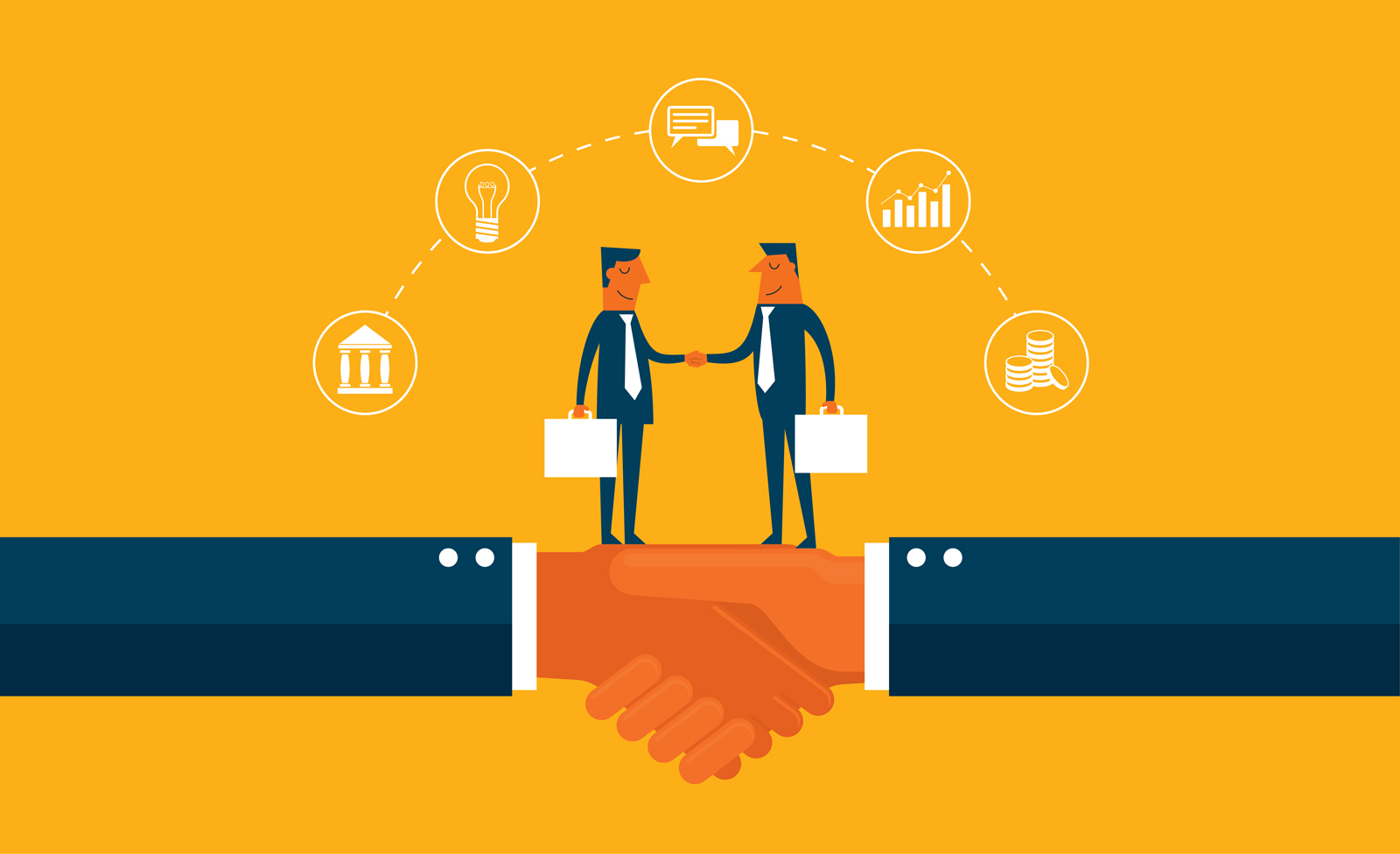 In the fast-changing consumer sector, large, mature conglomerates are losing market share to newer consumer companies with differentiated business models, writes Baird in a new report that outlines what potential buyers are looking for in the M&A mid-market today.

"What made companies great 10 years ago is not necessarily the same as what will enable companies to succeed in today's rapidly evolving consumer sector," the report states.

The global investment bank, whose numerous industry deals have included the sales of Harbinger to Implus, CCM to Birch Hill and the $210 million sale of Hydro Flask to Helen of Troy, identified the six most important business models that create value when potential buyers evaluate M&A targets. They are: brand authenticity, innovation, digitalization, omni-channel, Amazon resilient and "white space strategy" or defining potential gaps in existing markets. Potential buyers need to understand an acquisition target's past, present and future relationship with Amazon, according to the report.

Baird's M&A market analysis report is based on a review of 480 mid-market consumer transactions since 2013, including approximately 150 by it, that yielded an average valuation of 11x EBITDA. By subsector, the performance sports and outdoor segment (11.1x) trailed only Food and Beverage (11.7x). Retail (10.2x EBITDA) and Apparel/Footwear/ Accessories (10.0x EBITDA) rounded out the seven segments. The performance sports and outdoor segment also had the second-largest average EBTDA margin at 17 percent, trailing only Household/Personal care (18%). Apparel/Footwear/Accessories and Retail had average EBITDA margins of 12 and 9 percent, respectively. The buyers were largely strategic (55%) and private equity firms (43%).

The report, in citing more than two dozen recent consumer growth stories, including CrossFit, Peloton and Yeti, details specific material growth themes. Among them: increasing demand for personalization, Asian demand for luxury products, spending on experiences and the rise of Millennials.     

In the sports and outdoor market, Baird discovered "brand authenticity and the ability to create a customer community" are keys to long-term success; consumers are willing to spend for performance features; growing specialization supports new activities and the sale of new products, with consumers willing to spend on multiple activities; and private equity firms are showing investment interest in young, founder-run companies with high-growth potential.

Meanwhile, the report, which cites the addressable market and secular growth themes as critical concerns for buyers, suggests lack of product differentiation, high customer concentration and a small/low-growth addressable market as the most common attributes to diminish company value or lower buyer interest in a particular M&A target. Customer concentration (30%) was the biggest reason that a potential buyer passed up a deal followed by lack of angle/fit (28%) and organic growth concerns (26%).
Cambodian Wage Hike May Squeeze Apparel Margins
By bob mcgee – OCTOBER 10, 2017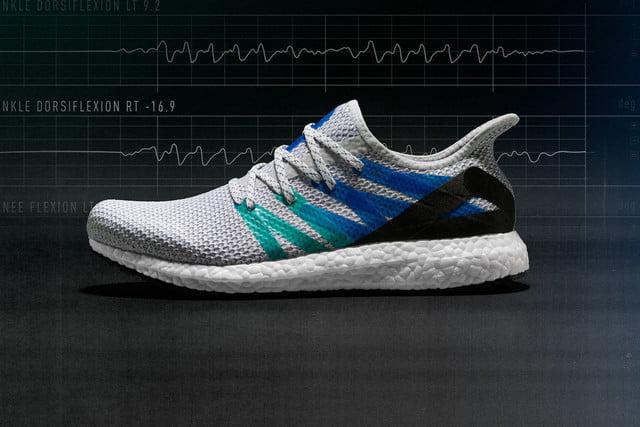 A scheduled 11.1 percent hike in the minimum monthly wage for Cambodia's 800,000 garment workers on January 1 could hamper product margins at some major apparel brands, including Adidas and Puma, in 2018. The development may also force brands that contract low-cost apparel in the Asian country to consider a sourcing shift in 2018 and beyond.

The minimum monthly wage for Cambodian garment workers moves to $170, 4.5 percent more than the government proposed and 5.6 percent higher than sought by the country's Garment Manufacturers Association. Earlier this year, Cambodia's prime minister made numerous promises to members of the industry, which adds approximately $7 billion annual to the country's economy, including a minimum monthly wage of at least $168.

In 2016, Adidas produced 22 percent of all its garments in Cambodia, up from 19 percent a year earlier, according to the company's annual report. Meanwhile, contract factories for Puma made 12 percent of The Cat's products in Cambodia last year, behind only Vietnam (32%) and China (23%). Neither Nike nor Under Armour specifically cite Cambodia as a source country in their respective annual reports. Under Armour says it makes 60 percent of its apparel and accessories in Jordan, Vietnam, China and Malaysia. There are 363 apparel factories in 37 countries that make apparel for Nike, led by China (26%), Vietnam (16%) and Thailand (10%) for the fiscal year ended May 31, 2017.

The International Labor Organization has oft criticized Cambodia's low labor productivity and its need to improve before wage increases follow.
Retail round-up:


SG Distributor Being Acquired; Walmart Ups Return Game

By bob mcgee – OCTOBER 10, 2017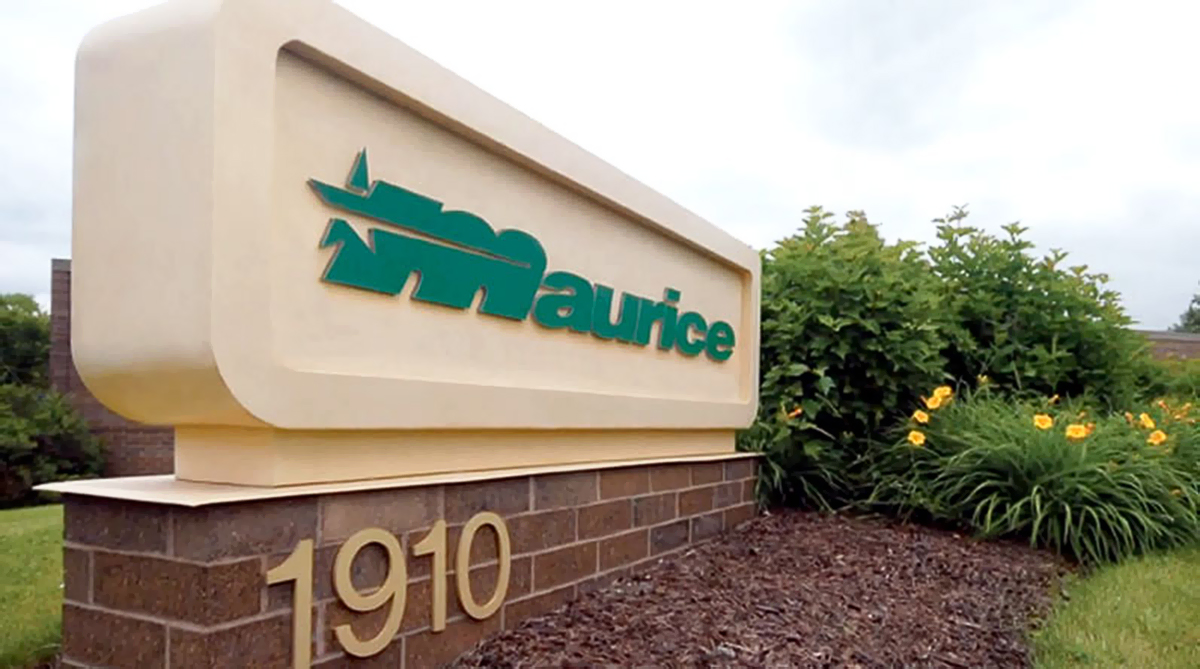 Family-owned and operated Maurice Sporting Goods, founded on a downtown Chicago pushcart in 1923, is being acquired by Peak Global Holdings, LLC, the parent company of Big Rock Sports, Head Quarters Taxidermy Supply and Bluefield Brands. The purchase price for the 94-year-old Maurice, which distributes 65,000 products worldwide to numerous retailers including Dick's, Academy, Walmart, L.L. Bean and Scheels, was not disclosed. After the transaction is completed, the company that has been active sourcing products in China since the 1960s and opened a new warehouse/distribution center near Atlanta in Fall 2016, will be a standalone subsidiary of Peak Global and a sister company of Big Rock Sports. The latter distributes more than 70,000 products from 55 fishing brands.

• Walmart is upping the retail return game with its Mobile Express Returns that will merge the accessibility of the chain's 4,700+ locations with its retail app. Starting next month, customers will have the ability to return items bought on Walmart.com to a nearby store and get almost immediate credit. The discounter intends to expand the streamlined return process for items sold by third-party sellers on Walmart.com.

• Radial, the former eBay Enterprise fulfillment operator, is being acquired by the Belgian postal service, bpost, for $820 million. Radial which operates 24 fulfillment centers, handles online orders for ecommerce companies and retailers. Bpost reportedly wants to duplicate Radial's expertise in online fulfillment and payments in Europe.

• Holiday Sales Forecasts are out. The growth outlook is rosiest for the wealthiest Americans, who are projected to elevate their holiday spending to 8-15 percent more this year, according to PwC. Conversely, the same study finds those earning $25,000 or less annually will pare back their holiday buying by 3 percent. The National Retail Federation is forecasting a 3.6-4 percent increase in holiday sales to $655.8 billion for the two months ended Dec. 31. Deloitte is projecting 18-21 percent growth in holiday ecommerce sales to a range of $111-114 billion. But Forrester is forecasting 12 percent online holiday sales growth to $129 billion. In terms of buying online or in-store, a PwC report finds that 44 percent of consumers prefer to purchase sports equipment/outdoor products in-store versus 36 percent online. With apparel/footwear, 51 percent of consumers preferred in-store versus 40 percent online.
Textile Insight
Ooh La La
By Emily walzer – OCTOBER 10, 2017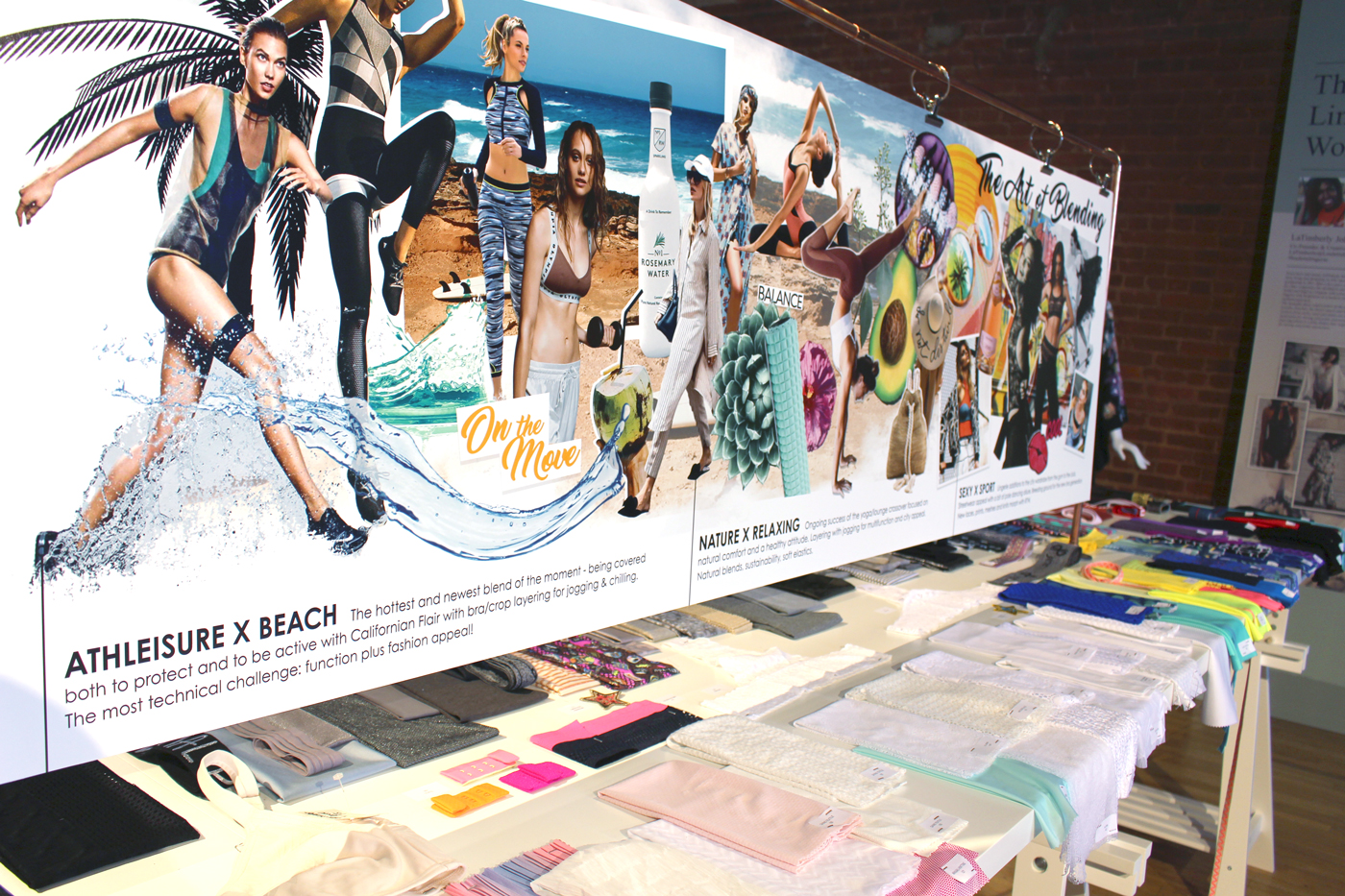 A little bit of Paris came to town in late September as Interfiliere NY showcased beautiful fabrications from over 60 textile vendors in a trade event targeting buyers of intimates, swim and athleisure apparel. As boundaries continue to blur between markets, new materials bring subtle performance in soft-to-the-touch, lightweight qualities. Innovation is seen in the juxtaposition between sport and sexy, and inspiration comes from retro constructions updated for modern wearability.

Interfiliere NY has grown significantly in the past few years, expanding to become a two-day trade fair, and drawing a steady stream of attendees from big brands as well as start-up designers.  A Creative Lab area complete with trend boards, fabric displays and concept garments is a nice compliment to adjoining exhibit hall. Smart presentations on market research and global fashion trends rounds out the show agenda.

Eastman took full advantage of its inaugural show sponsorship to get the word out about Naia, the company's latest textile innovation. The cellulosic yarn features an appealing smooth, silky hand with inherent performance features, and a strong sustainability story. Drawing on Eastman's long-established acetate expertise, the new technology differentiates Naia with its printability, color-fastness, ease of care, and comfort properties.

Here are a few other standouts from a quick walk through the Interfiliere NY show floor:

3D printing: Using innovative 3D printing in the straps, Tengfei Technology achieves better functionality and comfort efficiency in this sport bra application.
Athletic Allure: Designer Katelyn Zawierucha uses "fabric from football combined with corset construction," to create a contemporary look she describes as "Athletic Allure" and a collection described as Tr`es Sportive.

Knitting Tech: Sophisticated GripZone knitting technology customizes placement of the spandex to boost performance and comfort in the thigh area of this sleek, technical cycle suit from high-end maker Castelli. "You don't need a narrow (elastic) to finish the piece, it's all integrated into one piece," explains Markus Regenstein, CEO, Penn Textiles Solutions.

More on Interfiliere in the next issue of Textile Insight magazine.
Textile Insight
New York Denim Days: Truely Blue
By Emily walzer – OCTOBER 10, 2017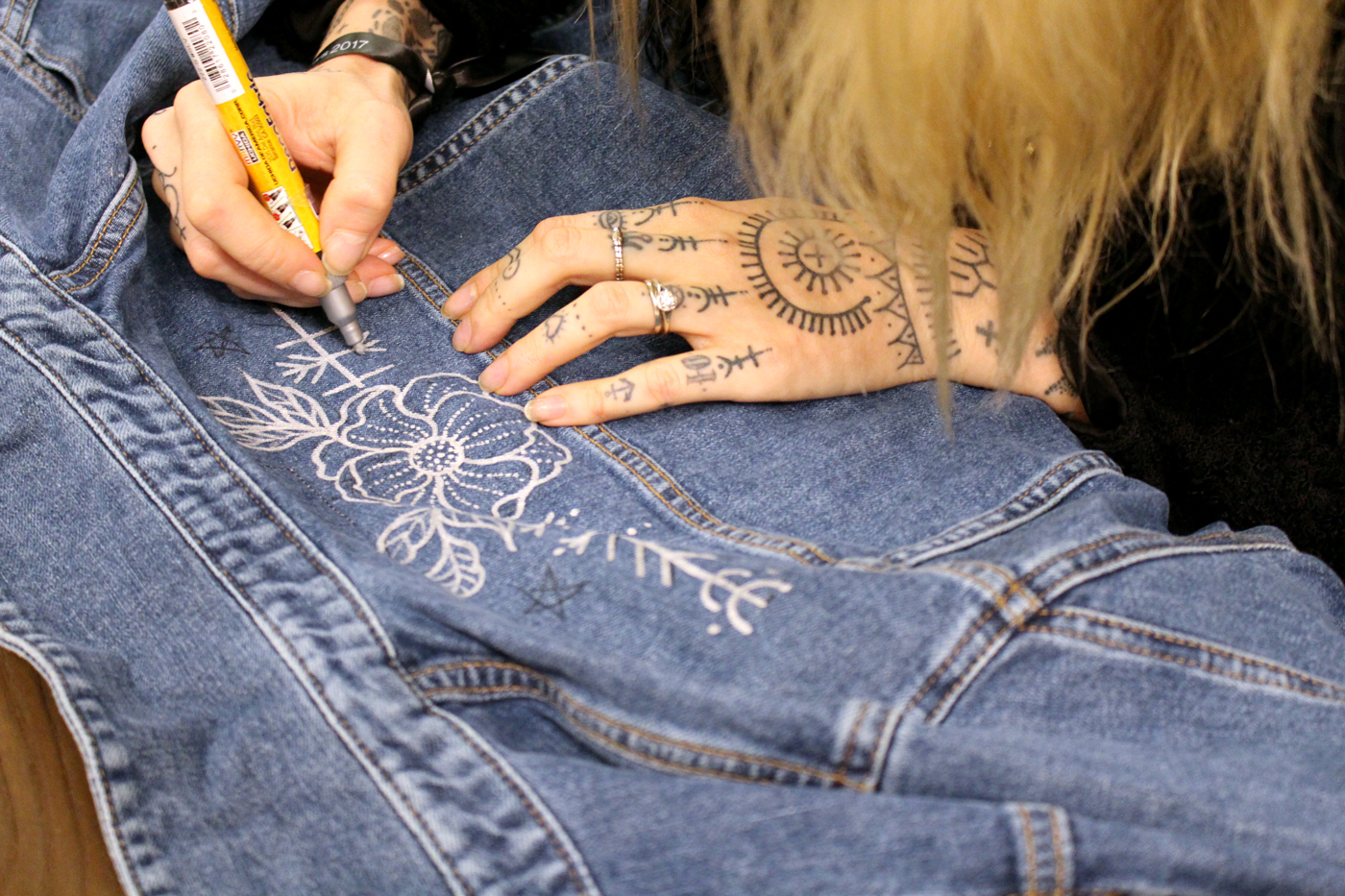 It was all hands-on denim, as stitchers, sewers, painters and weavers hand-crafted custom looks at an indigo-centric event held recently in Manhattan. The first-annual New York Denim Days Festival brought together a mix of industry, independent designers and consumers in a fun atmosphere that highlighted the creativity and technology influencing the jeans market today. It was evident both inside the Pavilion where brands showcased goods, as well as outside at the street bazaar, that customization and sustainability are strong drivers in denim innovation. The "Repair, reuse and recycle" ethos is everywhere, from start-up businesses to new chemical free and eco alternative production processes being embraced by suppliers. As one exec commented, "Product that is good for the environment also makes a good garment." She, and others, noted that this sustainability push is coming from consumers directly; denim buyers are asking for transparency. Companies are also finding ways to appeal to shoppers' desire for differentiation through one-of-a-kind products. The hum of sewing machines was constant in the Pavilion area with embellishments being added to jackets and a steady assembly line of custom-designed aprons being patched together. New York Denim Days is the latest member of the Kingpins family. Born from the success of an Amsterdam version launched just a few years ago, New York Denim Days has captured the attention of denim devotees here in the States as well.

More on Interfiliere in the next issue of Textile Insight magazine.
New CEOs at Fanatics International, Vista Outdoor
By bob mcgee – OCTOBER 10, 2017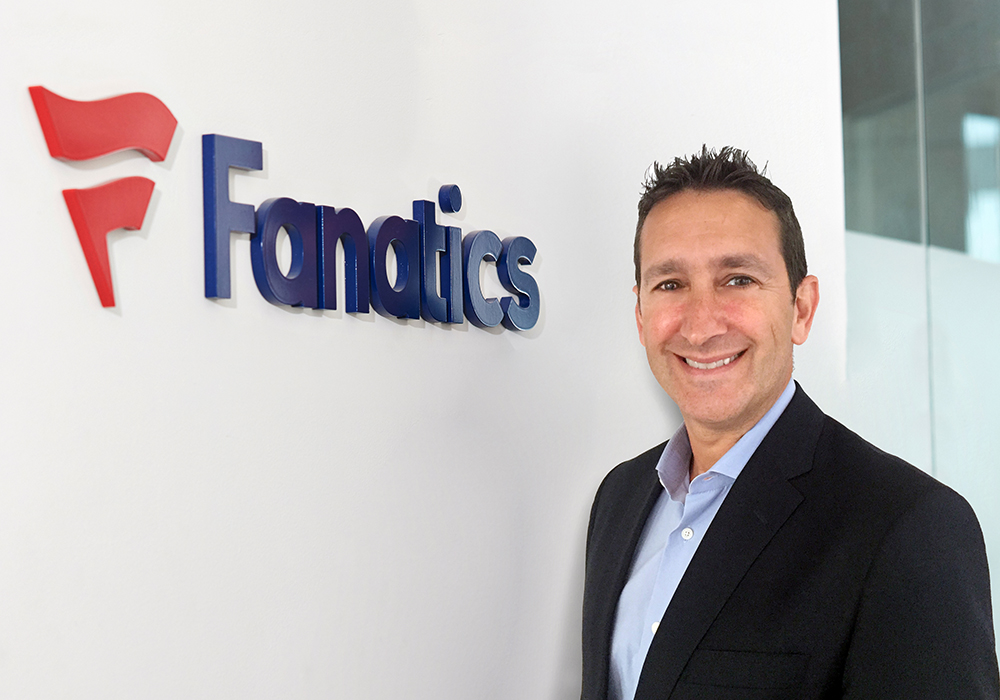 Christopher T. Metz, the former president of Arctic Cat and a former managing director for Sun Capital Partners, takes over this week as president of Vista Outdoor, the public parent company of 35 outdoor products brands and 12 brands in shooting sports. Metz, who will continue to serve on the board of Titleist parent Acushnet Holdings Corp., will work with Vista's interim Chairman Michael Callahan. The Farmington, UT company expects to name a Chairman of the Board soon.

Meanwhile, licensed sports merchandise giant Fanatics has named Steve Davis, president of its international business. Most recently, CEO of Rue La La, he will report to Fanatics CEO Doug Mack. Davis and his team are expected to build out a global manufacturing and distribution infrastructure to support the company's vertical merchandise model, already in place in North America. Fanatics International offers online, retail and end-to-end solutions for soccer, motorsports, rugby, tennis and golf. Last year, the company acquired online retailer Kitbag, an official partner of numerous European football clubs that include Manchester United and Real Madrid.
Sneaker Brands Stepping Out
By bob mcgee – OCTOBER 10, 2017
Supreme, with its urban skateboarding inception, and Minnesota-based Oliver Cabell, which began as a luxury bag maker, are on the move. The Carlyle Group has reportedly invested upwards of $500 million for a 50-percent stake in Supreme, which began in 1994 and currently operates fewer than 10 stores worldwide. James Jebbia, Supreme's founder, confirmed the Carlyle partnership, telling the Business of Fashion that the deal will enable the exclusive brand to remain on its growth path. According to some estimates, Supreme will earn close to $100 million in 2017.

As for Oliver Cabell, the firm, according to the New York Post, has landed a $1.2 million investment to create fashion athletic shoes, including a limited-edition Playboy brand line. New unisex sneaker styles, retail priced at $220, are slated to debut weekly beginning in November. The company has already lined up relationships with a pro skateboarder, an Australian hip-hop artist and others.
New Balance Sets "All Roads Lead to NYC" Effort
By bob mcgee – OCTOBER 10, 2017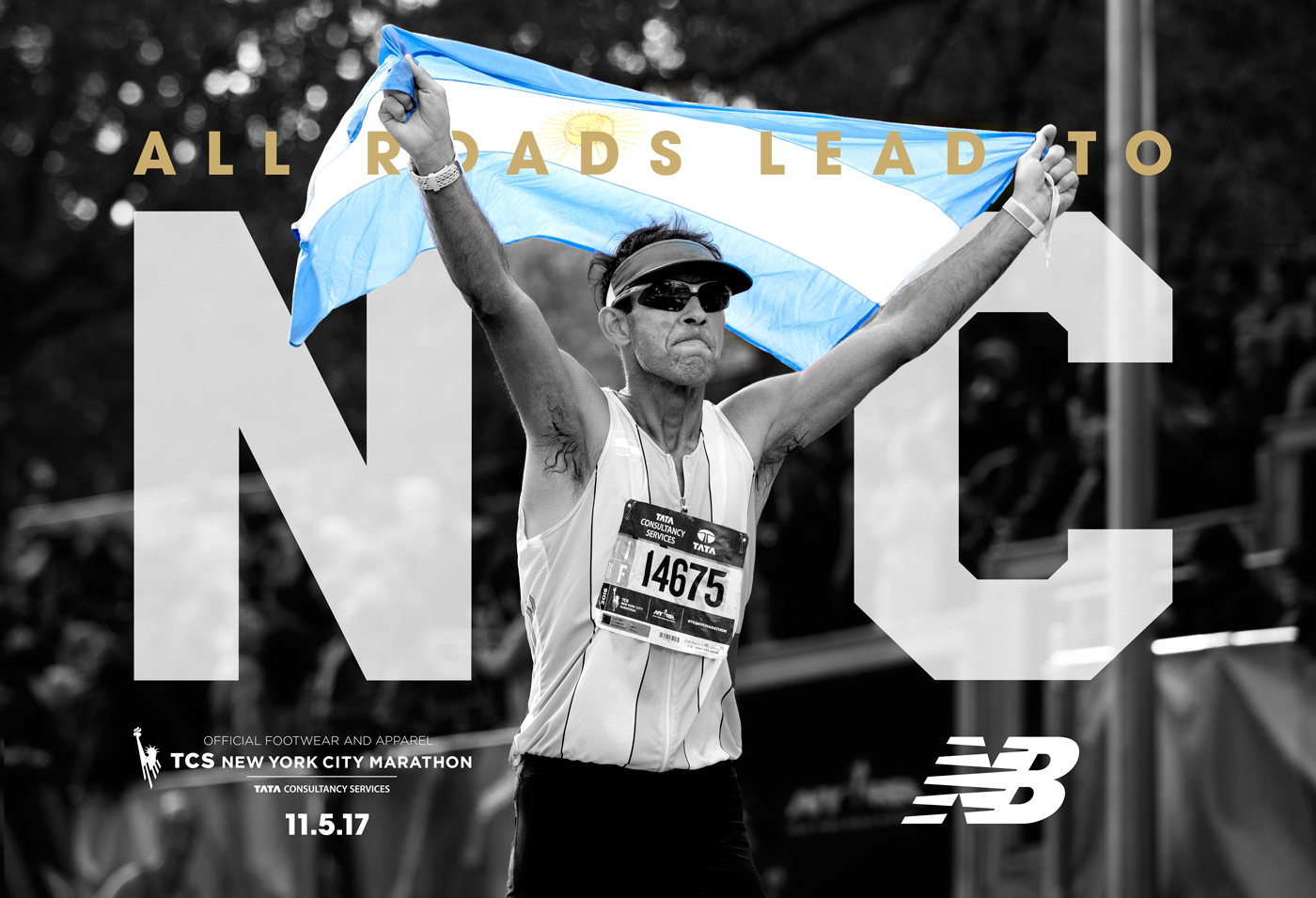 A new social media and out-of-home advertising campaign from NB promotes the Boston brand's first year as a New York Road Runners foundation official footwear and apparel partner leading up and through the November 5 New York City Marathon. It marks the first time the NYRR has had a foundation partner for all year-round events.

Part of the "All Roads Lead to NYC" campaign includes a pop-up New Balance Run Club at 353 12th Street, in the heart of the West Village, from November 2-4. Each day will have a separate theme, starting with the rhythm of distance running on the first day and ending with a focus on fuel for marathon runners on November 4. Besides food, drinks and daily runs, the club will offer limited-edition merchandise. Additionally, New Balance will unveil the NYC Victory Pose, with locations throughout the city that invite visitors to celebrate—and share on social media via the #RoadToNYC hashtag—how they would celebrate reaching the finish line.

Meanwhile, the New Balance Run Concierge will provide a variety of services to runners and their support teams at four locations. At the NYRR RunCenter, visitors will be able to test drive a pair of New Balance running shoes for free and unlock a surprise free gift. At the TCS New York City Marathon Pavilion, any purchasers of a marathon-badged top will be offered free customization.

Leading up to next month's race, New Balance has commissioned local artists to create murals in each of the city's five boroughs that celebrate the event through the lens of the borough. The New BALANCE TCS New York City Marathon Collected debuted September 15 at various locations and on newbalance.com with everything from graphic T-shirts ($30 retail) to $250 limited-edition jackets.
The Buzz
By bob mcgee – OCTOBER 10, 2017
Rawlings strikes a licensing agreement with the University of Southern California to use the school's team's marks and logos on tailgate products. The deal also includes licensing rights for a number of additional products. Among them: portable grills, stadium seats and slow cookers. Rawlings has created synergies with select sister brands within Newell Brands' portfolio including Coleman, CrockPot, Waddington and Lifoam.

STX will be the official equipment supplier to the Division I men's hockey program at Miami (OH) University under a new five-year agreement. The deal includes a provision whereby the Baltimore equipment company will also outfit Miami's field hockey team with equipment.
Tubes of the Week