Academy Sports Must Weather Another Storm
By bob mcgee – September 25, 2017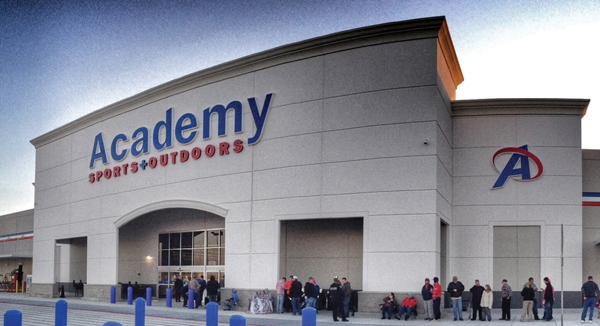 Facing increased competition, a soft firearms business, a promotional apparel segment and the aftermath of Hurricane Harvey in its home market of Houston, Academy Sports + Outdoors was hit with a debt downgrade to B3 by Moody's last week. The New York investors service, along with Standard & Poor's, had each initiated negative outlooks on the KKR-controlled retailer in April. And in late August, forced to delay the release of its second quarter results due to Harvey, Academy found its $1.69 billion term loan B, due in 2022, in distressed territory.

Despite its high leverage and the current challenging conditions in brick-and-mortar sporting goods retail, the geographically-concentrated Academy does possess some positives that should help it endure through the remainder of FY17 and through FY18 when its borrowing availability should be north of $500 million at each quarter end. Moody's is forecasting earnings to grow modestly in the second half of this year and through next year as merchandising issues dissipate and implemented cost savings emerge for the chain that has more than 40 percent of its doors in Texas.

Academy, whose value focus differentiates it from rivals Dick's and Bass Pro/Cabela's and whose "every day low price" position offers "relative stability through recessionary periods," suffered an 8.3 percent comparable store sales decline in the second quarter but improved gross margins on less clearance and promotional activity. Hard goods (53 percent of FY16 or an estimated $2.49 billion) and apparel (27 percent of FY16 or an estimated $1.27 billion) sales each declined. The same store sales dip in footwear (20 percent of FY16 or an estimated $940 million) was less during the period, aided by better in-stocks and a more streamlined and easier-to-shop assortment, Moody's said. The retailer's apparel business has already shown some improvement from a decision to migrate to a deeper, narrower private label assortment.

But numerous headwinds remain for Academy, which counts approximately 15 percent of its doors in the Houston market and 98 total doors in the Lone Star State. Most notable are the retailer's regional concentration in the U.S. southeast and underpenetrated ecommerce business (less than 5 percent of revenues versus 12 percent at Dick's). One-third of Academy's store base sits in oil and gas industry-reliant markets that were a boon to results in 2009-10 but more recently have been a significant drag on performance. Meanwhile, the retailer has made staff, systems and infrastructure investments to beef up its ecommerce business, including the addition of a third DC in Tennessee last year.

Although Academy has expanded its store base by 9 percent annually on average over the last decade, Moody's said it would consider any aggressive store growth now for the chain as unfavorable due to the "difficult market conditions" and the retailer's need "to preserve liquidity." Academy intends to open 16 stores, most in core markets, this year and open fewer doors in 2018.

Since KKR's LBO of Academy in 2011, the retailer has paid the private equity firm two debt-funded dividends totaling $686 million and a third $200 million dividend using cash on its balance sheet.

"…We would view any future dividends (to KKR) in the absence of a strong earnings recovery as highly credit negative," Moody's stated in its report.
BASKETBALL:


Can "The Chuck" Buck Trend?

By bob mcgee – september 25, 2017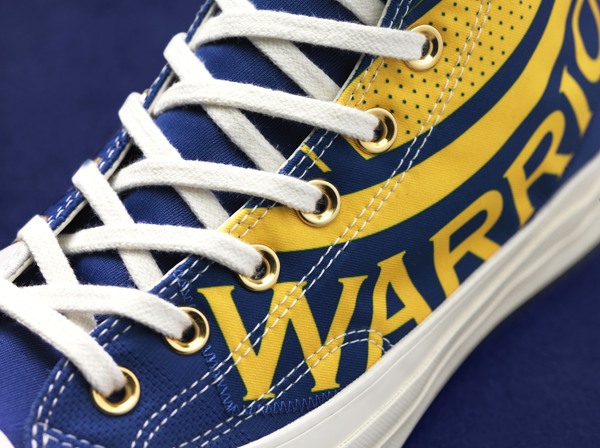 The basketball shoe category, still sagging at retail according to the latest NPD data and badly in need of a spark, may get just that next month. Dominant category leader Nike, which saw its basketball footwear business slip high-single digits in August and its Brand Jordan business lose about a third of its sales due to market oversupply, is turning to an updated Classic, the Chuck Taylor from its wholly-owned subsidiary Converse, to breathe new fashion life and pizzazz into the segment. This is believed to be the first time Nike has leaned heavily on the All-Star in basketball since it purchased the Boston company out of bankruptcy in July 2003 for $305 million. For the 12 months ended May 31, Converse revenues were up 4 percent to more than $2.04 billion.

Nike, whose eight-year, NBA contract kicks in Oct. 1, is rolling out three fashion-forward iterations of the Chuck Taylor All Star on Sept. 29 and utilizing longtime brand endorser and league Hall of Famer Julius "Dr. J" Erving to market the effort. Additionally, a collection of Converse NBA Apparel will be introduced, ranging from a winterwool bomber jack with Primaloft fill to hoodies, crewnecks and a long sleeve T-shirt under the Converse Essentials label.

The Converse Chuck '70 basketball shoe introductions include the limited-edition Gameday (250 pairs at $250 retail) made of authentic NBA jerseys and back with a leather lining; and the NBA Legend ($150 retail) luxe model built on the wining legacies of five franchises—Boston, Chicago, Golden State, Los Angeles and New York. A third Chuck, the SE NBA Franchise ($100), will cover all 30 NBA teams with representative logos and an outsole molded to display the given team's city influence.

While Nike looks to Chuck to draw new street interest to its sagging basketball business, NPD reported last week that Adidas basketball sales, from a much smaller sales base, grew 40 percent in August. Adidas walked away as the official on-court apparel brand of the NBA after last season.

Elsewhere, the race appears to be on to snare Nigerian-born Giannis Antetokounmpo to a signature basketball shoe deal that would debut during the 2018-19 season. The 22-year old small forward with Milwaukee, who is entering his fifth NBA season, has an endorsement deal with Nike that expires September 30. If Adidas or the Chinese brand Li Ning sign him to an offer sheet, the Swoosh will have 20 days to match it, according to reports. Antetokounmpo would become only the 22nd league player with his own Nike signature basketball shoe if he decides to stick with the brand.

Meanwhile, Slam magazine was the first to report that the Big Baller brand has scrapped its $495 retail ZO2 Prime shoe in favor of a new redesigned model. And Adidas may be closer to launching the second iteration of its James Harden signature shoe, which was first introduced in October 2016.
Kicks Corner:


Adidas, Brooks Pace Running in August

By bob mcgee – september 25, 2017

The Three Stripes, while still trailing running shoe category leader Nike in dollar share by 40 percent, generated a 77 increase in dollar sales of its category shoes in August, according to NPD Group data. Overall, running shoe sales were down 4 percent last month, but Adidas models leaped 77 percent; Brooks running sales increased mid-single digits and Under Armour running grew double-digits, the research house reported. All other technical running brands experienced year-over-year sales drops in August.

For sure, Nike and Adidas appear locked in a battle to become the first brand to produce a racing shoe that can help a runner complete a marathon in under two hours. A documentary on Nike's May attempt, which fell 26 seconds short, premiered on the National Geographic Channel before going online last week. Adidas, meanwhile, was preparing and hopeful that an update to its adizero Sub2 would carry one of three Kenyans—Wilson Kipsang, Patrick Makau or Felix Kandie—to a sub two-hour victory in the Berlin Marathon yesterday.

On September 30, Brooks's new energy-return, performance shoe, the Levitate, will be available worldwide. It is the first Brooks' shoe to feature the brand's exclusive DNA AMP midsole, which was created in partnership with BASF. Wolverine Worldwide-owned Saucony, meanwhile, has created an elite running team consisting of athletes from around the U.S. Based in Boston and coached by 2004 Olympian Tim Broe, the team will be dedicated to helping talented runners progress to world-champion status and Olympian hopefuls. The Freedom Track Club will be an integral part of the Saucony brand, assisting with product development, offering biomechanical insight and sharing experiences and progress with the brand's online running community. The Saucony FTC will conduct a fall training camp on Martha's Vineyard. Initial members include: Molly Seidel (Notre Dame), Helen Schlachtenhaufen (Darmouth), Paige Kouba (Harvard), Tim Ritchie (Boston College), Brian Shrader (No. Arizona), Tommy Curtin (Virginia Tech), MJ Erb (Mississippi) and James Randon (Yale). 
Elsewhere, 
• Nathan tech reps will organize safety and visibility events and night-themed fun runs at local run specialty shops across the U.S. through the end of 2017.

• Balega, the performance sock brand focused on the run specialty market, is continuing its support of Breast Cancer Prevention Partners with the release of its limited-edition Grit and Grace collection with $1 of every pair sold to benefit BCPP.
Finish Line Searches for Solutions, New Momentum
By bob mcgee – september 25, 2017
After an especially challenging, promotional second quarter where comparable store sales slipped 4.5 percent and sellthroughs of "more mature" footwear platforms slowed, Finish Line is forecasting difficult sales and margin trends to continue in the second half.

Nonetheless, without addressing the possibility of suitors, Finish Line senior executives did address a number of initiatives and products it hopes will spark positive business momentum in the months ahead. Among them: a new design format that commenced with 10 doors in the second quarter and will be expanded to 10-15 more locations in time for holiday and 90 total eventually; more allocations of key new products and a takedown of Nike's VaporMax for kids in November; and more leverage of concepts from the banner's new ambassador, Migos, for holiday and beyond.

Within its Macy's business, Finish Line is forecasting to hit the high-end of its $350 million annual sales target in FY18 ahead of its initial forecast, and continuing to expand its offering of kids and women's styles. In the second quarter, FINL's Macy's sales rose 17 percent to account for 24 percent of the segment's turnover versus 22 percent in the year-ago period.
Acushnet's Wally Uihlein Retiring
By bob mcgee – september 25, 2017
Wally Uihlein, president and CEO of the Titleist and FootJoy parent, is retiring January 1 after nearly 42 years with the Fairhaven, MA golf company. He will remain an Acushnet director and advisor to the chairman. David Maher, 49, Acushnet's current COO, has been promoted to president and CEO following Uihlein's retirement.   In separate golf news, Etonic Holdings has tapped Ray Cook Brands, which owns Ray Cook, Hot-Z, Solus and Bullet, to make and market Etonic branded golf shoes, gloves and accessories under global license.
Endorsers:


Kardashian, Jenners on the Move; Selena Aligns with Puma
With social media abuzz in recent days over the apparent pregnancy of Kylie Jenner, who endorses Puma, Kim Kardashian is apparently working on a new endorsement deal with a new activewear brand, BILLY, which becomes available for purchase next month at www.billylosangeles.com. Meanwhile, Puma, last week, strengthened its women's business via a new long-term partnership with singer and actress Selena Gomez. Elsewhere, Pro-Tec signs X-Games gold medalist Brighton Zeuner, who is defending her women's world championship title in Shanghai, China, to its skate team.
The Buzz
AGVSPORT America, based in Dallas, has purchased the rights for the AGVSPORT brand in the U.S. from AGV Sports Group and will introduce a product line-up in early 2018. AGV Sports Group maintains control of marketing the brand's products outside the U.S. AGVSPORT has already re-entered the race and track-day world with custom suits. Meanwhile, Motonation, the brand's previous U.S. distributor, will continue through existing channels into 2018.

Evo, a Seattle action sports, lifestyle, and outdoor retailer, strikes a strategic partnership with Loge Co., a brand offering unique camping and lodging destinations for surfers, hikers and outdoor enthusiasts. In exchange for its equity stake in Loge, evo will provide business mentorship, administrative assistance, financial flexibility, and real estate development support.

Fabletics is introducing its first footwear collection exclusively for its VIP members, promising the 11 styles will complement the brand's existing assortment of workout clothes. Starting at $40 retail, the shoes range from training shoes and slip-ons to booties and lifestyle sneakers. They are available at eight countries, including the U.S. and Canada.

New Balance, which currently operates 10 stores in the Middle East, intends to add 40 more across the region by 2020 through its franchise partner.

Teamwork Athletic secured the rights to make apparel for each active roster player in the Major League Baseball Players Association and MLB Hall of Fame. The products will soon be available on Amazon. The San Marcos, CA company's Prosphere sportswear brand currently has more than 10 million unique products. Rossignol is partnering with Italia Independent to produce and distribute a co-branded eyewear collection that will debut at the MIDO 2108 Show.
Tubes of the Week