Private Equity Firm Snags Winter Brands
Eleven winter sports brands, including Völkl, K2 and Marker, that make up the Winter Sports segment of Newell Brands are being sold to Kohlberg & Company at a cost of $240 million. K2 and Volkl reportedly account for more than 30 percent of the U.S. alpine ski market. Last year, the divested brands, which also include Dalbello, Madshus, Line, Full Tilt, Atlas, Tubbs, Ride and BC, generated aggregate sales of $330 million and adjusted EBITDA of approximately $25 million. The transaction will close late in the second quarter or early in the third quarter.

K2 Sports CEO Robert Marcovitch told staffers in a written statement that he was pleased with acquisition by the private equity firm.

"Kohlberg brings many years of successful experience investing in leading consumer branded companies, and with Kohlberg we will have an owner who is exclusively focused on helping our company achieve its full potential."
Deckers Aims to Push Operating Margin
The UGG, Teva and Hoka One One parent intends to improve its operating margin to 13 percent over the next two fiscal years through a number of measures. Among them: reducing its product development cycle, consolidating its factory base, continuing the migration of production away from China and more retail store consolidation.
Read More...
April Athletic Sales Jump 7 Percent
The monthly gain was tempered by the segment's big decline in February that still puts year-to-date sales down low single-digits, according to NPD. Sales trends are forecast to improve for back-to-school, the research firm said. Shoe Carnival, meanwhile, is predicting "relatively flat" comparable store sales in its second quarter due to a later start to school in some regions to August from July previously.

In April, sales of Classics rose 24 percent and casual athletic sell-throughs pushed 51 percent higher. Running, fueled by a tripling at Adidas, gained 2 percent; basketball suffered a double-digit decline and cold/all-weather boot revenues increased 25 percent.

By brand, Nike, helped by low-teens growth from the Jordan Brand, generated a small gain for the month. Sales of Adidas, meanwhile, doubled as the brand's share nearly doubled to 13 percent, NPD reported. Skechers suffered a mid-single digit sales drop. Meanwhile, Puma sales jumped more than 20 percent and Under Armour footwear sales fell in the low-teens despite expanded distribution for the brand in Kohls.
Q1 Retail Round-Up
In-store events with Adidas, Vans and around movie "Kong" drive traffic. "Buy Online, Pick-up in Store" expanded chainwide.
Now has DSW Kids in 60 percent of locations; Testing a new layout that creates "significant additional capacity."
Slowdown in stores where MC Sports closed; 170 doors will be affected by at least one closure; Q2 & Q3 impacted by dept. store exits.
Continued to be challenged by fashion shift; Q2 comp through May 20 trending better than Q1; DC being expanded
Results exceeded expectations; Strong Locker Room sales in U.S. and Canada, the latter helped by NHL teams making playoffs.
Retailer
Famous Footwear:
FY17 comps forecast at up low-single digits; 70 doors will close, most after BTS; Complete rollout of Buy Online, Pick-up in store this month.
Sports Direct's Expanding U.S. Arsenal
In a matter of months, the United Kingdom-based retailer has invested more than $200 million in U.S. companies, the majority in three retailers—Eastern Mountain Sports, Bob's Stores and The Finish Line. Sports Direct has also taken a 12.2 percent stake in Iconix Brand Group, parent of the Ed Hardy, Umbro, London Fog and Badgely Mischka brands among others. That investment was valued at more than $43 million as of May 26.

And last week, Sports Direct further increased its stake in FINL, which reports first quarter results in late June, to 14.7 percent, a stake valued at $84.0 million. So, what gives? Most observers aren't exactly sure.

Sports Direct, which is publicly traded, recently told the British business press that its U.S. investments are part of a strategy to "hopefully build a relationship and develop commercial partnerships" with the relevant parties, supplies and brands.

But, according to the Financial Times, some Sports Direct hareholders remain uneasy about the company's moves in the U.S. market since it still faces hurdles in its home market. The retailer currently generates about one-third of revenues from stores outside the U.K.

A Bob's store manager last week said the chain's ownership shift to Sports Direct was complete, but added changes to the largely New England's chain's merchandising and marketing strategy would likely be gradual under the new ownership. He was uncertain what Sports Direct has planned for EMS, whose door count has been dramatically scaled back.
Famous Footwear Sells More Sport Shoes
The Caleres-owned banner, which generated a 0.5 percent increase in first quarter sales to $366.5 million on a -0.6 percent comparable store sales decline, saw sport-inspired shoes generate 22 percent of its business in the period ended April 29 versus 18 percent last year. Rick Ausick, president of Famous, told analysts the banner's athletic business, including lifestyle running, is "still very, very good."
The chain has sold Under Armour socks and sandals in its stores for several months with good consumer response, but hasn't stocked any of the brand's athletic shoes to date. That is expected to change by June 30.

"Our expectation is that we will do fairly well with the (UA) product—with the new products at Back-to-School," Ausick said.

As part of its speed initiative, Famous Footwear lowered the number of days it takes to get product from distribution centers to customers to three days or fewer for 90 percent of first quarter orders. Famous.com orders rose 25.7 percent in the period to account for 5.7 percent of Caleres' first quarter revenues, or an implied $36 million. This month, the chain is rolling out "Buy online, pick-up in store" to all of its doors.
Self-Service, Anyone?
Macy's is overhauling its shoe departments on July 1. The changes, first tested in southwestern U.S. and some California stores last fall, will mean more in-stocks on in-demand styles but fewer brands overall, displays of shoes by category instead of brand and more customer self-service. In many locations, shoe boxes will begin to be stacked on the selling floor instead of being housed on backroom shelves. The bottom line: The retailer is trying to make its shoe departments easier to shop.

Shoe sales associates, who will be available to customers if needed, are having their responsibilities divided. Some will use hand-held devices to request sizes and pairs that a particular customer wants to try on. Others will be designated as backroom runners to pull orders.

During its earnings call last month, Macy senior executives said test stores for the overhauled shoe departments realized shoe sales rates that were "well above" those of regular stores.
Peloton Takes Another Big Spin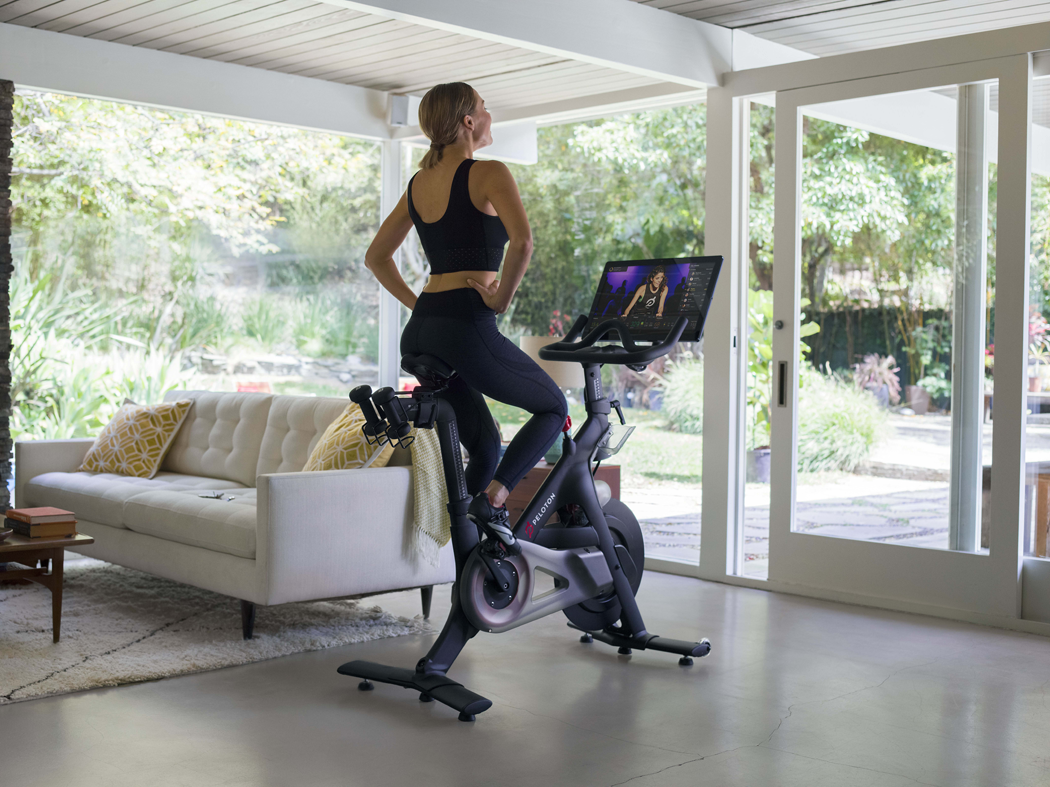 The five-year old company, which markets a premium-priced indoor cycling bike and studio content, last week closed on $325 million in Series E funding led by Wellington Management, Fidelity, Kleiner Perkins and True Ventures.

Peloton intends to utilize the new capital to expand its product and content offerings and open new showrooms across the U.S., according to John Foley, founder and CEO. The company currently operates 21 showrooms, more than a third of them in the Northeast. There are currently five in the Western U.S. with a sixth slated to open in Bellevue Square near Seattle shortly.

Expanding beyond its indoor cycling bike for home use, Peloton recently unveiled a commercial-grade bike for high-traffic environments. The product has already been placed in 30 Westin Hotels and Resorts under a partnership announced last month.
Tubes of the Week
The Buzz
Darn Tough Vermont has established a professional ambassador program, Team DTV, with 15 athletes and adventurers from the U.S. and beyond. The group that will represent the Northfield, VT premium sock company includes Allie Rood, Brooke Froelich, Noah Tautfest, Stevie Anna and Zeb Blais. Courtney Laggner, Darn Tough's marketing manager, says the brand ambassadors are stewards of the outdoors, embody the company's beliefs and "are simply great people who are relatable with inspiring stories."

Earth Treks is converting the former Sports Authority corporate HQ in Englewood, CO to the largest climbing gym in U.S. at 52,000 square feet. The facility, scheduled for a 2018 opening, will reportedly include a yoga studio, climbing classes, a retail shop and fitness zone.

JC Penney hires former Lowe's CMO Marci Grebstein as EVP/Chief Marketing Officer. She will spearhead the retailer's increased efforts in digital and social marketing starting next month.

Polartec's former textile plant in Methuen and Lawrence, MA, formerly Malden Mills, was sold at auction for $5.35 million earlier this month to two California real estate investors who want to turn the campus into an industrial innovation hub, reported The Boston Globe.

The Rockport Group CEO Bob Infantino is leading the corporate outreach for The Leukemia & Lymphoma Society's 2017 Light The Night fundraising walk on Oct. 19 in Boston. The event, one of several throughout the U.S. this fall, will raise funds for blood cancer research and patient access to treatment.