Gander/Overton's Goes Camping (World)
The fate of the bankrupt outdoor specialty chain Gander Mountain is coming into view. Retail recreational vehicle behemoth and publicly traded Camping World, intent on expanding its consumer reach online and at the brick-and-mortar level, will acquire certain assets of Gander Mountain, including the company's intellectual property rights, ecommerce business and Overton's inventory for approximately $37.8 million. Read More...
Plank: "We Don't Like It and We Don't Accept It"
Under Armour's CEO doesn't mince his words when talking about the brand's sagging fortunes in the footwear business. Up against a tough comparison in the year-ago period when shoe revenues increased 64 percent on strength in basketball, UA's footwear revenues grew 2 percent in the first quarter to $270 million on key improvement in golf, women's training and running. Overall, a continued promotional market impacted North American results as first quarter revenues fell 1 percent to $871 million. Read More...
New North Face President Will Be Named
The VF Corp.-owned business, which generated an 8 percent increase in first quarter global revenues including a 4 percent gain in the Americas, will have a new president and head of product named shortly. VFC, in forecasting mid-single digit growth for the brand this fiscal year, said The North Face is seeing strong brand growth in direct-to-consumer and expects the brand to benefit from a "cleaner marketplace" after last year's clean-up by the company. President and CEO Steven Rendle says TNF going forward needs to be "much more thoughtful around multi-year line plans and product lifecycle management married to our innovation platform."

As for VFC's take on the current state of the U.S. market, CFO Scott Roe told analysts, "We're not expecting much on a net basis from wholesale in the U.S. …And we're also expecting that there will be continued consolidation that's going to occur over the next five years." In the first quarter, VFC's U.S. revenues dipped 5 percent.

Meanwhile, Vans, another VFC business, posted 7 percent growth in the first quarter, including 6 percent expansion in the Americas that was driven by low double-digit growth in direct-to-consumer and 20 percent growth in ecommerce. The brand, which is launching a new authentic Chino in apparel this spring, continues to see acceleration in its customization platform where consumers upload content that they wanted transferred to their footwear.
Puma Gains Wider Acceptance, Ponders Next Move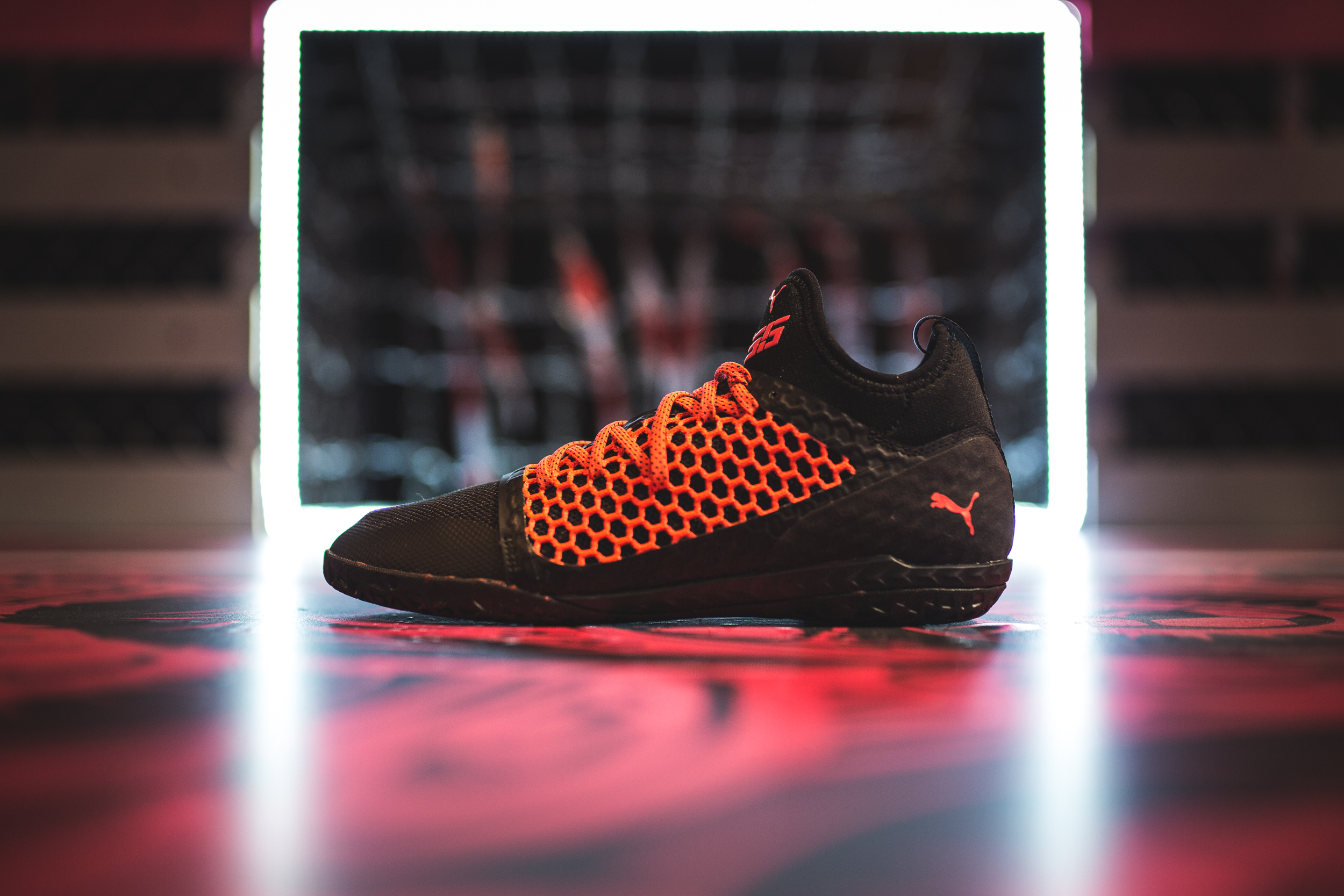 The Cat is back in terms of more mainstream brand acceptance. Sell-throughs of jackets and T-shirts bearing the Puma logo are gaining steam, helped in part by the brand's fashion-forward footwear offerings. Foot Locker, for example, continues to increase the brand's presence both in Europe and the U.S. and may soon offer the brand in all doors.

Now, Puma, which generated 17 percent currency-adjusted sales growth in the Americas' region to the equivalent of $369.2 million in the first quarter, is studying how it can best develop a "point-of-view" in American sports over the next 2-3 years.

CEO Bjorn Gulden confirms decisions on the strategy have not been made yet, also admitting the company's investment "pay back" in the women's area is much higher currently than it is in men's.

"We might see a concern down the road on the performance side because we still don't have any visibility in American sports," Gulden told analysts last week as the company reported a 15 percent currency-adjusted, overall growth to $1.07 billion in the first quarter. Footwear was the driver, posting a 25 percent increase to $531.6 million. Period profitability soared 92 percent to $52.8 million.

On the new product front, Puma last week introduced its new 365 street soccer footwear in Paris with an eight-team tournament as it introduced two segment endorsers, Lisa Freestyle and hip-hop artist MHD.
Tough Comparison, U.S. Retail Scene Impact Columbia
Columbia Sportswear, despite posting 4 percent topline growth to $543.8 million and a 13 percent gain in profits to $36.0 million, took a hit to its U.S. business in the first quarter. Domestic revenues fell 1 percent to $333.2 million on a mid-single digit decline in U.S. wholesale and a low single-digit increase in direct-to-consumer. Strength in outlet stores was partially offset by COLM's e-commerce segment that was unable to match a Q1/16 sales surge of 18 percent that was bolstered by cold weather. Columbia is forecasting a slowdown in e-commerce growth in 2017.

CEO Tim Boyle blamed the mid-single drop in U.S. wholesale on a handful of "significant customers" that closed doors, entered bankruptcy protection or began liquidating. The company estimates 800 U.S. stores that previously carried the brand have or are in the process of closing. Also of note in the first quarter, global Columbia brand sales rose 3 percent to $449.1 million; Sorel sales jumped 50 percent to $27.2 million; Mountain Hardwear, which named Joe Vernachio as brand president last month, generated 10 percent sales growth to $27.7 million; and prAna sales dipped 7 percent to $38.7 million.

As for Mountain Hardwear under the leadership of industry veteran Vernachio, Boyle says that by Fall 2018 he expects improvement in the brand's product offerings, which have been panned by dealers in recent seasons.
Trump on Trade, National Monuments
Another topsy-turvy week in the days leading up the 100th day of the Trump Administration included executive orders calling for a comprehensive study of U.S. trade agreements and all national monument designations since the start of 1996.

At mid-week, the first executive order didn't appear possible. Initially on April 26, the administration sent word that it was considering a full withdrawal from the North American Free Trade Agreement (NAFTA) with Canada and Mexico. But that apparent proposition was quickly withdrawn.
In his blog, REI CEO Jerry Stritzke called the president's call for a review of 30 national monuments "unprecedented" and "obviously cause for concern."

Stritzke suggested any rescinding, resizing or reduction of existing national monuments "is a threat to the integrity of our public lands, which millions of Americans see as national treasures." Amy Roberts, executive director of the Outdoor Industry Association, issued a two-page statement on the Trump executive order on monuments, stating, "Our hope is that no one seeks to rollback or dilute over 100 years of history and protection for our nation's public lands through the Antiquities Act."
Tubes of the Week
The Buzz
Adidas strikes a partnership with Siemens, which will allow it to simulate, test and improve the Three Stripes' production process, including creating a virtual copy of the Adidas Speedfactory concept to help the athletic giant improve its speed to market and manufacturing efficiency. Separately, Adidas signs the NFL Draft's top pick, Myles Garrett by the Cleveland Browns, to a multi-year endorsement contract.

Altra Footwear establishes a partnership with Utah State University's Outdoor Product Design and Development (OPDD) program. The new "Altra Running Lab" is expected to provide USU students with specific skills to work outdoor product design. For more, listen to this week's Sports Insight Extra podcast.

Amazon, which reported a 23 percent jump in first quarter revenues to $35.71 billion last week, also introduced Echo Look, a $200 retail, artificial-intelligence speaker with embedded camera. The device, only available via invitation initially, will allow consumers to take videos and photos of their garments and compare them through algorithms. Eventually, Echo Look could be used as a virtual home-fitting room.

Callaway has named its general counsel Brian P. Lynch as interim Chief Financial Officer following the departure of Robert K. Julian.

DSW names 32-year Nordstrom executive Michele Love as EVP and Chief Operating Officer and promotes James Weinberg to GMM for women's footwear and Nancy Pastor to GMM of accessories.

Fanatics completes its acquisition of the Licensed Sports Group, including the Majestic brand, from VF Corp. The deal was announced on April 4.

J. Crew is eliminating 250 positions, many from its New York corporate offices, to save $30 million annually after a first quarter charge of $10 million against earnings. Also, the company has given additional responsibilities to top execs. President/COO and CFO Michael J. Nicholson adds the J. Crew Brand as Libby Wadle moves to the Madewell brand.

Kit & Ace, the retail "athleisure" brand and retailer founded by Shannon Wilson and JJ Wilson, the wife and son of lululemon Founder Chip Wilson, is closing all U.S., Australia and United Kingdom stores and eliminating corporate staff positions. Going forward, the company will focus on online sales and operating nine stores in Canada.

MISSION names Hailee Steinfeld, the actress and recording artists, as the face of its new women's apparel collection. The line features 15 products, including performance leggings and sports bras.

New Balance, already the official shoe and kit sponsor of New York Road Runners and the TCS New York City Marathon, strikes a long-term deal to become the official shoe and kit sponsor of the Virgin Money London Marathon. The next London Marathon is April 22, 2018. New Balance's ties to the race date back to its early years in the early 1980s.
Nike intends to outfit the NBA's Charlotte Hornets in Jordan Brand uniforms for the 2017-18 season when its eight-year league deal kicks in July 1. The Hornets are owned by number 23 himself. Also, the Swoosh announced the signing of 19 NFL Draft picks to endorsement deals, including Heisman Trophy runner-up Christian McCaffrey, who was selected by San Francisco, and Alabama tight end O.J. Howard, who was taken 19th overall by Tampa Bay. [fotos on server]

U.S. economic growth grew at an annualized rate of 0.7 percent in the first quarter versus 2.1 percent in the last quarter of 2016, according to the U.S. Commerce Department. Delayed tax refunds and warmer weather cutting utilities usage were cited as factors affecting the growth rate.