'Boot Shaking'
Peripheral vendors of Dick's Sporting Goods, which account for an estimated 20 percent of its current assortment but not 20 percent of revenues or square footage, are being let go. And the business move, carefully considered by DKS senior executives for months and coming at the cost of a $46 million write-down, may rattle more corporate nerves than the recent wave of industry retail bankruptcies. Read More...
'Boost'-ing N.A. Will Be Adi Focus
Pleased but not content with brand progress in North America, adidas Group senior management says the company will keep its pedal to the metal across the region in 2017 with "heavy" investments that focus on operational efficiency, infrastructure, systems, processes and facilities. There will also unspecified new hires and a higher marketing spend to help elevate the brand's digital and key accounts presence in banners such as Dick's and Foot Locker. Read More...
Industry Sales Inch 2 Percent Higher
Overall U.S. sales in the combined categories of sporting goods, fitness equipment, sports apparel, athletic footwear and licensed products increased 2 percent in 2016 to $87.7 billion. Retail bankruptcies impacted much of the industry during the choppy sales year, according to the latest Manufacturers' Sales by Category Report from the SFIA.

In soft goods, athletic footwear sales jumped 2.8 percent for the year to more than $15.4 billion, led by Casual (+9.2%), Classics (+5.0%) and Basketball (+3.1%). Bolstered by performance and fitness apparel, each up 2.9 percent for the year, athletic apparel sales increased 1.9 percent to $35.0 billion last year. Sales of licensed apparel fell 0.4 percent to $7.9 billion.

Meanwhile, exercise equipment sales varied last year, rising 4.2 percent on the institutional side and coming in essentially flat (+0.5%) in the consumer segment for a 2.7 percent overall increase to $24.1 billion.
Hibbett Bringing Fashion, Technology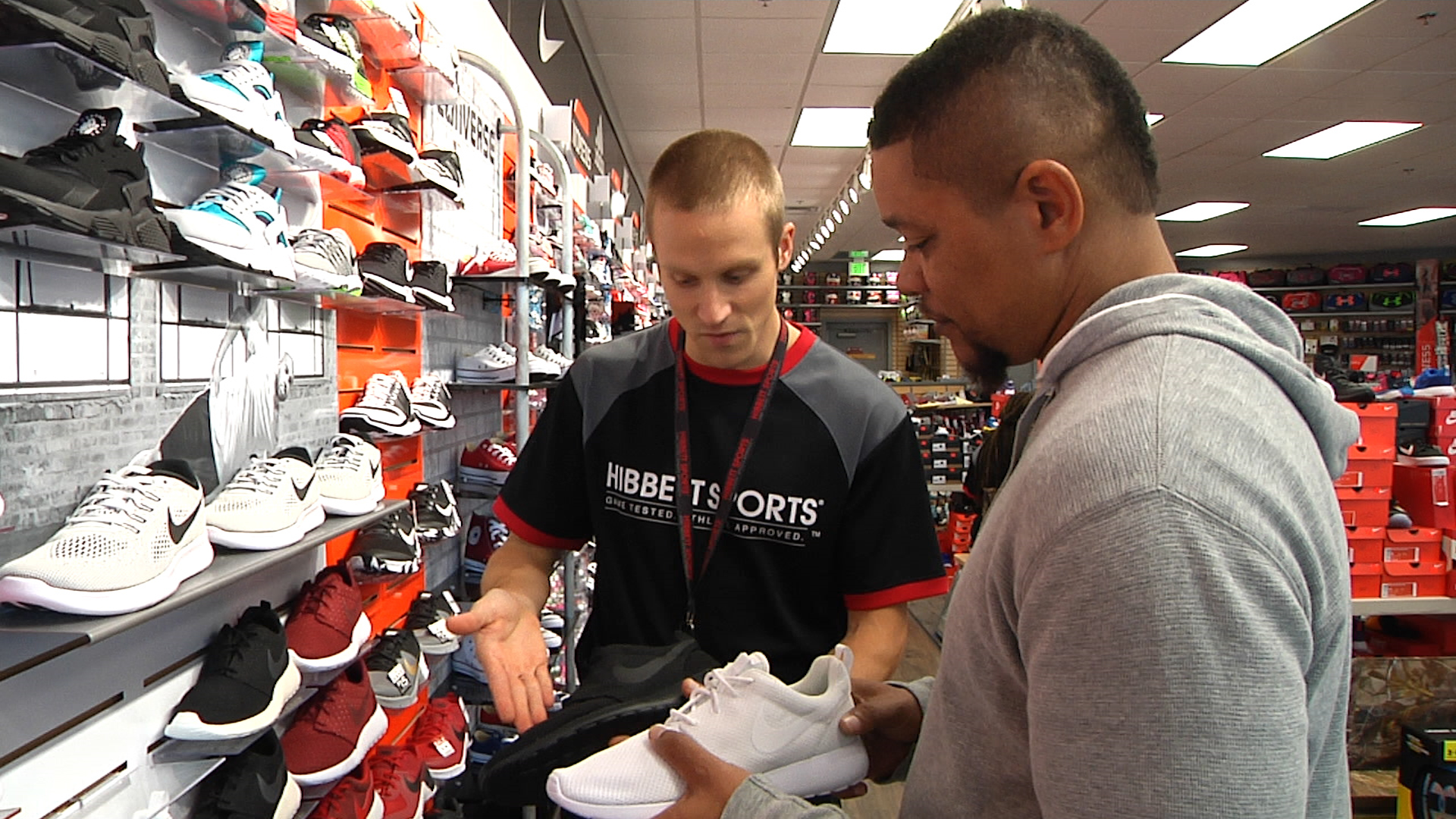 The small-market operator is shaking up its merchandise focus and store types as it introduces more technology and an e-commerce platform into a business that targets underserved markets across 35 states with nearly 1,100 locations. Total chain revenues rose 3.2 percent to $973.0 million in the year ended January 28.

Hibbett's impending changes include the introduction a new point-of-sale system and distribution center, store-to-home delivery capability, an e-commerce platform sometime in the third quarter and a re-alignment of its store base. The latter will mean more doors with a greater lifestyle/fashion sports footwear and apparel focus and a likely de-emphasis on "legacy" categories such as performance apparel and footwear, licensed products and equipment in many locations.

"Our opportunity is to certainly improve the mix of lifestyle or fashion in our sports store as well as our athletic stores," Jared Briskin, Hibbett's chief merchant told analysts. "This is a significant opportunity that we feel we have strong plans in place to take advantage of."

About one-third of the chain's locations today are considered fashion stores. The remainder are a mix of athletic specialty and sport-focused. Hibbett senior management said the retailer will examine the ration quarterly and make merchandise shifts based on customer demand.
Genesco Sets FY18 Strategy
The Journeys and Lids Sports Group parent will likely see flat annual square footage growth overall this year as overall revenues increase 5 percent on a double-digit digital growth. Senior management told analysts that the Nashville company is prepared for less square footage at year-end if more malls should close.

Genesco has four major initiatives planned for its businesses this year, led by a buildout of its omnichannel and digital capabilities that promote interaction across channel such as "Buy online, pick-up in-store."

Other key focus areas include enhanced in-store experiences in Journeys' locations and an increased emphasis on embroidery and personalization within Lids' doors. One example at Journeys will be highlighting specific brands across catalog, social media, email campaigns and in-store with merchandising.

In FY17 ended January 28, Lids Sports Group annual operating income rose 144 percent to more than $41.5 million despite a 13 percent decline in overall revenues to $847.5 million. Annual comparable store sales were 3 percent higher as the unit ended the fiscal year with 1,240 locations. Journeys Group, meanwhile, generated flat annual revenues of more than $1.25 billion despite a 4 percent drop in comparable store sales and bigger slide in annual operating income to $85.9 million.
Tubes of the Week
The major negative effects of sports specialization are highlighted in a four-minute video produced by authorities in Nova Scotia, Canada. PHIT America reports that 'core' participation in core sports by children is down with the decline partly attributable to sports specialization. Core participation in team sports by U.S. children is down in 10 out of 12 sports, according to Sports Marketing Surveys USA. While the tone of the video is somber and serious, it draws attention to the issue that is prevalent in the U.S. and Canada—sports specialization at a young age often leads to athletes quitting sports due to mental burnout and/or overuse injuries.