Footwear Trends Revealed
A robust crowd of designers, brand reps and manufacturers from all categories took to the Northwest Materials Show earlier this month in Portland, OR to move forward after a chaotic year that saw major upheaval in the footwear business, a troubled U.S. retail market and a new administration debating trade policies that could have a dramatic effect on the footwear and apparel business. Read More...
As the Outdoor Specialty World Turns
With some circles suggesting the Bass Pro-Cabela's deal will need to be revised to reach completion, ala Verizon-Yahoo, and others waiting to see if the Chap. 11 shoe does indeed fall on Gander Mountain, another potentially mighty player is emerging in outdoor specialty retail. A week after discount behemoth Walmart officially entered the space with its $51 million cash acquisition of Moosejaw Mountaineering, another off-price king in TJX Companies announced plans to accelerate its Sierra Trading Post business. Read More...
Merrell Aims to Climb Higher in 2017
Senior management at parent Wolverine Worldwide thinks Merrell is poised for a comeback in 2017 due to a robust product pipeline and today's macro trends that focus on the outdoors, health, experiences and active lifestyles.

Merrell's performance in the fourth quarter "improved significantly" from the prior period, bolstered by key product initiatives and the introduction of new collections. In outdoor specifically, the brand gained market share in the U.S. and grew globally.

"Looking ahead, we are confident in Merrell's direction," said Blake W. Krueger, Wolverine Worldwide Chairman, CEO and president told analysts last week. "Consumers love the brand, and the injection of updated product design and innovation to keep franchises was critical in 2016. This also provides a proven roadmap moving forward."

WWW is hopeful that Merrell's new Nature's Gym athletic offerings will gain solid traction this year, helping the outdoor brand to eventually develop a revenue base split evenly between outdoor and active lifestyle products.

As for FY17 overall, Wolverine is forecasting overall revenues for its portfolio of brands, excluding currency fluctuations and the impact of store closures, to be in the range of down 2 percent to up 2 percent from the $2.49 billion generated in FY16.

"We anticipate global demand to remain tepid as evidenced by relatively low commodity prices; the U.S. dollar to remain strong, negatively impacting product costs in most international markets, and the retail environment to remain challenged, especially in the U.S…" said Krueger.
Vans' Revenues Will Accelerate Further
The VF Corp.-owned brand, whose iconic black-and-white checkerboard slip-on became iconic 35 years ago when it was donned by Sean Penn in "Fast Times at Ridgemont High," is forecast to increase its top line by "low double-digits" in 2017 fueled by high teens growth in Asia and high single-digit sales gains in both the Americas and Europe.

Vans became VF's largest brand in 2016, its 50th anniversary year, with a 7 percent revenue increase to $2.3 billion that included a 20 percent increase in its direct-to-consumer business, 40 percent growth in e-commerce and 15 percent sales growth in the fourth quarter. The company's annual gross margin, meanwhile, improved 120 basis points to 49.4 percent.

VF senior management, commenting on Vans' success in 2016, said the brand's All Weather MTE Collection that leverages the label as a four-season brand, doubled its revenues last year. Also, an upgraded custom footwear platform that allows customers to create their own Vans through their own patterns, colors and art, is said to be off to a strong start.
Nautilus Readies Bowflex HVT Rollout
The fitness company, which generated a 20 percent increase in annual sales last year to $406 million, intends to introduce its Bowflex Hybrid Velocity Trainer into the direct channel before mid-year.

"Our research indicates that the more innovative nature of the HVT will require added initial support in the early stages," Nautilus CEO Bruce Cazenave told analysts. "This support will include both television and expanded digital marketing efforts."

Meanwhile, on the retail side of its business, whose organic sales dipped 7 percent in the fourth quarter, NLS senior management is hopeful its initial partnership with Dick's Sporting Goods can be expanded. In the fourth quarter, the Max Trainer M3 was placed within stores for purchase and a smaller test of a Bowflex branded in-store shop was tested with the retailer. Results of the NLS-DKS partnership will be examined at the end of the fitness season. If it proves successful, Nautilus says it will be able to further optimize the reach of its direct media advertising to include those who prefer to fitness equipment in-store from a trusted, major retailer.
American Apparel Moves Forward
Gildan Activewear, which bought the Los Angeles company (but not its 110 retail stores) out of bankruptcy for $88 million, thinks the acquisition will help it capture a more market share in fashion basics and grow its international business.

American Apparel will be completely integrated into Gildan's operations in March, even though GIL senior management is still devising a strategy for marketing the brand directly to consumers but it will be positioned as premium brand within the company's portfolio of fashion basics. Since AA customers purchased additional inventory ahead of the company's bankruptcy filing, Gildan won't begin shipping orders for the brand until the end of April or beginning of May.

"We're definitely going to manufacture product in the U.S. to support 'Made in the USA,' Rhodri J. Harries, GIL's EVP and Chief Administrative Officer told analysts last week. "But at the same time, we think that there's an opportunity to offer product that's more price-centric basically, allow us to drive the potential of the (American Apparel) brand."

To that end, initially at least, Gildan is outsourcing core American Apparel styles to western U.S. contractors. Other items from the $100 million-brand will be made in Gildan factories outside the U.S.
Product of the Week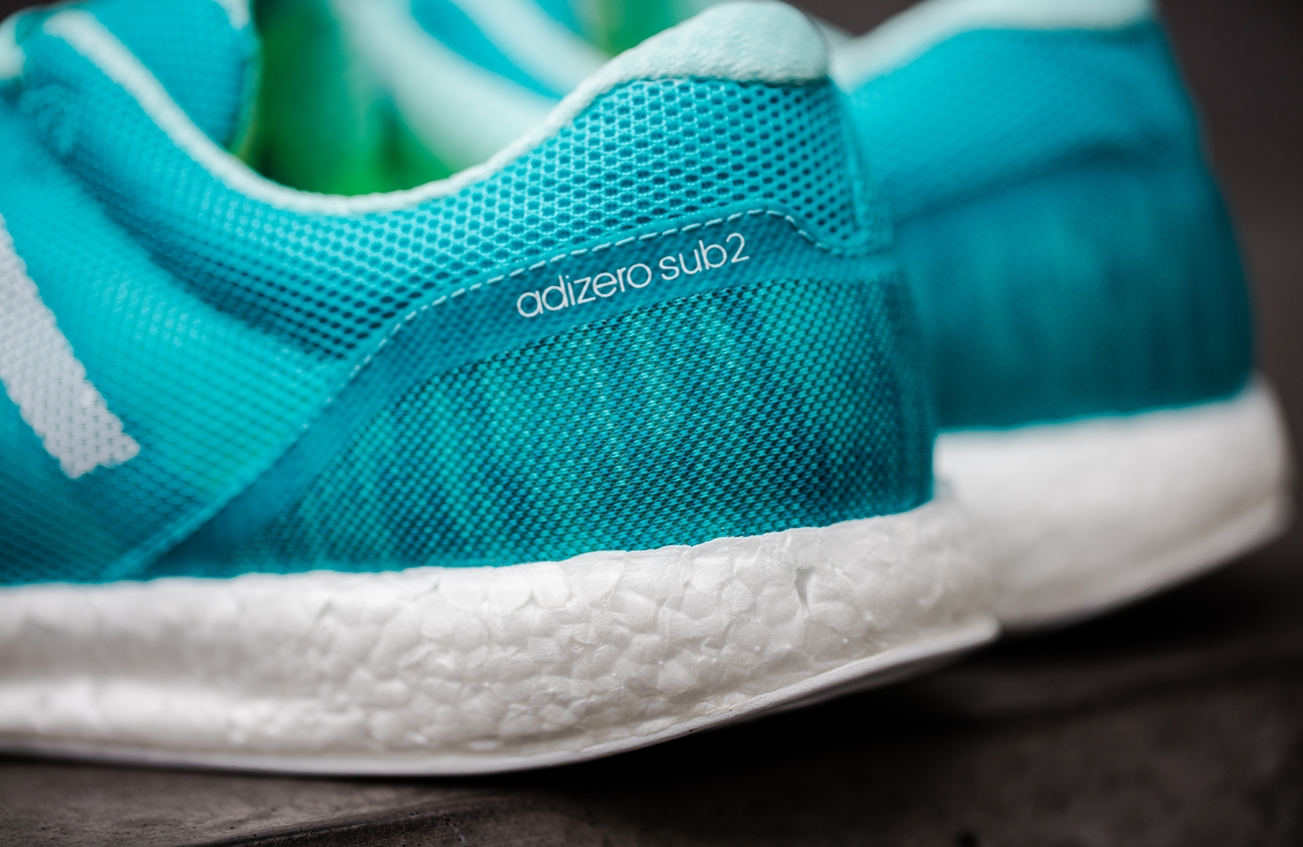 Adidas was slated to introducing the adizero Sub2 marathon shoe, designed to take athletes below the two-hour mark for the 26.2-mile course, on Kenyan Wilson Kipsang during the Tokyo Marathon on Feb. 26. He owns the only pair of Sub2 shoes currently in existence. Adidas Innovation Technologies explored a range of materials in different temperatures and environments and on different surface when building the shoe, which was co-developed by and tested on elite athletes. The Three Stripes says it began thinking about Sub2 as a concept around the 2012 London Marathon. The shoe will be available for all marathoners later this year. No word yet on retail cost.
Tubes of the Week
Little Bytes
• World Federation of the Sporting Goods Industry (WFSGI) is opening its Responsible Sport Initiative (RSI) platform that helps industry companies efficiently implement unified corporate and social responsibility standards. Participation does not require WFSGI membership. The RSI functions with a system of audit-sharing to make it more affordable for companies to check the compliance of suppliers.

• U.S. ecommerce sales rose 15.1 percent in 2016, exceeding 2.9 percent growth in brick-and-mortar retail sales, reported the U.S. Dept. of Commerce

• Dick's is set to open five stores in three states between March 10-12. The additions in Davenport, IA; Queens, NY; and Hinesville, GA will take chain's door count to 680. The New York location, a former Sports Authority, marks the banner's second in Manhattan.

• Adidas strikes a multi-year partnership with The Prep Baseball Report to become the official athletic footwear, apparel and accessory brand of the report and events sponsored by the Portland, Oregon company.

• Puma and Adidas will apparently duke it out in federal court over The Cat's use of four diagonal stripes on its NRGY soccer boots. The Three Stripes-brand charges its longtime German brand rival with trademark infringement in the recently filed case.

• Superfeet has a new CEO and president in John Rauvola. He led the insole company to be 100 percent employee-owned and has helped grow revenues by 27 percent since his arrival in 2013. More details on other executive changes at the Ferndale, WA firm in next Running Insight.

• Vail Resorts, a publicly traded resort company, is acquiring Stowe Mountain Resort in Vermont for $50 million.

• Roc Nation, founded by Jay Z in 2008, last week forged its first team venue partnership with Major League Soccer's Houston Dynamo franchise. RN will help the soccer franchise secure new branding and sponsorship contracts and broker live entertainment for its home stadium.

• JC Penny intends to close 13-14 percent of its store base, accounting for approximately 5 percent of its annual revenues, and two distribution centers to save approximately $200 million annually. Retailer will offer buyouts to 6,000 employees as part of the effort.