Sports Direct Aiming to Reach Across Pond
The publicly-traded, U.K.-based sports and fashion retailer Sports Direct will soon be landing on U.S. soil if its proposed "stalking horse" bid for bankrupt Eastern Outfitters, parent of Bob's Stores and Eastern Mountain Sports, wins out. Eastern Outfitters' representatives last week sought approval for $85 million in debtor-in-possession (DIP) financing... Read More...
Report:


More Retail Spending Despite Hesitant Consumers

The National Retail Federation, citing the likelihood of more jobs and more income for Americans, is forecasting 3.7- to 4.2-percent retail sales growth in 2017. The trade group's forecast, which excludes sales from cars, gas and restaurants, is also predicting 8- to 12-percent gain in online and other non-store/online sales. Read More...
Outdoor Retailer May Be Fleeing Beehive State
Buzz about the Outdoor Retailer trade show's home, which has been in Salt Lake City for the last two decades, has been getting louder in recent weeks. Show organizers, along with Outdoor Industry Association (OIA) and Grassroots Outdoor Alliance, which represents 62 independent specialty retailers, will seek venue location proposals for the shows and related events scheduled for November 2018 and afterward. Outdoor Retailer is slated to remain in Salt Lake City through Summer 2018.

Patagonia last week said it will boycott the convention if it remains in Utah due to state officials' call to the Trump Administration to rescind the newly-designated Bears Ears National Monument and the proposal by Utah Congressman Rob Bishop to change how federal lands are valued to make it easier for them to be sold. Arc'teryx and Polartec also announced their withdrawal from the show in Salt Lake City, "due to the state's efforts to rescind protection of Bears Ears National Monument and other public lands."

The trade show responded with a letter assuring the industry it was evaluating future location options and that any decision would be made with the counsel of the Outdoor Industry Association (OIA) and Grassroots Outdoor Alliance, reflecting the voice of the collective industry. Meanwhile, other heavy hitters such as REI and The North Face stated their intent to continue to attend the show in Salt Lake City, citing the belief that a united industry can more effectively fight for the cause, and also noting that smaller businesses could be harmed by larger brands withdrawing from the show. The OIA sent out a statement encouraging its members to attend Outdoor Retailer. OIA said it is "working tirelessly with Outdoor Retailer to select a more appropriate venue for future shows, but we are committed to doing the proper due diligence."
Puma Aims to Climb Higher in 2017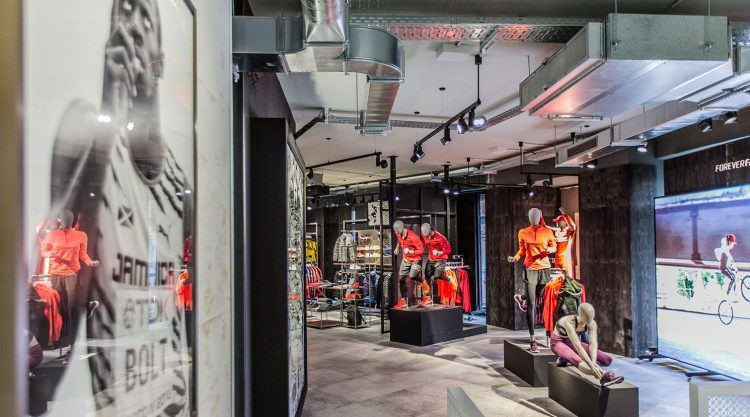 With its iconic King soccer boot set to celebrate its 60th anniversary in 2018, Puma is realizing that its newfound success with fashion-footwear Queens is opening some distribution doors for men's and kids' products.

The Kering-owned company is forecasting high-single revenue growth this year and EBIT in the 170-190 million Euros ($181.5-202.8 mm) range that will translate into "significantly" improved profitability as The Cat continues to scale-up marketing investments.

In FY16, Puma reported a 7 percent (10% in constant currency) increase in overall revenues to the equivalent of $3.87 billion. Annual footwear sales rose 8 percent to the equivalent of $1.74 billion with apparel gaining 7.1 percent to $1.42 billion and accessories up 4.7 percent to $711.5 million. Direct retail sales gained 12.5 percent on a constant currency basis to nearly $848 million with e-commerce accounting for 15-20 percent of total.
"We have built a strong offering for women. And the market was looking for a brand," said CEO Bjorn Gulden. Puma's "where the gym meets the runway approach" helped the brand more than double its sales Foot Locker's SIX:02, women's-only banner, last year.

Americas' sales increased 2.2 percent (8.3% in C$) to $1.43 billion on an "especially strong" second half in North America. New concepts and styles being introduced this year include a customized lacing system called NetFit, a premium soccer boot dubbed the Puma One and a Street Running collection called Tsugi in April.
Spring Sports May Get Late Start in Northeast
Looks like Punxsutawney Phil was right after all. Well, for the densely-populated I-95 corridor of the Northeast, at least. Spring is forecast to begin on a wet note in cities such as Boston, New York and Philadelphia with rain and snow falling throughout much of the Northeast through mid-March, predicts Accuweather, adding a significant warmup for the region isn't likely until late April or early May. Unseasonably cold air is expected to stretch from New England to the Upper Midwest.
On The Move


VF Vet Will Head Wolverine Outdoor Lifestyle Group
Todd Spaletto, a 23-year veteran in the branded apparel and footwear industry, is the new president of the Wolverine Outdoor and Lifestyle Group. For the last six years, he has served as the president of VF Corp.'s The North Face. In his new position, he will oversee WWW's Merrell, Chaco, CAT, Hush Puppies and Sebago brands. Also, Wolverine Worldwide has created a new position, Executive Vice President for Jim Zwiers, a 19-year veteran of the Rockford, MI company and given Roger Spatz, president of Eagle Creek since 2011, added responsibility as president of its Reef business.

Elsewhere, Pro Performance Sports, parent of the SKLZ, Pro Mini and Sport-Brella brands, named Tim Wiseman as president and COO. The veteran of both Nike and Adidas, will spearhead all functions of the Carlsbad, CA business and create the growth strategy for SKLZ, the sport training brand for basketball, baseball, football, performance and fitness.

Also, VF Corp. has named Brendan Sullivan, most recently VP of Direct-to-Consumer, as president of its Sportswear unit with responsibility for the Nautica brand globally and Kipling in North America. Nina Flood, president of Kipling, will report to Sullivan.
Tube of the Week
Nike's Air Jordan XXXI is the featured product in this month's "Stats" spot from Foot Locker, featuring NBA point guard Russell Westbrook. The commercial is part of the specialty retailer's "February Brings the Best" campaign. NBA Hall of Famer Bill Russell makes a cameo in the BBDO ad that debuted Feb. 9 on TNT. It will continue airing through NBA All-Star Weekend, Feb. 17-19.
Little Bytes
• Coleman, owned by Newell Brands will close its Denver area headquarters by month's end and layoff 54 staffers. The brand's corporate team is being merged into Newell's beverage ware unit in Chicago. Coleman's manufacturing operation in Wichita, Kansas is unaffected by change.

• Rossignol Group inked a binding agreement to purchase Felt Bicycles. The Irvine, CA company was founded in 1994 and relaunched as an independent company in 2001. Terms of the transaction were not disclosed, but Rossignol said Felt sales worldwide from distribution in over 30 countries topped $60 million last year.

• Performance Sports Group, which filed for bankruptcy protection on Oct. 31, will complete a $575 million sale to "stalking horse" bidder Sagard Capital/Fairfax Financial by Feb. 27.

• Bowflex SelectTech 560 Dumbbells from Nautilus have been bestowed with the ISPO Award for innovation and design, beating out nearly 500 other submissions.

• CF Athletic, a 10-year old fitness and lifestyle apparel company based in Columbus, OH, signed a long-term, exclusive apparel deal with Cage Warriors, an EMEA-based MMA fighting organization. CF owns the "CF" and "Cagefighter" apparel brands.